The New Jersey Devils acquired Timo Meier on Feb. 26, 2023. Since then, he has played five games, including two in front of the home crowd at Prudential Center.
Fans have seen him score, throw his 6-foot-1, 220-pound frame around, take untimely penalties, and become the team's shootout hero. Overall, it has been an eventful two weeks for Meier. The Devils are off on Monday before beginning a three-game mini-series versus the Tampa Bay Lightning, and this is the perfect time to share some early observations from his first five games with New Jersey.

Before I get started, the below observations are based on the eye test, along with conversations with players, head coach Lindy Ruff, and general manager Tom Fitzgerald. Here's what we've noticed.
1. Meier Is Adjusting and Needs More Time
Players, coaches, and general managers say it can take anywhere from 10-20 games for a new player to adjust to a new team and system. Knowing this, Meier has only played five games with the Devils and has only participated in one full practice. Now, if you're thinking he has participated in morning skates, so there's no excuse, let me stop you right there. Morning skates are shorter and less intense. There might be some light drills to get players loosened up and line rushes, but the team doesn't focus on the details of their system.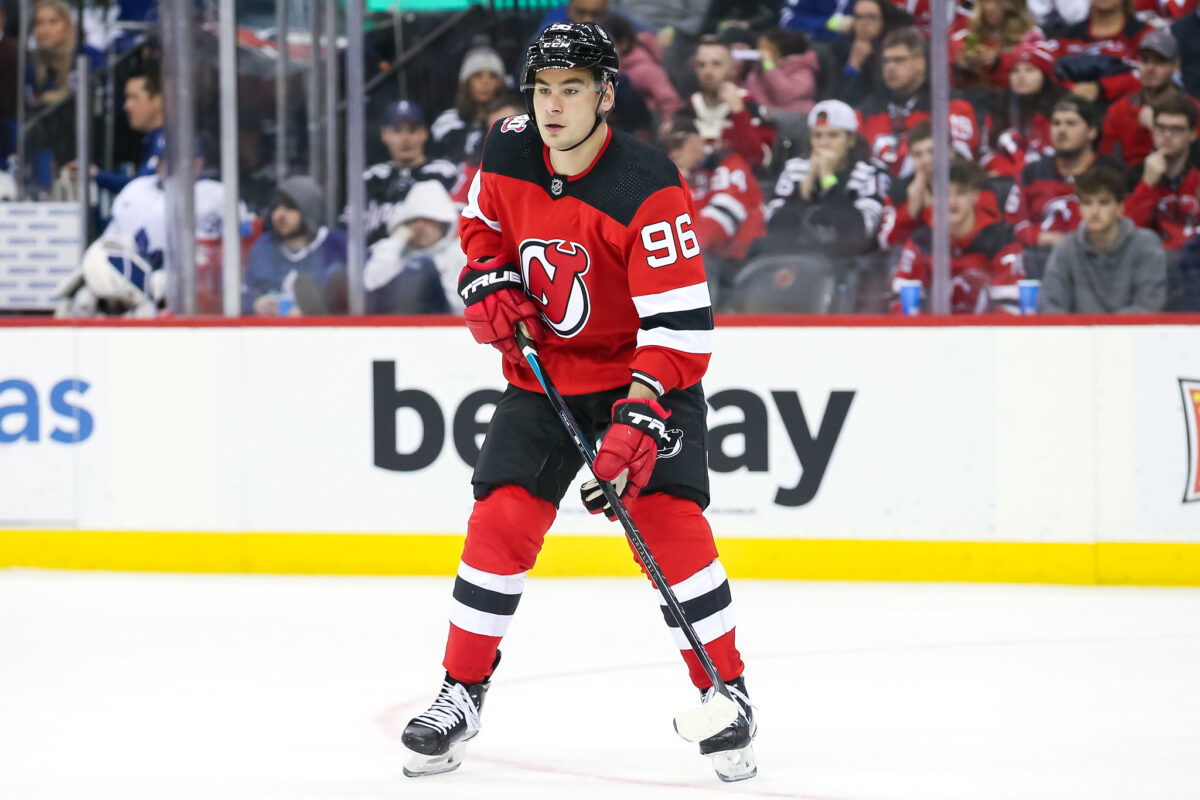 After the team's loss to the Toronto Maple Leafs on March 7, Meier stood at his locker and fielded questions from the media. I asked him if New Jersey's system was similar to what he was accustomed to with the San Jose Sharks. He quickly said no, which earned some chuckles from a couple of reporters in the scrum. Meier added that some things are different, and it is definitely an adjustment.

Since Jan.1, the Devils have a 21-5-4 record. Right now, they aren't relying on Meier to drive their offense, nor are they currently battling for a playoff spot. Patience will be a virtue as Meier becomes more comfortable with the new system and his linemates.
2. The Meier – Hughes – Bratt Line
Meier played alongside Jack Hughes and Jesper Bratt in three of his first five games, totaling 30:36 of ice time. The trio showed their potential as a unit, scoring two goals, including Meier's first as a Devil.
With the combination of Bratt's speed, Hughes' creativity, and Meier's shot and physical play, the trio will be a goaltender's nightmare. Ruff has used the word 'dynamic' to refer to Meier and Hughes playing together, and it's hard to argue. Hughes leads the team with 275 shots, and Meier is right behind him with 274. Bratt has 171, the lowest among the trio, but the highest shooting percentage, at 15.8.
The one question I have is how will they play defensively.
It's presumed that a line filled with so much offensive firepower will be in possession of the puck more often than not and therefore don't need a strong defensive game. However, I noticed Hughes and Bratt lead all Devils forwards in giveaways this season, a combined 102. Before coming to New Jersey, Meier had 47, which was second among Sharks skaters, and the most among forwards; he has three in five games with New Jersey.
Related: Devils' Window to Contend Is Open: How We Got Here
---
Latest News & Highlights
---
Another thing to think about is Hughes has a faceoff win percentage of 34.9 (119 wins and 222 losses). For most of the season, Hughes played alongside Erik Haula, who has a faceoff win percentage of 55.1 and was responsible for taking the faceoffs while playing alongside the former first-overall pick. Bratt has not taken a faceoff this season, while Meier took two and lost both. If Ruff decides to move forward with this trio, Hughes will be expected to get possession for his line.

Against the Washington Capitals on Thursday, the Devils were on a power play in the second period when Hischier got kicked out of the faceoff circle, and Hughes was the one who stepped in. He lost the faceoff and then lost the puck in the neutral zone as the team attempted to transition into the offensive zone. It took New Jersey roughly 45 seconds to efficiently set up – the time of an average NHL shift. How many precious seconds will this line waste chasing down the puck after a faceoff loss or a giveaway? It could be a small amount and not affect their overall production, but it is something to keep an eye on.
3. The Meier – Hughes – Boqvist Line
After the team's 4-3 loss to the Maple Leafs, Ruff made some changes to his lineup. At the team's morning skate at Capital One Arena in Washington, Jesper Boqvist found himself alongside Meier and Hughes.
During his pre-game media availability, Ruff talked about switching Boqvist and Bratt. "I think with new pieces (Meier and Curtis Lazar) coming in, we have an opportunity to try players in different spots," he said. "With the schedule that we've got, we're trying to balance the lines, take a little ice time off the top, and see if we can find continuity. It may take a couple games. By switching things around, you may find chemistry amongst guys that haven't played together."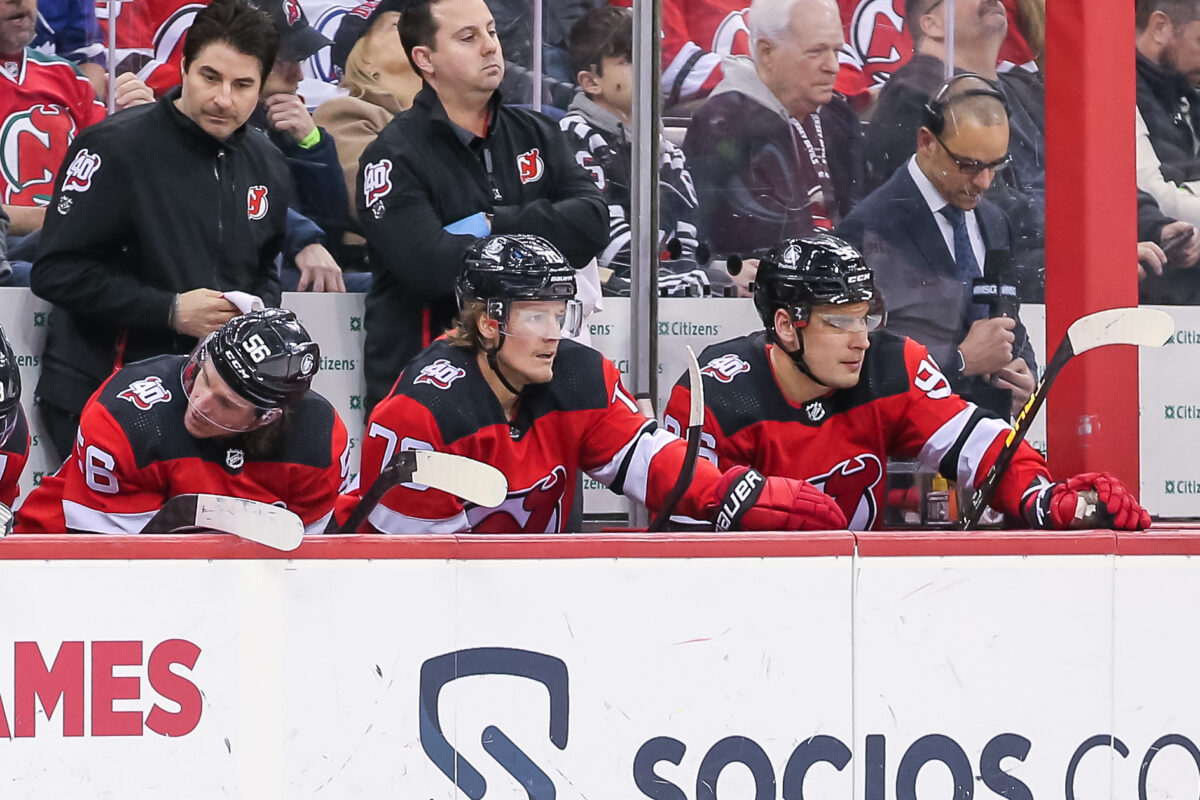 While Bratt and Hughes don't play a poor defensive game, it's not nearly as strong as Boqvist's. The 24-year-old Swede is not the flashiest player on the team, but he can be relied upon to win board battles and have his stick in the right area. One of the biggest benefits of adding him to that line is his puck retrieval. Boqvsit has a knack for beating the opposition's defense to the puck and, in doing so, will give Hughes and Meier a little bit more time to set up. It's also beneficial that Boqvist is listed on the Devils' website as a center, which means he can be utilized if Hughes finds himself kicked out of the hash marks.

While Hughes and Meier build their chemistry, it is not the worst idea to add some defensive stability to the line. As Ruff said, if it doesn't work, he can simply swap Boqvist and Bratt as he did versus the Carolina Hurricanes on March 12.
4. Hughes Finally Has an Elite Shooter to Play With
Hughes earned his 37th goal of the season on March 12 versus Pyotr Kochetkov of the Hurricanes. The 21-year-old now has more goals than Alex Ovechkin and Auston Matthews. He's found his scoring touch over the past few months, but make no mistake, he is considered a playmaker.

"The 18-year-old forward has a dynamic and electrifying set of skills to pair with strong vision/IQ, and the total package makes him an extremely dangerous playmaker with the puck. But Hughes' greatest asset is his skating ability. Not only does he have explosive acceleration and speed, but he's also incredibly gifted in his ability to control himself and the puck at high rates of speed. His edge work is great."

– Peter Blackburn, formerly of CBS Sports
It is Hughes' play-making ability that makes him so dangerous. With his high hockey IQ, he can manipulate the speed of the play and create time and space for his linemates. For the past couple of seasons, it's become apparent that Hughes needed an elite shooter to play with. Some hoped that would be Alexander Holtz, but that never came to fruition as the former seventh-overall pick still needs to work on playing a responsible two-way game and is currently in the American Hockey League doing just that. However, once Meier gets comfortable, he will become the player who will benefit from Hughes' crisp tape-to-tape passes and creativity.
5. Meier Already Making an Impact
Fitzgerald knew what his team needed ahead of the 2023 NHL Trade Deadline, and Meier checked off every box.
"He's a big body that can score goals, protect pucks, he can play physical," he said. "We've seen him drop the gloves in the past. He stands up for himself. It's an addition that – we want to get bigger, but we want talent. We want power forwards, and you have to go out and grab those."
Related: Devils Players' Reactions to Timo Meier Trade
Before the trade, Meier led all Sharks players with 112 hits. In his first game with the Devils, he made his physical presence known with three hits, tied for the most among forwards with Nathan Bastian and Michael McLeod.
In his next outing, he led all New Jersey skaters with five hits and now has 12 in five games. The scoring will come in time, but while the details of his game get ironed out, he has already made the team's top six tougher to play against.
Fitzgerald and Ruff know there is an adjustment period for a new player joining a new organization. The club has 16 games left before the playoffs, which gives Meier plenty of time to find his rhythm. A few more practices will pay dividends for the team's new-look second line, regardless if Ruff decides to keep Boqvist or Bratt with his dynamic duo.
"It will take a while," Ruff said. "We know what he can do. We know what he is. He is gifted around the net and has a great shot…We will just keep going in the right direction."
---
---