After a tough loss to the Vegas Golden Knights on Friday, March 3, the New Jersey Devils rebounded with a 5-4 overtime win over the Arizona Coyotes at Mullet Arena. It wasn't always pretty, as the Devils were sloppy in their own end. But they came away with two points to keep pace with the Carolina Hurricanes in the Metropolitan Division. Here are five takeaways and some quick hits as the team returns to New Jersey from their final west-coast trip of 2022-23.
Meier Makes an Impact in Debut
After missing his first two games with the Devils since the trade due to injury, Timo Meier made his team debut and immediately made an impact. About nine minutes into the first period, he scored his first goal in red and black to put the Devils up 1-0. It was quite the moment, but there will be an adjustment period as he gets used to his teammates and a new system. 
Related: Devils Didn't Need Flashy Move After Adding Meier
---
Latest News & Highlights
---
While the line of Meier, Jack Hughes and Jesper Bratt did generate some offense, they did struggle a bit defensively. They were on the ice for two goals against, and some of that was Meier being out of position defensively. That's a product of not being used to the team's system, and it will correct itself over time once head coach Lindy Ruff and his staff get him up to speed. 
It's not hard to see what Meier will bring to the team, though. He scored a typical Meier goal by getting to the net front and cleaning up a rebound. But he also showed off some skill on the rush with a couple of toe-drags and creating scoring chances. Once he gets used to the system and Hughes and Bratt's tendencies as linemates, there's potential for them to be a force as a line. 
Devils Overcame Sloppy Defensive Play 
After dominating the Golden Knights at five-on-five, the Devils returned to Earth against the Coyotes. They had no problem generating offense, but their defensive game wasn't as sharp as in their previous contest. They were sloppy in their own end, and a couple of misfired passes from Ryan Graves and Dougie Hamilton resulted in giveaways leading to Coyote goals.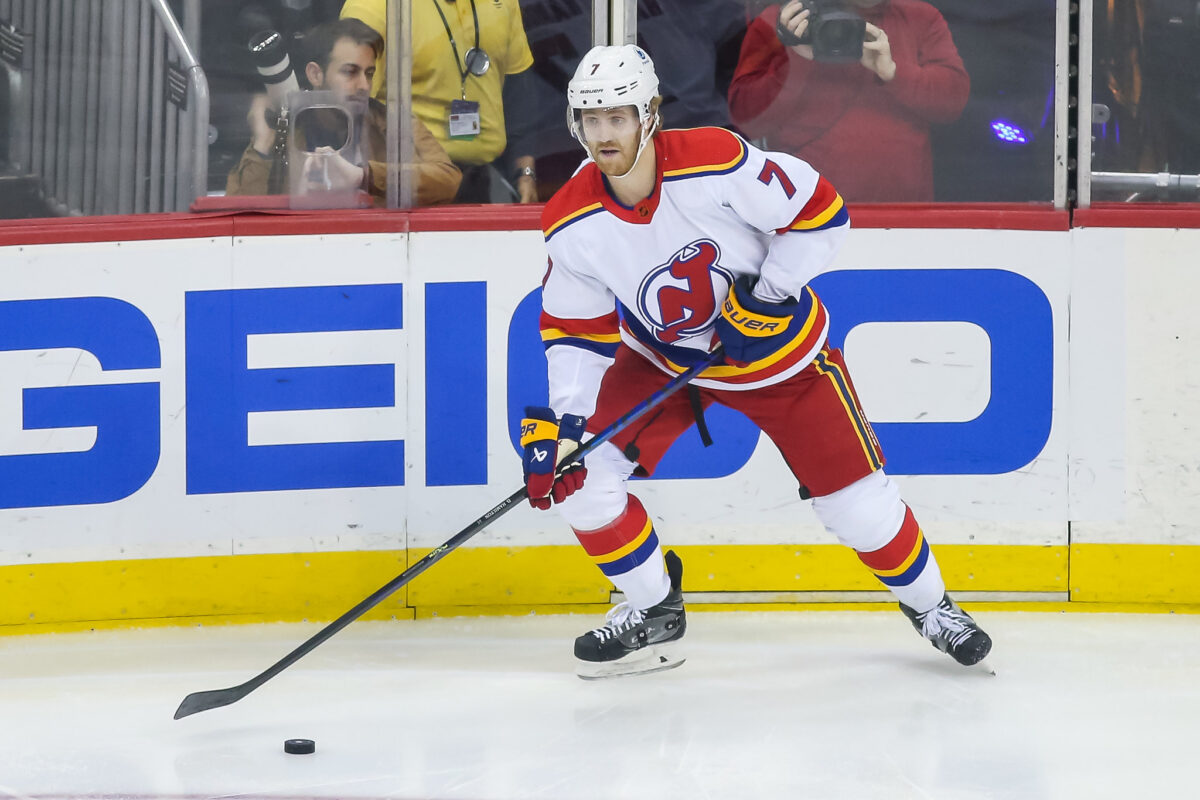 Fortunately for the Devils, Nico Hischier saved the day in overtime with a snipe on a 2-on-1, his 27th goal of the season. But even though the Devils blew a 4-2 lead and weren't as sharp as usual, they still controlled 53.05 percent of the expected goals (xG%) at five-on-five. That continued their trend of outplaying teams more often than not since Feb. 1, but they need to clean up the turnovers with them playing almost every other day this month. Otherwise, they'll have a tough time against the challenging competition they play this month. 
Severson Continues to Feast
Damon Severson is better than your average third-pair defender, and it's shown in the last few games. He made a great pass on Boqvist's first goal to give him a wide-open net and was highly active offensively again. He also added a power-play goal in the second period to give the Devils a 3-1 lead. 
Severson has always thrived in a third-pair role this season, but he seems to get the best results with Kevin Bahl. For the season, they have a 58.09 CF% and 64.75 xG% in about 171 minutes together, so it's a pretty decent sample size. Bahl brings more mobility and puck-moving ability than Brendan Smith while also providing some physicality. Smith will find his way back into the lineup again, especially with how busy the team's March schedule is. But for now, Bahl and Severson have a good thing going. 
Devils' Third Line Came to Play
The top-six isn't going to score every night, so other lines need to step up from time to time. Last night, the third line of Ondrej Palát, Erik Haula and Jesper Boqvist brought their A-game. Boqvist scored two goals, his first-career two-goal game, while Haula added two assists. Palát played a heavy game and took a hard hit to make a sweet assist on Boqvist's second goal: 
This trio was by far the Devils' most dominant at five-on-five. The team finished with a 17-4 shot attempt advantage — good for an 80.95 Corsi for percentage (CF%) — and an 84.41 xG% with the Haula line on the ice. The Coyotes didn't have much of an answer for them, even until the final minute of regulation when they hemmed the Coyotes in their own end and almost scored the game-winner. 
The Devils have had depth for most of the season, but with Meier now part of the group, having players like Palát and Haula on the third line could prove crucial during a busy month as the team gears up toward the playoffs. Boqvist is playing his best hockey of the season right now and starting to get rewarded on the scoresheet for it. If they continue to click as a third line, the Devils will be a hard out on most nights. 
Siegenthaler & Hamilton Pair Looked Like Their Old Selves
It's been a while since the Jonas Siegenthaler and Hamilton pairing has looked like, well…the Jonas Siegenthaler and Hamilton pairing. They've struggled at five-on-five for most of the last couple of months. But for the first time since really the first half of the season, they weren't getting outshot and out-chanced at that game state. In fact, it was quite the opposite. 
Hamilton did have a poor giveaway that led to the Coyotes' game-tying goal with two minutes left in the third period, but he had a strong game overall. The Devils had a 65 CF% and 64.39 xG% and out-chanced the Coyotes 15-7 with him on the ice. And he did spring Hischier loose on the 2-on-1 with the primary assist on the game-winning goal; he had two assists overall.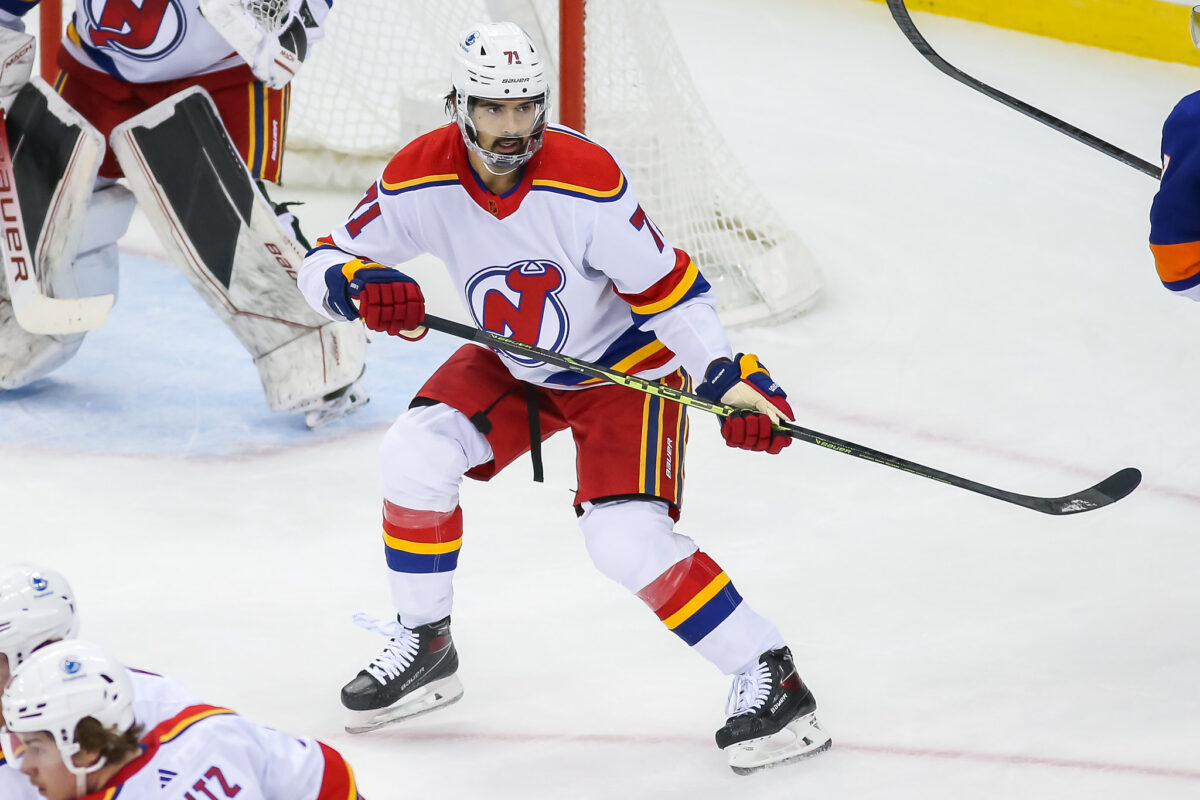 Siegenthaler's on-ice numbers were nearly as good, totaling a 59.57 CF% and 57.74 xG%. That shouldn't be a surprise since he was Hamilton's defense partner, but the Devils need them to post numbers like that consistently, something they did in the first half of the season. They're only two points back of the Hurricanes for first place in the Metropolitan Division, though Carolina has a game in hand. They'll need Siegenthaler and Hamilton playing like a top pair to have a chance at catching them. 
Devils Quick Hits
It wasn't Vitek Vanecek's worst game of the season, but he did struggle again. He was too scrambly in net and was putting himself out of position. He made 25 saves on 29 shots and gave up 1.12 goals above expected, less-than-ideal numbers. The Devils need him to snap out of his mini-slump, as he's posted a save percentage below .900 in his last four starts. 
Dawson Mercer's eight-game goal streak came to an end, but it certainly wasn't for the lack of chances. He finished with four shots on goal, four scoring chances and two high-danger chances. He just couldn't find the back of the net, but he did tally the primary assist on Severson's power-play goal. That extended his point streak to nine games; he has ten goals and 16 points over that stretch. 
The Devils return home and will face a Toronto Maple Leafs squad that made multiple additions ahead of the trade deadline last Friday. That begins a busy week that sees New Jersey take the ice four times in seven nights, concluding with a crucial tilt against the Hurricanes on Sunday evening. 
* * *
Advanced stats from Natural Stat Trick