As media members entered the New Jersey Devils' locker room on Feb. 27 music could still be heard as players sat at their respective stalls chatting and removing their gear. The vibes were immaculate at RWJBarnabas Health Hockey House as cameras and voice recorders captured the excitement of the players surrounding their newest teammate, Timo Meier.
On Feb. 28, the 6-foot-1, 220-pound winger stepped onto the ice at the end of the team's practice in a no-contact jersey. He was met by stick taps from his new teammates and afterward told Devils reporter Sam Kasan, "it's definitely a very exciting feeling just coming here and meeting all the guys. You can tell right away they're a great group of guys. It put a smile on my face getting on the ice for the first time with them."
What Kind Of Message Does This Move Send to the Team?
Acquiring a player of Meier's caliber sends a message to a team. Brendan Smith has made the postseason seven times in his career. At 34 years old he is one of the oldest and most insightful players in the locker room. I asked him what a move like this means to the guys in the locker room.
"That's a big statement because you really figure out at the deadline, are you a buyer or are you a seller? Obviously, we're buying so it means the organization is behind us as much as we want them because I think we've put ourselves in that position. We've played some good hockey so it's kind of a boost for sure."
Related: Devils' Fitzgerald May Not Be Done After "Timo Time" Trade
---
Latest News & Highlights
---
During his media availability, general manager Tom Fitzgerald said the acquisitions that the organization has made have really been effective and done what they thought they would with the team's young core. That includes Smith, Erik Haula, Ondrej Palat, John Marino, and Vitek Vanecek. Those additions have propelled the Devils to a 39-15-5 record and second place in the Metropolitan Division.
Meier Fits New Jersey's Puzzle
Sitting at his stall in the locker room, Dawson Mercer had a huge smile on his face when talking about his new teammate.
"This guy is a top scorer. He has a few years already under his belt in the league, but he is a young guy. He fits in well with our group and we already have a lot of Swiss guys and they're amazing, so I'm sure another one is going to help a lot."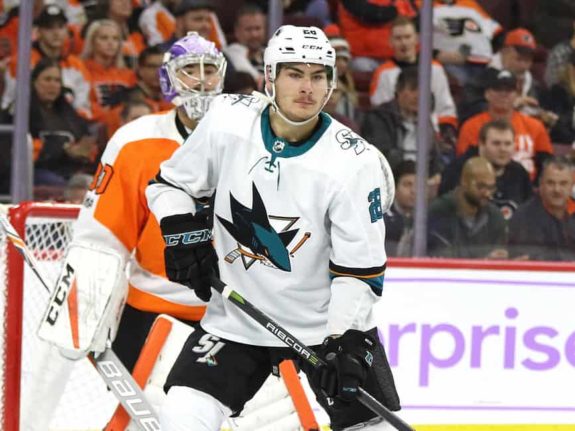 I asked the 21-year-old if he thought his team needed a more physical presence in the top six.

"He's obviously got goal scoring, the size, all of it and I think that's a big thing that's obviously going to help us moving forward with our group. He's young, he fits in with the puzzle and it's going to be exciting for him to finally get with us and get started."
Over the past few days, I have heard Meier is "a piece of the puzzle" and "fits into the puzzle" from more than one player.
"I feel like it's something that will be really good for us, the way he plays. He's not afraid to use his body. He's a great player. He can score goals. He's a competitor. It's all these things we can use. He's going to be a big piece of the puzzle we want to get to."

– Devils' Captain Nico Hischier
There is always a strategy when putting a puzzle together. Some start with the border, while others look for the obvious pieces that can quickly be placed together. The obvious pieces for New Jersey are Jack Hughes, Nico Hischier, Jesper Bratt, and Dougie Hamilton. The border holds everything together, those are the glue guys and for the Devils, that translates to Tomas Tatar, Damon Severson, Nathan Bastian, and Mercer.

GM Fitzgerald knows that his team's puzzle isn't quite done yet. During an interview with NHL Network, he said he is looking to add some grit to his lineup, and during his media availability said he would meet with his team to address any other areas on the roster. The Devils' puzzle may not be finished yet, but they are inching closer to completion.
Hischier & Siegenthaler Welcome an Old Friend
With the acquisition of Meier, the Devils now have four Swiss players on their roster as he joins Hischier, Jonas Siegenthaler, and goaltender Akira Schmid. Media members flocked to the 25-year-old defenseman to get his reaction.
"You don't see it very often when you have four Swiss guys on one team. It's pretty rare. I was already excited just to be with Nico, two Swiss guys. Now we're four, it's even better," said Siegenthaler. "I've known him for a couple of years. He's a great player. He's a great addition to our group. We're excited to have him. It's even more exciting that he's from my home country. He's going to be huge for us."
A point that both Siegenthaler and Hischier brought up during their interviews on Feb. 27 was Meier's ability to play the body. The Devils' defenseman said that physical play was an area that he felt was maybe missing from the lineup. Hischier echoed that by saying Meier isn't afraid to get into areas where it hurts. Of course, all three have previously played together internationally, and the Devils captain may have summed it up best.

"He wants to win. He's a super competitor," Hischier said. "That's good for us because we want to have guys here that want to win."