In this edition of Calgary Flames News & Rumors, management is reportedly looking to add a player that can help get Jonathan Huberdeau going, and one who may be on their radar is Florida Panthers' Anthony Duclair. Meanwhile, they may look at moving MacKenzie Weegar in the offseason. In other news, it is expected that the Flames will officially be placing Oliver Kylington on long-term injured reserve (LTIR). Last but not least, Jacob Markstrom missed practice on Monday as he awaited the birth of his first child.
Duclair Could Be Flames Trade Target
In recent weeks, the Flames have reportedly been looking at several solutions to help improve their team. Names such as Brock Boeser and Luke Schenn have been discussed on a number of occasions, though making such deals with a divisional opponent is proving to be difficult for Brad Treliving. Because of that, he may instead be shifting his focus toward another player rumored to be on the block.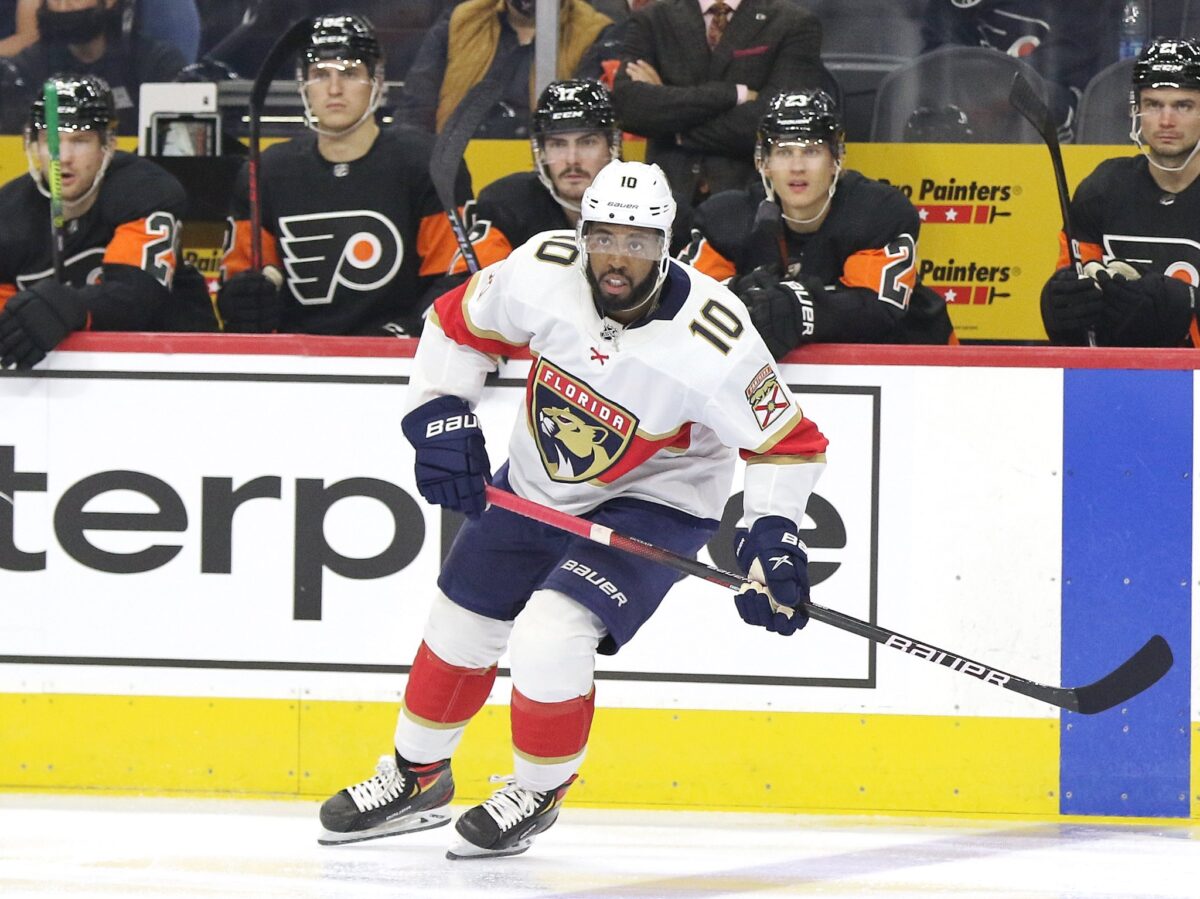 That player is Duclair, who just recently made his season debut due to suffering an Achilles tear in the offseason. The 27-year-old has been fantastic since joining the Panthers for the 2020-21 season and is coming off a year in which he had a career-high 31 goals and 58 points in 74 games. Those totals happened to come while spending plenty of time with a current Flame in Huberdeau.
That connection with Huberdeau, who has struggled since being traded to Calgary, is why Elliotte Friedman suggested Duclair as a potential target. He said in a recent 32 Thoughts Podcast that the Flames are looking to do anything and everything they can to get their superstar going, and bringing back his old linemate may serve as a fit. This may make some sense regardless of whether Treliving wishes to buy or sell at the deadline given that Duclair has an additional season remaining on his contract with a team-friendly cap hit of $3 million. Keep an eye out on this one as the March 3 deadline creeps closer and closer.
Weegar Could Be Dealt in the Summer
Weeks ago, David Pagnotta of The Fourth Period reported that the Flames and Ottawa Senators had recent discussions involving Weegar. This shocked many, as the 28-year-old defenseman has yet to begin his eight-year, $50 million extension he signed with the Flames in early October. However, the Flames' lack of success may have them reconsidering some things this coming offseason.
Related: Flames' Trevor Lewis Could Prove Useful for Several Playoff Teams
---
Latest News & Highlights
---
In the same 32 Thoughts Podcast as mentioned above, Friedman somewhat refuted Pagnotta's report by saying he doesn't believe the Senators have reached out regarding Weegar, though he did say he could see it being revisited. The obvious connection here is that Weegar grew up in Ottawa, though even still it's hard to imagine the Flames walking back so quickly on a player they just made such a commitment to. Nonetheless, there has been enough speculation on this as of late that there could be something brewing.
Flames Expected to Place Kylington on LTIR
After a breakout season in which he recorded nine goals and 31 points in 73 games, Kylington was signed to a two-year contract extension. The hope from both sides was that he would continue to progress in 2022-23, but that hasn't been the case, as the 25-year-old has yet to suit up for a single game.
Prior to the season starting, it was announced that Kylington would be unavailable for an undetermined amount of time due to a personal matter. That continues to be the case, and with the season now entering the final stretch, it seems unlikely he will be returning. While that certainly isn't ideal, the Flames may be able to gain some cap room by placing his $2.5 million salary on LTIR, according to Frank Seravalli of Daily Faceoff.
"That brings us to the Calgary Flames, what's going on with their cap situation and Oliver Kylington," Seravalli said on a recent episode of Daily Faceoff Live. "I'm told that there is a mechanism in place to move him to long-term injured reserve and get his cap space as he's missed the entirety of this season with personal reasons. He has remained in Sweden, he has not come over to North America and it seems unlikely that he will play. He's been on their cap all season long and the Flames who have space as it is, and need more, can convert and find a way to move Kylington's $2.5 million cap hit to long-term injured reserve and have more space available at the deadline. I don't think they've been very active in talks, but I do know general manager Brad Treliving keeps tabs on just about everything around the league."
You may also like:
What exactly they need more for remains to be seen as the jury is still out as to whether or not they will be buyers at this year's trade deadline. If they choose to be, moving Kylington's cap hit to LTIR as Seravalli brought up would give them plenty more flexibility to do so.
Markstrom Welcomes Child
Markstrom missed Monday's practice, and for very good reason. He and his partner, Amanda Ostervall, were expecting the birth of their first child, and have since welcomed a baby boy named Clark.
Despite missing Monday's practice, the veteran netminder was able to suit up for Tuesday's game against the Boston Bruins, though he wasn't expected to play as Dan Vladar was given the start. That quickly changed as Vladar got the hook after allowing two goals on just five shots, forcing his Swedish counterpart into action. Despite a hectic 24 hours, he played well in spot duty, stopping 13 of 15 shots fired his way.
Looking Ahead for the Flames
Despite outshooting the Bruins by a ridiculous 57-20 total on Tuesday, the Flames were able to pick up just a single point in what was an overtime loss. That results in them now sitting five points shy of both the Winnipeg Jets and the Edmonton Oilers for a playoff position. They now have just two games remaining this week, the first of which will come against a very difficult Toronto Maple Leafs club. It will also mark their final game before the trade deadline and could help Treliving decide what his plans with this roster for the remainder of the season will be. They will then be off on the official deadline day of March 3, before taking on the Minnesota Wild in their final game of the week on Saturday evening.