Canucks' training camp is only a few weeks away, and this year's camp in Prince George, BC is a little different than years past, with so many talented prospects in the team's system and a handful of players who will push for roster spots with the big club. Here's my list of the top 10 players in Vancouver's pool of prospects:
10. Brendan Gaunce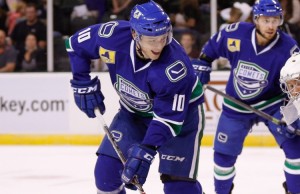 Brendan Gaunce has the potential to be an excellent power forward for Vancouver. The 26th overall pick in 2012 can play center or left wing, bringing size and strength to his game. His hockey sense and ability to play smart in both ends of the rink are bonuses to his game as well.
Gaunce tallied a combined 64 goals and a plus-35 rating in his last two OHL seasons with the Belleville Bulls. He had 11 goals and 29 points with the Utica Comets last year, and his two-way forward abilities may earn him some time at the Canucks fourth line center spot next season. Henrik Sedin, Brandon Sutter and Bo Horvat solidify Vancouver's top three centers, but with the departure of free agents Brad Richardson and Shawn Matthias, there's room for Gaunce to earn his way.
Comets GM Pat Conacher thought highly of Gaunce's play last season.
Conacher on Gaunce : "He's got NHL power forward written all over him. He brought it every single day, he found his identity." #Canucks

— NEWS 1130 Sports (@NEWS1130Sports) June 15, 2015
Whether or not Gaunce starts the season in Vancouver, expect the 21 year-old to spend time with the Canucks during parts of 2015-16.
9. Frank Corrado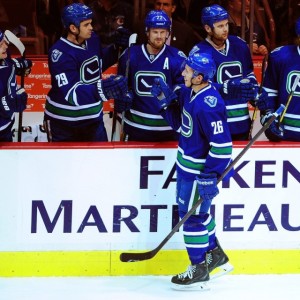 The lone defenseman in Vancouver's top 10 prospects, Frank Corrado is poised to start the year with the Canucks after the team traded away Kevin Bieksa and Adam Clendening this summer. Corrado isn't flashy and doesn't project to be an offensive threat, but at his best he's a reliable stay at home D-man who has excellent poise for his age. Corrado likely will play alongside Luca Sbisa on the Canucks third defensive pairing to start the season. He has only two goals and a minus-10 rating in 28 career NHL games, but a chance to play regular minutes each night will only benefit the 22 year-old blue liner, who in parts of three years has never played more than 15 games with the Canucks. 
#Canucks defenceman Frank Corrado tells us he wants to add some more bite to his game, and have more conviction with the puck next year. — Matthew Sekeres (@mattsekeres) July 13, 2015
It's unsure at this point if Corrado or 27 year-old Matt Bartkowski will earn the sixth D-man spot in Vancouver. The two may split time in that role, but with Corrado's potential as a shutdown blueliner, he should earn his fair share of time on the Canucks blue line next season.
8. Hunter Shinkaruk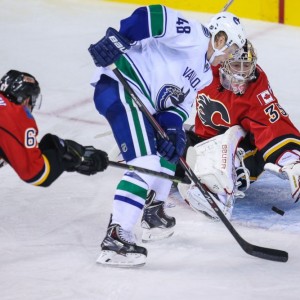 At 5'11", 179 pounds, Hunter Shinkaruk is at times tacked for his size, but based on his determination and natural offensive skill, he could end up being a major contributor on the Canucks in the future. Shinkaruk has good vision and smooth hands, and doesn't shy away from crashing the net or puck battles in hard fought areas.
The 20 year-old Shinkaruk posted 31 points in 74 games with the Utica Comets last year and was the youngest player on their roster. He was a prolific scorer with the Medicine Hat Tigers in the WHL and didn't need as much defensive prowess, like many junior players. He has great offensive tools, but will need to adjust and be a more complete player on both ends of the ice to have a future in pro hockey.
Travis Green, Shinkaruk's coach in Utica, praised his improvement during his first AHL season following the team's Calder Cup Final loss:
"If you would've told me I would be playing Hunter Shinkaruk in the Calder Cup finals against the best line in the league at the beginning of the year, I would've said you're nuts… He had enough responsibility in him to play against that line and that says a lot about how far his game has come" – Travis Green, Utica Comets head coach.
How soon the 24th overall pick in 2013 will debut with the Canucks is uncertain, but there's certainly room in the NHL for small players like Shinkaruk who are offensively gifted and battle hard to earn their keep every night.
7. Nicklas Jensen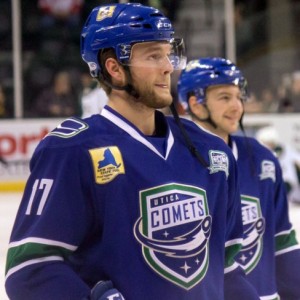 The 22 year-old Nicklas Jensen has been in the Canucks organization for four seasons now and is still considered a prospect with only 24 NHL games under his belt. The former Canucks first round pick in 2011 has seemingly hit a crossroad in his development.
Earlier this offseason, Benning stated that Jensen "isn't good enough" to play a top-six role in NHL and needs to change his game to become more of a checking forward. Jensen is a good shooter with excellent puck handling skills, and at 6'3″, 203 pounds, he can play a physical game. His game defensively has been a question mark, and overall consistency has been an issue.
Jensen had 28 points and a minus-12 rating in 59 games with the Comets last year, including five points in 18 playoff games. He was even a healthy scratch at times, and his coach in Utica in 2014-15 suggested his lackluster season may be to do with factors not related to his skillset.
Green on @TSN1040 says confidence may have been an issue with Nicklas Jensen this year. #Canucks — Canucks Prospects (@NucksWatch) May 22, 2015
It'll be interesting to see what role Jensen will play with the Comets next season and if he spends any time with the Canucks. He's heading into the final year of his entry level contract and the one-time Canucks top prospect is in danger of falling further down the team's depth chart.
6. Ronalds Kenins
Ronalds Kenins made a strong impression debuting with the Canucks last season based on his dynamic play, aggressive style and energy at both ends of the ice. He's a sparkplug of energy in the Canucks line up who always finishes checks, recording 71 hits in 30 games last year. He fits the description of a checking line forward perfectly; Kenins is a tremendous skater who battles hard, brings intensity every shift and contributes at both ends of the ice. The winger played primarily with fellow rookie Bo Horvat and veteran Jannik Hansen and will without a doubt fit into a depth role with the Canucks next year, likely on the team's fourth line. Kenins was signed to a one year deal this summer, and could earn an extension with Vancouver if he proves valuable in a two-way checking forward role. 
Ronalds Kenins tells me today that he's very grateful for 1 way deal. Goal is to get stronger and be more consistent. #Canucks — NEWS 1130 Sports (@NEWS1130Sports) June 23, 2015
Canucks contributor for The Hockey Writers. Maple Ridge, BC native. Contact: coltondavies95@gmail.com or @ColtonnDavies on Twitter.