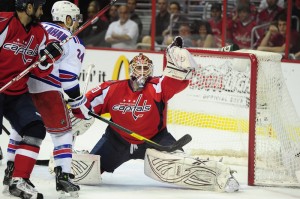 If you hop on the George Washington Memorial Parkway, you are well on your way to the Giant Center on Hershey Park Drive. This particular commute is common for players on two-way contracts in the Washington Capitals Organization.
Lately though, it's a simple direction for not only fringe players, but for anyone under the 50 player contract limit, who has interest in playing at the highest professional level currently offered in North America, the American Hockey League.
While the National Hockey League labor dispute continues to drag on with zero light at the end of the tunnel, NHL players are rapidly re-locating. Whether it's a month or an entire season, temporary contracts are up for grabs in North America and overseas.
Luckily for the Hershey Bears, a successful AHL Hockey club that owns 11 Calder Cup Championships, elite talent from the parent Washington Capitals joined the minor league affiliate and will wear the Bear for the 2012-13 season. How long is unknown at this point, but for right now Capitals goaltender Braden Holtby and defensemen Dmitry Orlov will once again call Hershey their home.
"My experience as a professional is you play on the team you're playing for right now," Holtby said. "You can't look into the future at all. Stuff changes so quickly. Right now I'm a Hershey Bear and my focus is on winning games and giving our team a chance to win."
As for Defenseman Dimitry Orlov, who spent 60 games in Washington last season after being summoned from the Hershey Bears, the highly skilled blue liner will re-join the Bears and continue his development.
"I wanted to get ready for my second year in the NHL, to be better in every area," Orlov said through a translator. "But we are hockey players. We have to do what it takes."
Both members of the Washington Capitals will make their Hershey debuts tonight with the rest of the club when they visit the Syracuse Crunch for a 7:30pm faceoff. Certainly not the original plan, but fortunately enough for both players, opportunity was there.
"I was fortunate enough to come down here with the way my contract works," said Holtby. "It's a benefit for me just to be playing, so that when things do start up again I can just keep going."
When the NHL Lockout ends, both Holtby and Orlov will make the commute back to the District of Columbia. For the time being it's time to go to work for the Bears in Chocolate land.
Follow me on Twitter @DarrenCoslov