The Washington Capitals are expected to make a number of changes going into the 2023-24 season, including moving out and bringing in players to shake up their roster in an attempt to get themselves back into the playoff picture. They already signed a new head coach in Spencer Carbery, but now fans are waiting for what the team is going to do as far as the upcoming offseason.
Tom Wilson and Evgeny Kuznetsov are two big names that have been involved in trade rumors ever since the end of the Capitals' season. With nothing happening as of yet, their futures are still up in the air. If the Capitals are leaning towards moving on from Wilson, they are getting rid of the most physical player they've had in years.
Related: Capitals Have Their Future Top Defenseman In Rasmus Sandin
If they ultimately decide to move on, they will need a player they can utilize in their bottom six that can throw hits and make the team scarier to play against. A pending unrestricted free agent that fits the bill is Milan Lucic, who while he hasn't been playing great offensively over the last couple of seasons, remains one of the hardest-hitting players in the NHL.
Who Is Lucic & How Does He Benefit The Capitals?
Lucic is a 34-year-old left-shot forward from Vancouver, British Columbia, Canada. He was selected in the second round of the 2006 NHL Entry Draft by the Boston Bruins at 50th overall after a really strong showing in the Western Hockey League (WHL) playing for the Vancouver Giants during his draft year, where he scored nine goals and added ten assists for 19 points through 62 games, but was the most physical player the WHL had seen in years.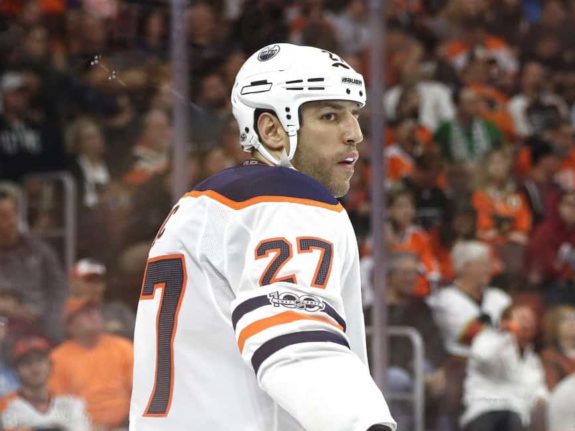 Since being drafted, Lucic has played 1,173 games over 16 seasons, scoring 233 goals and adding 351 assists for 584 points which comes out to a 0.49 points per game average. He has played for the Bruins, Los Angeles Kings, and Edmonton Oilers before being traded to the Calgary Flames before the 2019-20 season. Most recently, he represented Canada at the World Hockey Championship as an alternate captain, scoring two goals and adding two assists through ten games and winning a gold medal.
---
Latest News & Highlights
---
Lucic quickly made a name for himself right out of the gate as a physical player that isn't scared of anyone. He is willing to drop the gloves whenever he needs to, hit as much as he can on every shift, and has a slight scoring touch that helps when he needs to step into the top six of any team's lineup.
If the Capitals are able to bring Lucic in, he would be Wilson's replacement if the latter gets traded. I don't see him being signed for any other reason, but he's a good player that won't break the bank for the team. He has experience on the power play with several teams and has played well as a net-front presence, so hopefully the Caps would be able to utilize him in more ways than one.
What Would It Cost The Capitals?
Lucic isn't looking at a raise but will be paid above the league minimum. I would expect him to be brought in and signed to a short-term, one or two-year deal worth $975,000-$1.5 million a season. He's coming off of a massive contract he signed with the Oilers that looks awful now, but he's not a bad player because of that, just slightly overpaid.
If the Caps move on from Wilson and decide to bring Lucic in, he would bring physicality and a veteran presence for a really good price tag. If I were the Capitals, I'd be trying to get this worked out as soon as the Wilson trade occurs.