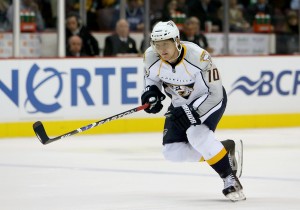 The Washington Capitals have acquired forwards Martin Erat and Michael Latta from the Nashville Predators. It was announced late this afternoon by vice president and general manager George McPhee.
Erat, a native of Trebic, Czech Republic, has played in 36 games for the Predators this season, compiling 21 points (four goals and 17 assists) along with 26 penalty minutes. After having been drafted in the seventh round (191st overall) in the 1999 National Hockey League Entry Draft, the 31 year old veteran appeared in 723 regular season games in Nashville, posting 163 goals and 481 points.
The 6'0 213 forward has competed in 46 career playoff (all with Nashville), contributing 23 points to the official score sheet.
Latta, a native of St Clements, Ontario has registered 23 goals and 64 points, along with 286 penalty minutes in 122 career American Hockey League regular season games with the Milwaukee Admirals(Top Affiliate of the Predators).
The 6'0 215 center was drafted by the Nashville Predators (Third round 72nd overall) in the 2009 Entry Draft.
Post Trade Deadline Reaction
General Manager George McPhee met with the media following this afternoons activity and had this to say about adding elite talent for immediate help, while sacrificing the future and raising eyebrows by moving highly touted 18- year old Filip Forsberg.
"You're here to win; we've been in that mode for a while," McPhee said. "This is six years of trying to win the cup. We had our rebuild phase. We sort of rebuilt things on the fly here, but we'd like to continue to make the playoffs while we're doing it."
Giving up the Capitals second best prospect in their system is quite the risk, but George is well aware and was willing to take the chance.
"With respect to giving up young players, you've got to be careful doing that," McPhee went on to say. "But we've drafted well enough that we can do that."
Reaction from Erat
Martin Erat waived his no-trade clause to join a Capitals team that he believes will give him an opportunity at winning a Stanley Cup.
"I've been in Nashville for 11 years and it's hard to leave the city when you've been here so long, but I am excited for the opportunity and to play for the Stanley Cup," Erat said on a conference call this evening.
Erat, who has two years remaining on his contract that has an annual cap hit of $4.5 million per season, is excited to arrive in DC, which is expected to be tomorrow morning around 9:30am.
Tidbits on Forsberg
Last June in Pittsburgh at the National Hockey League Entry Draft, the Washington Capitals stepped to the podium to announce the selection of Filip Forsberg, from Leksand Sweden.
I caught up with several scouts familiar with the prospect and they only had to give me the initial stunned look, that the Capitals just majorly scored in the first round of the draft.
Forsberg is projected to be a top line threat down the road, but the Capitals simply aren't looking there right now, they are looking at the remaining 12 games on their schedule and what needs to be done to have a chance to compete in post-season play.
Latta assigned to Hershey
The Capitals have assigned Michael Latta to the Hershey Bears of the American Hockey League.  Latta has produced nine goals and 35 points with 184 penalty minutes.
Bears President Doug Yingst had this to say about the newly acquired grit.
"He's very, very aggressive," Yingst said. "A tough in-your face type.