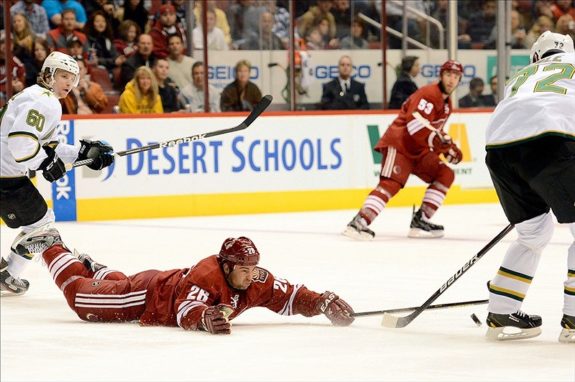 The 2013 NHL Trade Deadline has come and gone and the defending Eastern Conference champion New Jersey Devils basically stood pat, only acquiring former-Devil Steve Sullivan from the Phoenix Coyotes for a 7th round draft pick in 2014. Currently the Devils are clinging to a playoff spot as the regular season enters it's final 24 days; GM Lou Lamoriello earlier this season added Alexei Ponikarovsky, Andrei Loktionov & Matt D'Agostini to a roster that will also get a boost when Ilya Kovalchuk returns from his shoulder injury in possibly two weeks.
My THW recaps on the Ponikarovsky & D'Agostini moves can be found by clicking their names.
Sullivan: It was a shock, I really didn't see it coming, but it's a great opportunity. Glad to be going back to where it all began #NJDevils

— NJDevilsPR (@NJDevilsPR) April 3, 2013
Coach Peter DeBoer also got another body this week when Dainius Zubrus returned from a 26-game absence following wrist surgery. "I thought he was okay, a lot to ask (of him being) eight weeks out," said DeBoer following Zubrus' first game back. "We missed him, but he's obviously not up to game speed yet. I probably played him too much at 14 minutes (14:14, 3 hits) but we'll have to find a way to get him up to speed quickly."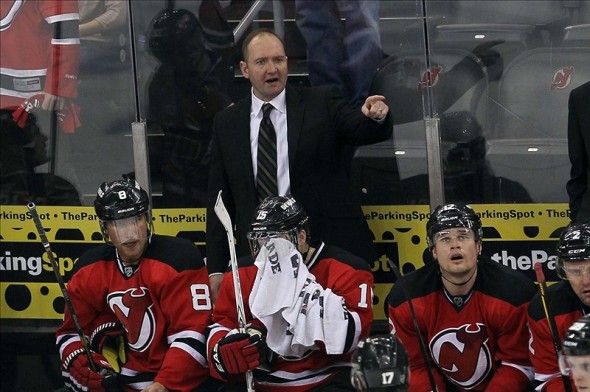 Here is a version of the potential Devils lineup when Kovalchuk returns from his injury (barring any other injuries):
Forwards:
Kovalchuk-Loktionov-Henrique
Elias-Zajac-Clarkson
Ponikarovsky-Zubrus-Sullivan
Carter-Gionta-Bernier
Extras: D'Agostini-Kostopoulos-Barch
Defense:
Greene-Larsson
Salvador-Zidlicky
Fayne-Volchenkov
Extras: Harrold-Tallinder
Goalies:
Brodeur, Hedberg
Zubrus was happy to be back, but wasn't necessarily pleased with how he played in his first game since early February. "It definitely feels like I haven't played a game in a while, but I knew that was going to happen," he said. "It's tough when you come back and lose a game like that. You want to come back, you want to play well and you want to win; now every game is so big. I don't feel like I played a good game, I wasn't creating much — a big part of my game is when we are in their end and we are cycling, protecting pucks and creating some chances. It didn't seem like I was able to do that, but it (my wrist) feels fine."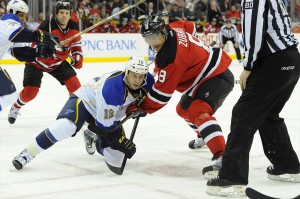 As for adding Sullivan, Lamoriello told the media after the deadline passed: "He provides depth at forward. Like we've always said you try to get better, but at what expense? So, we really did stand pat. You have to be very careful," he said. "Everything is done for today with tomorrow in mind, never (sacrificing) tomorrow with today in mind.  It's the commitment for the players to win and that's why you have some free agents that people would give you picks and certain (things), but we believe in this team. I believe in the coaching staff and I believe in the players. If not you would make drastic changes or do things. So, that's not the case."
Sullivan recently played in his 1,000th NHL game (he is the 285th NHLer to accomplish this feat) against the Nashville Predators in what was a memorable night. Earlier this season he had another memorable night: a hat trick against the Columbus Blue Jackets.
Coach DeBoer stated after a loss to the New York Islanders on April 1 that he believed in the team he already had, basically echoing what Lamoriello would say two days later. "We have to find a way to get into the playoffs; we're in a playoff spot now, it's in our own hands. I've spent a lot of time with the group that we have in that room, a lot of those guys we went to war with last year and took us deep, so I don't doubt the group."
Despite their recent struggles, winless in four games (0-1-3) New Jersey's bench boss is confident that if they stick to the system they can be successful again. "Our group's hearts are in the right place, these guys come to work every day," he said. "I know its tough when you go through losing streaks for people to recognize the work that (you see) when you're this group everyday — they care, they work hard."
Dan Rice can be reached via Twitter: @DRdiabloTHW or via Email: drdiablo321@yahoo.com