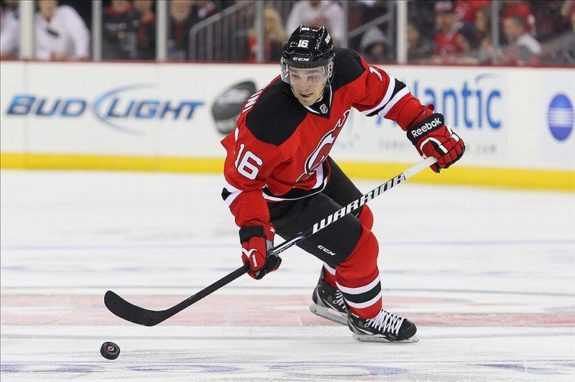 As the NHL trade deadline approaches (April 3) GM's around the league are looking to bolster their teams as well as adding pieces that they hope are the missing ones in their franchise's championship puzzle. In New Jersey it's no different as Lou Lamoriello had already added Alexei Ponikarovsky (from Winnipeg), Andrei Loktionov (from Los Angeles) and last week added Matt D'Agostini (from St. Louis). In all three deals that the Devils made, amazingly Lamoriello didn't have to surrender a player from his active roster or prospect pool; all three players were acquired for draft picks.
THW's own Jeff Ponder breaks down the D'Agostini deal from the Blues' perspective:
Not all pre-deadline trades work out, and that is no different in New Jersey. Lamoriello has made some great acquisitions that eventually led to Cups: Alexander Mogilny from Vancouver and Vladimir Malakhov from Montreal in 2000 as well as Grant Marshall from Columbus in 2003; and then there were some duds: Viktor Kozlov (2004), Brad Lukowich + Jason Wiemer (2006) and Niclas Havelid (2009) among others.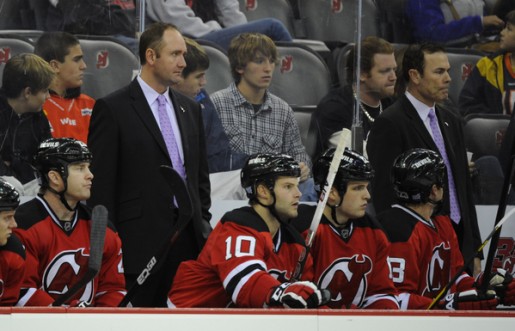 Hopefully for the Devils, D'Agostini fits into their team as a second or third-line piece and solidifies their depth as they look to repeat as Eastern Conference champions. In almost all situations for the player, it is tough to be traded away – that feeling that a team is giving up on you or doesn't want you anymore. "Yeah, it's a little bit of shock," D'Agostini told the Hockey Writers after his debut in New Jersey with a pause. "Yeah it's shock, and then excitement comes along with it, with the beginning of a new chapter and that kind of stuff. Now that I'm here, I'm settling in and feeling good."
Wondering if D'Agostini & new teammate Andy Greene had a talk about this yet: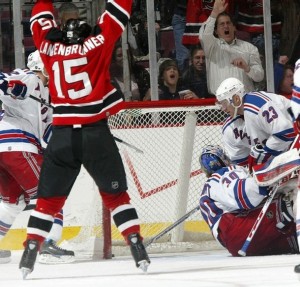 It also makes the situation a little easier when you are traded someplace that you know some familiar faces, whether or not you played with someone or were coached by someone, it's always nice to not be a complete stranger when you meet your new teammates for the first time. "I know Tom Kostopolous from playing with him in Montreal and assistant Dave Barr was my coach back in Junior Hockey," D'Agostini revealed. "A couple of familiar faces always makes the introductions a lot easier."
He also had a little help from an ex-Devils captain, Jamie Langenbrunner, who spoke to him before he got on a plane to fly to New Jersey. "Langs talked to me real quick," the 26-year-old said, "he gave me a little breakdown of the guys and the staff; he made this a little easier."
His first game went well, as the Devils won a tight-checking 2-1 game over the Florida Panthers; D'Agostini had two shots on goal and had a team-high three hits in his debut in red & black. "I thought he did a good job, he had good speed," New Jersey coach Peter DeBoer told the media after the game. "He created some offense with that speed. As he gets more comfortable I think he will be better."
Speed + Smarts + Sweet Shot = a valuable player:
D'Agostini himself was pleased with his Devils debut, especially because it came in a win. "I had a couple of good shifts there, a couple of good chances. Obviously I have some things to sharpen up on, get the system down pat and all that kind of stuff," he said. "Hopefully learn and go from here; we got the win which makes it a little easier. Like I said, I still have some things to go over and get better at."
He also is ready to contribute however the coaches ask him to, "I'm really happy to be here," he said with a smile. "I can't wait to get a good stretch run going here and get into the playoffs."
Dan Rice can be reached via Twitter: @DRdiabloTHW or via Email: drdiablo321@yahoo.com