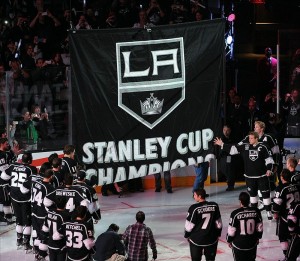 The 2013 NHL Trade Deadline has now passed. As expected, there were several franchises that chose to take full advantage of the opportunity to renovate their roster. Others eschewed the option of becoming actively involved in the process, or executed one or two simple moves. The Kings certainly abstained from generating multiple deals, in part because they are still reaping the benefits from the trade that was consummated on February 23, 2012.
That is when they acquired Jeff Carter from Columbus, in exchange for LA's 2013 first round draft pick, along with veteran defensemen Jack Johnson. Johnson has performed adequately since the trade, and the Blue Jackets will also have the chance to utilize that selection on June 30. But the Kings have undoubtedly profited from having Carter, who not only leads LA with 20 goals this season, but his eight goals during the last season's playoffs (including three game winners) helped propel the team to their first Stanley Cup in franchise history.
When that deal occurred, the Kings were sturdy from a defensive standpoint, but were in definite need of a scoring boost. However, there was no need to pursue a deal of that magnitude this season, as neither the offense nor the defense has been distressingly substandard. The team has averaged 2.86 goals per game, which is surpassed by just seven teams. And even though their 12th ranked power play has not been exceptional, the 19% success rate is acceptable. It is certainly true that their penalty killing has not adhered to the exceptionally high standards that were established in during the 2012 postseason, when the Kings achieved an NHL best 92.1 PK%. But even that shortcoming did not supply sufficient reason to sacrifice the future by securing a big name player via trade.
Regehr Should Reinforce The Blue Line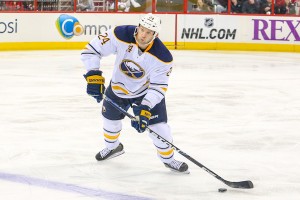 However, it did provide motivation for Dean Lombardi to fortify their injury depleted options along the blue line. Which explains his lone acquisition of defenseman Robyn Regehr. The 13-year veteran was acquired from Buffalo on April 1, in exchange for the Kings' second round draft picks in both 2014, and 2015. He will now be reunited with Darryl Sutter, who coached him during their collective tenure with the Flames. Regehr's abilities are comparable to those which Matt Greene and Willie Mitchell delivered to the team, when they capably executed their responsibilities along the blue line. Mitchell has endured two knee surgeries since the lockout, and has been unavailable to the Kings this season. Meanwhile, Greene has been sidelined since injuring his back in the team's season opener. Although he could return to the lineup in late April.  
But since both Greene and Mitchell have not been available to contribute, it was vital to find a defenseman such as Regehr, who will instantly add the elements that were lacking. He should bolster LA's aforementioned penalty killing, which from a statistical standpoint had generated a respectable result (13th ranked, 81.7%). Still, those numbers were deceptive, since there have been a disturbing number of times that LA defensemen have performed the role of spectators, while opposing skaters swarm the net. Plus, the 6' 3", 225 pound veteran will also enhance the team's physical presence.
Lombardi should be credited for bringing in the proverbial big body to address the Kings' occasional vulnerability when attempting to kill penalties, and with the intermittent issues at allowing opposing forwards to position themselves near the net. And he deserves further accolades for obtaining that upgrade, while also simultaneously protecting this year's second round draft pick, as well as the first round selection in 2014. Perhaps most importantly, Lombardi also should be commended for choosing not to jettison Jonathan Bernier.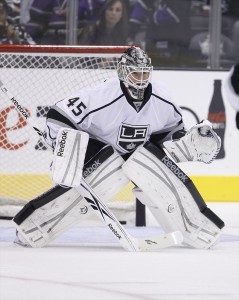 Keeping Bernier Was Critical
There have been two essential facts regarding the Kings' goaltending situation, and they have been both consistent and evident throughout this abbreviated season. First, Jonathan Quick has not displayed the brilliance that was an integral component in the Kings' Stanley Cup run of 2012. Second, Bernier has clearly been LA's most effective goaltender since the season commenced. Of course, those particulars are hardly unrelated. Quick has not stifled opponents as he did last season, when he earned the Conn Smyth trophy by only allowing 29 goals throughout the entire postseason. He also assembled an outstanding 1.41 GAA, and a .926 Sv%. But Quick  has been unable to replicate that success this year, as he ranks only 25th in GAA at 2.54 GAA, and is an alarming 41st with a .896 Sv%. He has also failed to register a .900 Sv% in 10 of the 28 contests that he has appeared in, and possesses a modest record of 12-11-3. Conversely, Bernier has been magnificent. His 1.95 GAA is the NHL's second best among all goalies who have participated in at least 11 games, and his Sv% is 9.19. His calm behavior has provided a stabilizing force, and he has delivered stellar performances that have resulted in victories immediately following losses by Quick. Still, Bernier has only been employed sparingly despite Quick's propensity to allow soft goals. While it is easy to comprehend why Lombardi and Sutter would prefer to keep Quick in the lineup, the stakes will be elevated by a sizable margin during the postseason. The Kings won't have the luxury of starting Quick in each contest if he continues to be routinely outplayed by the opposing goalie. That is why it was essential that Lombardi keep Bernier, because he could easily be summoned to handle the goaltending chores during the playoffs.
Did The Kings Do Enough? 
Should Lombardi have done more to strengthen the Kings' roster before the deadline transpired? The belief here is no. With a few exceptions, the current lineup captured the NHL's ultimate prize last season, and there was no reason for the architect for this collection of players to mortgage the franchise's future. Or risk weakening it yet this season by trading Bernier. The acquisition of Regehr addressed the one need that could not be resolved by utilizing players that were already on the roster. Which means that the Kings are indeed built to repeat.