The Washington Capitals will go into Sunday with a full-strength, healthy lineup, as forward Jay Beagle and defenseman Michal Kempny are ready to go for Game 2, head coach Barry Trotz said at practice Sunday.
Beagle had been day-to-day since the end of the regular season but was still skating on his own at Washington's practice facility. Kempny, who was on the receiving end of a dangerous hit against the boards from Josh Anderson, was re-evaluated Friday and was at practice in a regular jersey Saturday. Following practice, he said he was good to go for Sunday, effectively putting the big injury scare behind him.
Beagle Much-Needed for Washington
In Game 1, the Capitals struggled greatly in the face-off circle, losing over half their draws, especially at key defensive moments at critical times during the game. And in that moment, Washington surely missed the services of Beagle.
The 31-year-old's face-off percentage of 58.5 was the fourth-best in the league during the regular season. He is most prominent for being something of a utility player, a hard-working fourth-line forward who can provide grit, win face-offs and also kill penalties.
"I think guys have immense respect for anyone that does that and [will] do whatever it takes to make a play or block a shot or any of the other stuff that doesn't really get noticed as much as offensive talents," defenseman John Carlson said.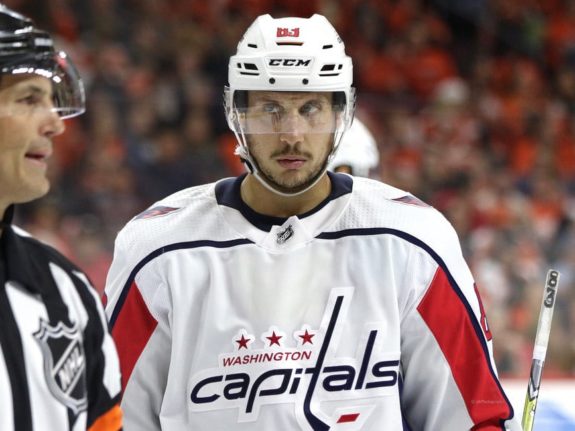 Not only does Beagle possess a lot of talent in certain areas that aren't as flashy, but he is a strong performer during critical points of a game, and gives full effort and dedication every shift.
"The toughest moments of the game, I think he shines the brightest," Carlson added. "You know what you're going to get out of him every single night, he's never going to take a shift off."
Beagle also led all Capitals' forwards in shorthanded ice time per game, and given Washington's woes on the penalty kill in Game 1, his return should greatly benefit the Capitals in that respect.
"Penalty kill is my main role, that's what I do," Beagle said. "I want to be the go-to-guy for penalty killing."
Beagle will return to his spot at center on the fourth line, and Chandler Stephenson, who took over that position while Beagle was gone, will move to his wing. Jakub Vrana will come out of the lineup as the extra man out.
Capitals Avoid Scare With Kempny
After going down in Game 1, Kempny went off to the dressing room and would not return for the rest of the game. It was a scary moment for the Capitals, who have been benefiting greatly from Kempny's role as a top-four defenseman.
"I wanted to go back, but doctors didn't let me go, so I had to scratch it," Kempny said at Capitals' practice Sunday. "I'm ready to go."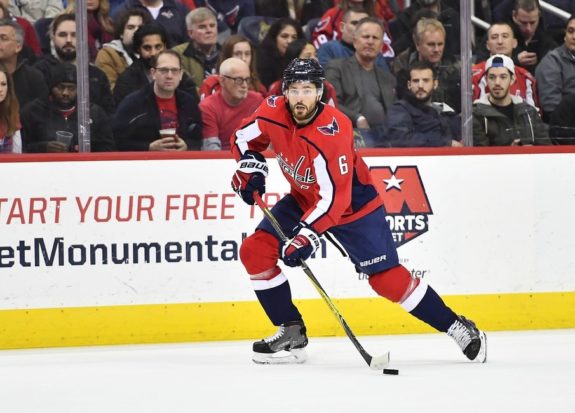 The 27-year-old had two goals and three points in 22 games after being acquired by Washington in February, and between his time with Chicago and Washington in this season, he was a plus-14 and proved to be an effective blueliner. For the Capitals, he has thrived playing alongside Carlson and has shown a lot of offensive acumen while taking on bigger minutes.
"I really appreciate to play by [Carlson]," Kempny said. "I can learn a lot from him. I really enjoy it."
While it would have likely been Christian Djoos to replace Kempny, the defensive pairings will stay the same for Sunday, with Kempny not missing any time.