The Washington Capitals understand they must address the center position as their perennial number-one center and future Hall of Fame inductee, Nicklas Backstrom's career winds down. He recently signed an extension to keep him in DC for the next five seasons. However, the team's last two first-round draft selections were centers as management has already started to prepare for the transition from the Backstrom and Evgeny Kuznetsov duo. The pair was heavily responsible for the team's 2018 Stanley Cup win.
John Tavares' free-agent deal with the Toronto Maple Leafs, an $11 million cap hit, showed how expensive it could be to sign an established top-six center. In contrast, a team currently near the cap limit, like Washington, can't follow suit. The use of home-drafted prospects in future seasons during their entry-level and bridge contracts will avoid spending at such a high rate.
The franchise leader in assists, Backstrom was selected fourth overall in 2006. It's difficult to imagine the Caps will find another player with his talent and success. Washington has not had a lottery pick since the current draft model came into existence and hasn't chosen in the top-10 since they selected defenceman Karl Alzner in 2007 from the Calgary Hitmen.
Capitals Shift Focus On Future
It is vital to have strength down the middle and a solid foundation from the goal crease out to be a legitimate contender as the Capitals have been for the past few seasons. With economics being more important with a stalled cap, a general manager will be forced to move on from some players they otherwise would have liked to re-sign. It's important to note how valuable it is to have prospects ready to jump in at a lower cost.
Unrestricted free-agent goalie Braden Holtby recently signed with the Vancouver Canucks with a cap hit of $4.3 million per season; however, the Capitals weren't forced into signing an expensive free agent. The decision to not re-sign the former Vezina Trophy winner is possible due to the emergence of Ilya Samsonov, who will take over as the starting goaltender at a much-reduced cost. Washington's 2015 first-round pick enters the 2020-21 season in the final year of a $925,000 entry-level deal.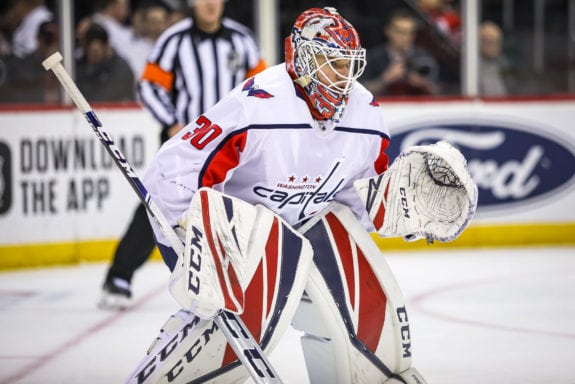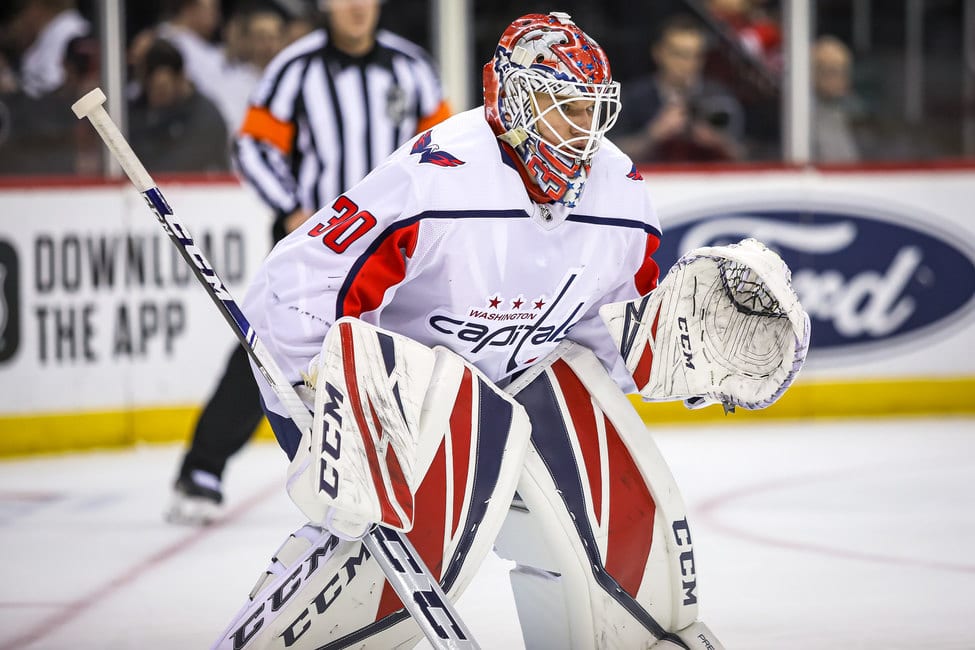 A one-year, $1.5 million deal given to Henrik Lundqvist to be the backup enables Washington to save $2.5 million in cap space at their goaltending position without re-signing Holtby. This is the ideal situation to have when Backstrom is no longer on the roster in the future. General manager Brian MacLellan needs to ensure the organization has a stockpile of prospects for a similar shift in the future at the center position.
The Past Speaks to the Future For Washington
Maintaining a robust two-way punch at center before Kuznetsov joined Backstrom proved difficult both in play and salary structure. Management tried various options looking to lessen Backstrom's pressure while Kuznetsov fulfilled his KHL contracts. Past high-profile free-agent signings of centers like Sergei Federov, Jason Arnott and Mike Ribeiro all had varying degrees of success of consistency. Federov did score one of the biggest franchise playoff goals in 2009 versus the New York Rangers. With no championship win, the costs of these signings became too much to remain competitive long term.
But one concern needs addressing; utilizing the free-agent market for another top center hinders the ability to allocate spending on other areas of weakness. A lesson learned with some of the signings mentioned in the previous paragraph. Players like Kuznetsov, who provide quality minutes and production during lower costing entry-level years of their contracts, will be vital in managing a destabilized-cap future.
Kuznetsov Provides Stability At Center
While Washington knew they would not receive his services until after his KHL contract was over when selecting him in 2010, they strongly desired a prospect of their own to grow within the organization, accepting patience needed.
Indeed, they were looking for a future ability to avoid paying the high cost of searching the free-agency market as previously done. Kuznetsov proved valuable on the ice from the moment he officially signed with Washington in 2013. His rookie season culminated with a 2015 game-winning goal versus the New York Islanders in game seven, helping the Capitals win a playoff series while playing under a minimum $925,000 entry-level contract.
Not having to enter the free-agent market to supplement Backstrom, the Capitals met the goal of having a second top-line center without paying a high contract. Before the 2015-16 season commenced, a cap-friendly $3 million AAV deal for Kuznetsov was signed coming off his rookie deal. The now more developed center was an integral part of the following 2015-16 season, including leading the team in points and assists during the regular season. This is great value for a player being paid less than four other forwards on the roster at the time.
The Search Has Begun
Over the last two drafts, the Capitals made four of nine picks looking for strength down the middle. Two are first-round selections, including Connor McMichael from the London Knights in 2019, and most recently in 2020 with Hendrix Lapierre from the Chicoutimi Sagueneens. Aliaksai Protas (third round, 91st pick) of the Prince Albert Raiders in 2019 and Bear Hughes of the Spokane Chiefs in 2020 (fifth round, 148th pick) round out the four picks.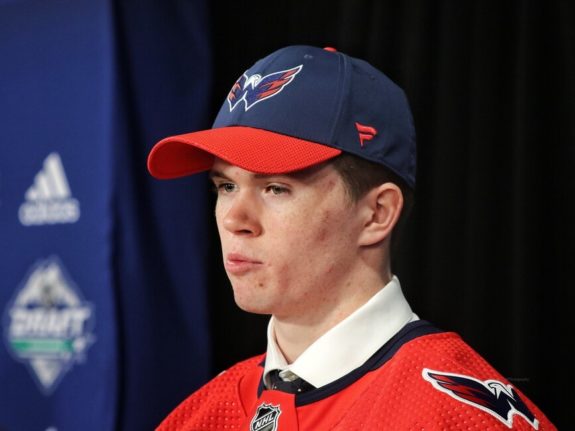 The first-round picks in 2019 and 2020 marked the first time in 20 years management used their top selections for centers in consecutive drafts. In 1999 and 2000, Kris Beech of the Calgary Hitmen and Brian Sutherby of the Moose Jaw Warriors were taken with consecutive first-round picks.
Until 2019, Washington hadn't selected a natural center higher than the third round in the previous eight drafts since Kuznetsov in 2010. Out of 34 choices, the Capitals selected only three centers in six drafts between 2013-2018, with Garret Pilon (third-round, 87th pick) being the highest. While this made sense given Kuznetsov was proving to be the addition they had been looking for, the ability to grow a prospect within was limited and needed adjusting.
Draft Never a Certainty
While it's not fair to predict any player to have the success Backstrom does, both McMichael and Lapierre exhibit traits showing the potential of becoming top-six centers based on their play at current projections. With their ages and contract status, the pair will have the time needed to improve to make a push for a top-six roster spot when Backstrom's contract ends.
Their continued development will be as important as Kuznetsov in the early stages of his career. It makes no sense to have prospects in the NHL while not contributing important minutes, and the Capitals are not in need to rush any prospects in the short term. A reliance on less expensive rookie contracts when they can have a greater impact is MacLellan's goal.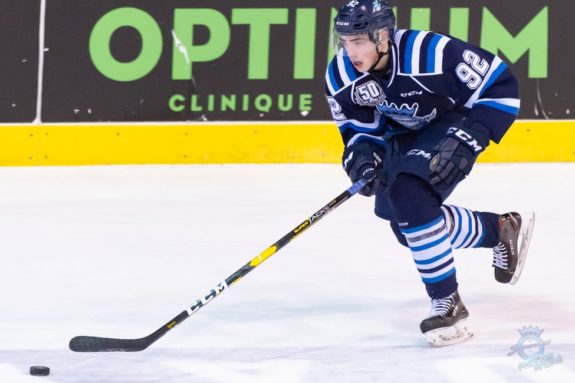 Regardless of how high a selection they are chosen, caution is always required when projecting prospects and when/if they will be an integral part of a lineup. The Caps themselves have a history of drafting high-scoring players with aspirations of them being a number-one center. Beech (1999), Jason Allison (1993), Anton Gustafsson (2008), and Eric Fehr (2003) were all taken in the first-round with none becoming a consistent top center. Gustaffson never played a game for Washington.
Another Diamond in the Rough
Washington made great first-round picks at the center position as well during their history. Outside of Backstrom and Kuznetsov, Ryan Walter and Bobby Carpenter both were impactful selections. Michal Pivonka proved you could find a player outside the top rounds with the consistent high play required in a future without Backstrom. The third-round pick in 1984 played 13 seasons with the Capitals and currently sits fifth in all-time scoring for the team.
MacLellan and his scouting staff have made a point of securing a potential future replacement for Backstrom in the last two drafts. I expect this emphasis to continue into the 2021 draft. When Backstrom is no longer available, it will be Kuznetsov now looking for another player to support him as he'd done early in his career. What goes around, hopefully, comes around in Washington.
---
---