Young Washington Capitals forward Evgeny Kuznetsov signed a two-year bridge contract worth $6 million on Monday evening.
https://twitter.com/alex_prewitt/status/618177925351931904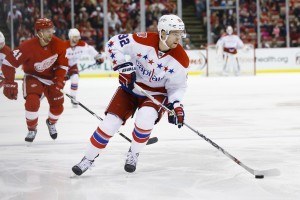 Kuznetsov put in a strong rookie campaign, scoring 11 goals and 26 assists through 80 games in the second season where he saw NHL action. The bridge deal is becoming less common, with RFAs like Dougie Hamilton and Brandon Saad taking long-term deals despite RFA status.
But this is a case where the contract makes a lot of sense for both sides. The Capitals get a little cap wiggle room with four players over $5.5 million a year, including Alex Ovechkin's AAV of $9.538 million. (Also Nicklas Backstrom, Brooks Orpik, and Matt Niskanen.) They're also likely to to have to pay Braden Holtby, who is currently a RFA who has filed for arbitration.
On Kuznetsov's side, he's just finished his rookie season and gets two years to prove that he deserves a solid payday on his next deal. After seeing this Game 7 goal in the postseason's opening round this year, it's hard to believe that we've seen Kuznetsov's ceiling.
RELATED: Is the Washington Capitals Defense Set?
[catlist categorypage="yes" numberposts=3 excludeposts=this]
Sign up for The Hockey Writers' Washington Capitals newsletter.