In a late Monday trade, the Chicago Blackhawks sent goaltender Anders Nilsson to the Edmonton Oilers in exchange for forward prospect Liam Coughlin.
The #Blackhawks have acquired F Liam Coughlin from the Edmonton Oilers in exchange for G Anders Nilsson. Release: http://t.co/5yTNC6nCPT

— Chicago Blackhawks (@NHLBlackhawks) July 6, 2015
On Chicago's end, they've still got a nice stockade of goaltending talent, even after trading Antti Raanta to the New York Rangers. Plus, Nilsson wasn't on their roster. What the team hopes to uncover, is more NHL-level talent at entry-level contract prices.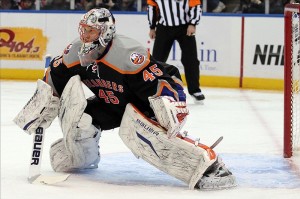 At 20, playing for the Vernon Vipers of the BCHL, Coughlin probably isn't going to be ready for the NHL very soon. Coughlin was a 5th round pick in the 2014 and had to
return to the BCHL
last season to "upgrade his schooling," before he is able to join the Boston University Terriers in the NCAA.
Nilsson, who is 25, spent last season playing for Kazan Ak-Bars in the KHL. Chicago owned his rights, but didn't actually have him on contract. What they traded to Edmonton was the rights to Nilsson.
However, just hours after the Blackhawks announced the trade, the Oilers announced they've come to a deal with Nilsson on a one-year, one-way contract worth $1 million.
Anders Nilsson 1-way, 1M

— Bob Stauffer (@Bob_Stauffer) July 7, 2015
Nilsson had a great year in the KHL, posting a .936 save percentage. But, as Jonathan Willis points out in the Edmonton Journal, lots of goalies have had success playing behind the Kazan Ak-Bars defense.
Prior to his time in the KHL, Nilsson played two NHL season with the Islanders, totaling a .916 even strength save percentage, just a .898 in all situations. His AHL numbers weren't much better. He posted a .901 through 29 games with the Bridgeport Sound Tigers in his final AHL season before heading to the KHL.
It's hard to tell what the excitement was for Edmonton, if there's legitimate consideration of him as a NHL goaltender, or if they're hedging their bets and bringing in as many goalies with upside as they can.
With the Oilers acquiring goaltenders like crazy in hopes of solving their goaltending problems, there's been no shortage of speculation about what this means for last year's starter, Ben Scrivens. The move came with a lot of speculation that the team may buyout the remaining year of Scrivens contract, since the team will get a second buyout window in August after filing for salary arbitration with defenseman Justin Schultz on Monday.
Any team that files for arbitration (the team or the player can file) will get a second buyout window in August. However, the second buyout window isn't exactly the same as the first buyout window in June. There's a minimum salary requirement of the player having a $2.75 million AAV. At an AAV of $2.3 million, Scrivens doesn't make enough for the team to be eligible to buy out his contract. If they have soured on Scrivens, they're most likely to attempt a trade and to eat a little of his salary, since there's just one more year left on his contract.
If the team is using Schultz's arbitration to buy out a player, it won't be Scrivens and is more likely to be either Andrew Ference or Nikita Nikitin.
No matter what the plan is, at the moment, the job is likely Scrivens to lose.
RELATED: 3 NHL Teams That are Winning the Offseason
[catlist categorypage="yes" numberposts=3 excludeposts=this]
Sign up for The Hockey Writers' Edmonton Oilers newsletter.