The Edmonton Oilers have filed for salary arbitration in negotiations with restricted free agent defenseman Justin Schultz.
Schultz and team can settle before a hearing, so the damaging process doesnt have to take place, but the buyout window is still triggered

— Ryan Rishaug (@TSNRyanRishaug) July 6, 2015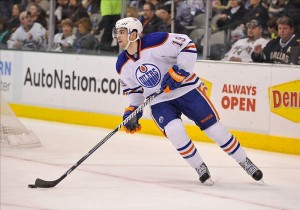 The 25-year-old Schultz made $3,675,000 on a one-year deal last season and posted some of the worst numbers of his young career. He scored just six goals, a lower total even than he posted in the 2011-12 lockout-shortened season. Part of that may have been an incredibly low 4.9% shooting percentage in all situations, a good shot below his career average of 7.9% (inclusive of last season). The dip saw him move from a 0.9 P/60 in 2013-14 to a 0.8 last season, while his power play P/60 stayed steady at 3.0 through reduced time.
Schultz came out of college, pursuing free agency, as a highly touted offensive defenseman, but hasn't developed the way the team and many scouts believed that he would. Of particular note have been his struggles in his own end.
Last year did have a noted improvement in one category where he'd been criticized previously. Through 81 games, he posted a score-adjusted CF%Rel of 3.3%, the first time he's posted a positive number in his career.
Part of that rise in possession numbers surely has something to do with his usage. His first two seasons in the league he had a ZSO%Rel of 0.9%. Last year that made a huge jump to 19.9%. He saw his power play time cut to the lowest amount of his career, but played the most even strength minutes of his career. (There wasn't much of a change in his TOIT%, though there was a slight dip in his TOIC%, so facing slightly worse competition is probably worth mentioning, but it was only a slight dip.)
All of this may be of use to him, as any statistics available at NHL.com are admissible in arbitration hearings, meaning that his possession stats could be used to counter the dip in offensive production.
Importantly, filing for arbitration opens up a second buyout period for the Oilers (or any team). This will allow the team to buyout any contract with an AAV over $2.75 in August for a short period. It's possible the team could use the situation to buyout a contract like Andrew Ference's or Nikita Nikitin's.
RELATED: Peter Chiarelli's To Do List
[catlist categorypage="yes" numberposts=3 excludeposts=this]
Sign up for The Hockey Writers' Edmonton Oilers newsletter.