Jamie Oleksiak has become a star defender for the Dallas Stars and played a big role on the defensive end during the postseason.
Oleksiak was initially drafted by the Stars 14th overall in the 2011 NHL Entry Draft. Following being drafted, he signed a three-year, entry-level contract with the Stars. He was then assigned to play with Dallas' AHL affiliate the Texas Stars.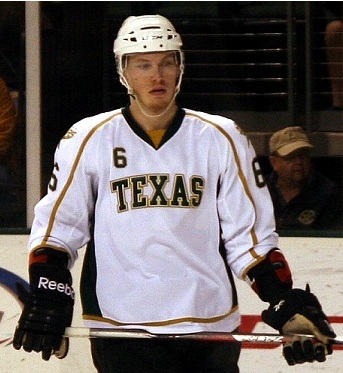 He spent the next two seasons playing with the Texas Stars before getting called up and making his NHL debut on Jan. 30, 2013. He later recorded his first NHL point (an assist) on Feb. 13, 2013. However, it wasn't until Oct. 28, 2014, though, that he recorded his first NHL goal.
Oleksiak spent his first four seasons post-callup splitting his playing time between the NHL and AHL. It wasn't until the 2016-17 season that he had his first full NHL season behind him. Following the conclusion of the 2016-17 season, Oleksiak re-signed with the Stars on a one-year contract. With this initial stint with the Stars, he appeared in 140 games recording a total of 23 points and about 322 hits.
During the 2017-18 season, the Stars traded Oleksiak to the Pittsburgh Penguins in exchange for a conditional fourth-round pick in the 2019 NHL Entry Draft. During his time with the Penguins, he made huge progress in his play.
He became an extremely talented and effective physical defender who adds defensive depth to whatever team he is on. He worked on using his size effectively, which translated to an increase in physical play. This made him an extremely valuable asset to the Penguins.
During his two seasons with Pittsburgh, Oleksiak appeared in a total of 83 games and recorded a total of 29 points and a whopping 309 hits.
A Return to the Stars
On Jan. 28, 2019, Oleksiak was traded back to the Stars ironically for the same conditional fourth-round pick he was initially traded for.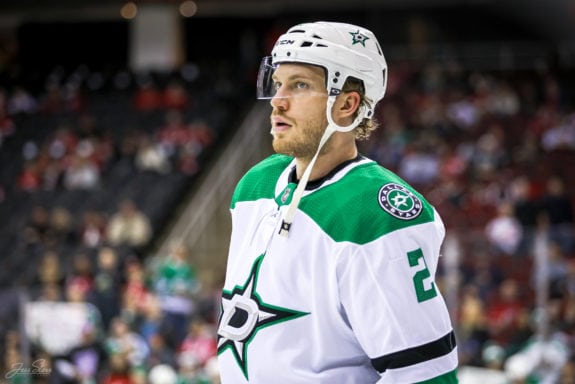 Now that I've gone over how Oleksiak got to be where he is today, let's discuss the type of player he is and what he adds to the Stars team.
As I mentioned before, Oleksiak made huge strides in his game and became an extremely effective physical defender. This growth in physicality can clearly be seen through an increase in hits from the season before he was traded to Pittsburgh (2016-17) to the season he was traded back to Dallas (2018-19). In the 2016-17 season, he recorded a total of 51 hits. This number more than doubled by the 2018-19 season when he recorded a total of 135 hits. This shows how much growth he made over the course of the two seasons and how he became a highly valued defender.
Not only was Oleksiak able to get to that level of effectiveness in his physical play, but he was also able to maintain it.
This past regular season, Oleksiak led the Stars' defenders in hits and was second only to Jamie Benn in hits amongst all of the Stars' skaters recording a total of 153 hits through only 69 games.
He is also effective when it comes to puck possession. During the COVID-19 shortened season, Oleksiak recorded only 46 giveaways while also recording 24 takeaways through the 69 games he appeared in. This gave him the fifth-least number of giveaways amongst stars defenders. Fifth only to players who played less than 45 games last season.
Even after being traded back to the Stars, Oleksiak has continued to grow his game and has turned himself into a top-four defender for Dallas. He is also surprisingly speedy for being 6-foot-7 and weighing 250 pounds. This is another aspect of his game that adds to the depth that he offers.
The combination of physicality, puck control, and speed is what makes Oleksiak such a valuable player.
Oleksiak's Playoff Performance
This past playoff run as I already mentioned, it's clear to see that his physical play continued throughout the postseason as he led the team in hits. Not only that, but he also showed he wasn't afraid to step in front of pucks to eliminate scoring chances as he recorded 54 blocks over the course of the postseason.
While he only recorded nine points during the postseason, he helped provide a strong defensive front, which is so important to any team during the playoffs, but especially a team like Dallas whose starting goaltender was unavailable for a majority of the games.
While providing this physicality and blocking shots, Oleksiak was able to remain healthy throughout the entirety of the postseason, which is always a good thing not just for the player, but the entire team as well.
The Stars are lucky to have a player like Oleksiak on their roster and should look to keep him around for as long as they can, especially if they want to get back to the Stanley Cup Final and win it all.
---
---