With the 22nd pick of the 2020 NHL Entry Draft, the Washington Capitals selected Hendrix Lapierre. He is a player who was ranked very highly on his ability, but because of injuries was considered a risk and a gamble by some.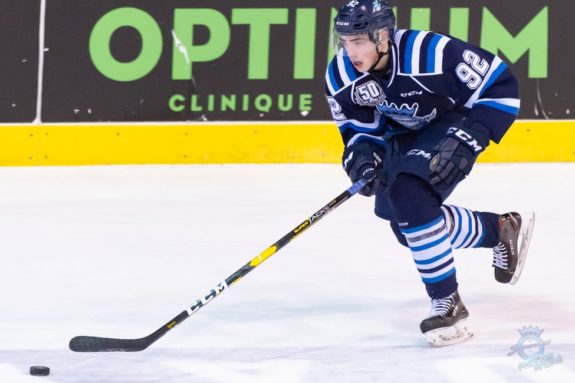 The Capitals decided he was worth the gamble and made a trade to jump up and get him. Clearly, general manager (GM) Brian MacLellan believes this player is worth any risks that might be associated with him.
Making the Pick
At the start of the evening, the Capitals held the 24th-overall pick of the draft. As the Calgary Flames came up on the clock for the 22nd pick, a trade was announced. The Capitals had traded the 80th overall and 24th overall pick to move up to 22nd. The Capitals then used that pick to select Lapierre from the Chicoutimi Sagueneens of the Quebec Major Junior Hockey League (QMJHL).
Who is Hendrix Lapierre?
Lapierre has been an elite talent in junior hockey. His puck skills and vision allow him to effortlessly weave through opponents and create scoring opportunities for himself and teammates. He also has the size that NHL scouts covet, being 6-foot and 181 pounds.
In his pre-draft season in 2018-19, he was already turning heads. His 45 points in 48 games for Chicoutimi was impressive for a first-time draft player. He began the 2019-20 junior hockey season with a dominant performance at the Hlinka-Gretzky Cup to the tune of 11 points in 5 games. In his first QMJHL game this season he went off for two goal and two assists. The combination of his size, skill, vision, hockey IQ and skating ability makes him a top-10 level talent in this very talented draft. Combine that with his ability to find the back of the net for himself and create opportunities for his teammates and it makes him a highly desirable talent.
Why Did He Slide?
So, why did he slide to 22nd if he's so talented? Lapierre, unfortunately was reported to have experienced three concussions in a span of less than 10 months. Later reporting and Lapierre himself stated that this is not the case and that there was only one concussion and the rest of the issues were neck injuries. That being the case, the neck injuries are less alarming than concussions, but only marginally. Officially, his injury is described as a craniocervial traumatic injury. That description alone is enough for many NHL GMs and hockey fans to just write off this highly talented player.
RELATED: 2020 NHL Draft Guide
He was limited to 19 games in 2019-20, but he produced 17 points. Without the usual summer tournaments for prospects to show off right before the draft, Lapierre didn't really get a chance to show how well he would bounce back from injury. He gave the world a one-game sample at the start of the QMJHL season this month. In his first game back, he was a dominant force, scoring two goals himself and adding two helpers. I'm not sure a one-game display is emphatic enough to wash away the stain of injury, but it's definitely a start.
In spite of Lapierre's obvious talent and skill, it seems that many teams were unwilling to take the perceived risk. First-round picks are highly valuable assets and teams expect the players they draft in the first round to become key components to their franchise. Other NHL GMs cannot be blamed for taking Lapierre's injury at face value and deciding to stay away. However, their trepidation could have ended up working to the Capitals' advantage. If Lapierre can leave his injury history behind, the Capitals may have drafted one of the top talents in this draft with the 22nd-overall pick.
---
---