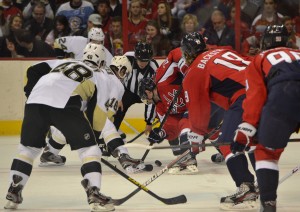 Today, marked the 158th consecutive sellout for the Washington Capitals at the Verizon Center in Downtown, DC. 18,506 were in attendance, but unfortunately witnessed a 6-3 loss to the Pittsburgh Penguins. It was the Capitals 6th regulation loss on the shortened 48 game schedule and 3rd at home.
It's easy to recognize that the once spirited rivalry between the Washington Capitals and Pittsburgh Penguins has somewhat simmered down. Players have changed addresses, while new comers to both clubs are still getting acquainted.
At the end of the day though, this is still a matchup of two dangerous hockey clubs, that clearly compete hard against one another and undoubtedly view these games as measuring sticks to their individual and overall team performances.
Taking a look at today's action, the Capitals were looking for their 3rd win at home just hours before Super Bowl Sunday was underway.
Penguins defensemen Paul Martin, who has been heavily criticized since his arrival in Pittsburgh, beat goaltender Braden Holtby from the point, for his second goal of the season. The Capitals would quickly fire back as defensemen Mike Green buried a shot past former teammate and goaltender in DC, Tomas Vokoun. It was Green's second goal of the season.
Pittsburgh would eventually take a 2-1 lead into the second frame. With just under five minutes into the 2nd period though, Tomas Vokoun left the crease to retrieve a shot from Caps defensemen John Carlson. Fortunately for the Capitals, the puck seemed to have taken quite the awkward bounce off the boards, which would then, perfectly place itself into an empty Pittsburgh net, to tie the game at two a piece.
It was all Pittsburgh though for the remainder of the afternoon, as Pittsburgh forwards Sidney Crosby, Evgeni Malkin and Chris Kunitz combined for a total of three goals and five assists to defeat the Capitals by a final score of 6-3.
"We made a couple of mistakes but other then that I though we played a good solid hockey game," Capitals Head Coach Adam Oates said. "There are things we can do better, and we'll address that. But I don't look at the game as one that got away from us because we weren't playing well."
Braden Holtby was clearly having a difficult time between the pipes today, but head coach Adam Oates had other ideas today, besides pulling the talented youngster.
"There was a time when I thought about pulling him, but you know what, the guy's been very good for this franchise the last year and I thought he earned the right to stay in there and fight through it, and he had a really good third period," Oates said.
Capitals defensemen John Carlson spoke with the media after the game, about the importance of sticking to their game plan, moving forward.
"No one plays a perfect game, especially against these guys. They have great players and they are going to make you pay. If we stick to what we have been taught, it clearly works," he said.
Follow me on Twitter @ DarrenCoslov