This is the third in a series of articles detailing the major questions facing the Washington Capitals heading into the 2015-16 season.
Click here to see Question 1 (What Happens to Laich and Chimera?)
Click here to see Question 2 (Will the Caps Miss Mike Green?)
This weekend the Washington Capitals will compete in a four-team rookie tournament in Estero, Fla., along with the Nashville Predators, Tampa Bay Lightning and Florida Panthers. The Caps' roster will be comprised of prospects currently under contract, recent draft picks and undrafted amateur players who remain unsigned. With the event scheduled to start Saturday, Sept. 12, this seems to be as good a time as any to look at another of the questions facing the Capitals this year: Can any of their prospects crack the opening-night roster?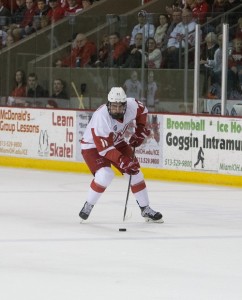 A few players with a legitimate shot at landing a roster spot will be playing for the Caps this weekend along with several who are considered to be among their next tier of prospects. Given the team's success last year and depth up front following some key offseason acquisitions, even the players with a chance to make the team are more likely hoping to impress the coaches and front office for a chance to be one of the first call-ups in the event of an injury to a veteran.
But nothing in sports guaranteed. If one of these youngsters emerges during this tournament and in training camp and pushes the veterans, that is an enviable situation for any team. And if one is deemed good enough to make the opening-night lineup, that might allow the team to trade a veteran with a higher salary to free up cap room for a key move later in the season or to get another player or prospect in return who can possibly fill a void somewhere immediately.
Any Potential Openings?
At first glance, when you consider that a lot of the scuttlebutt surrounding the Caps indicates that veteran forward mainstays such as Brooks Laich, Jason Chimera and Jay Beagle are looking at the real possibility playing on the fourth line, it would seem to be a longshot for any prospect to land among the team's top 12 forwards. Crazier things have happened, however, and for a player like tough-guy Liam O'Brien, who came out of nowhere to make the opening-night roster last season, there may be an opportunity to stick if he can ease some of the enforcer burden from former first-round pick Tom Wilson.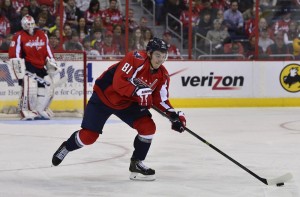 It's players like O'Brien, an undrafted free agent twice passed over by all 30 NHL teams, who give every young hopeful in an NHL camp a reason to believe. O'Brien used his work ethic and knuckles to stand out in training camp and then found himself on the ice in a Caps' sweater on opening night. He ended up appearing in 13 games for Washington, notching a goal and an assist with 23 penalty minutes and a respectable plus-4 rating before being sent to Hershey. In limited ice time he made his presence felt, backing down from no one and standing up for his teammates whenever necessary. There's a place or two for a guy like that on most NHL teams, and the young players know it. That's what makes this time of year special.
It might be more likely for a younger player to find a way to sneak into the lineup on the blue line, as the Caps right now are planning on opening the season with the somewhat-inexperienced tandem of Nate Schmidt and Dmitry Orlov as the third defensive pairing. Orlov missed all of last year after suffering complications from a wrist injury suffered while playing in the World Championships for Russia the previous spring. He already has appeared in 119 NHL games and notched six goals and 25 assists. He is plus-5 for his career with the Caps and in 2011-12 recorded 3-16-19 in 60 contests.
Schmidt played 39 games for Washington last season, mostly on the third pairing with Green, and his 54.2 percent even-strength shot-attempt rate ranked second among all of the team's players who skated at least one-third of the regular season. He fell out of favor with head coach Barry Trotz, was scratched for several games and ultimately was sent to AHL Hershey before suffering a shoulder injury that effectively ended his season. In 68 career NHL appearances Schmidt has 3-7-10 and is a plus-2.
Both players have displayed the skating ability, skill and instincts to play at the NHL level. Both also have had durability issues and suffered through the inconsistency that plagues most young NHL defensemen. Neither has been so effective as to say that anything is guaranteed, although the fact that both have one-way contracts seems to indicate they are very much considered the frontrunners for the jobs.
Orlov and Schmidt are both are 24 years old, about the age at which a player should be transitioning from prospect to mainstay – or fringe player – so one of the interesting things to watch during training camp and the first month or two of the season will be how patient the coaches are with the youngish duo, especially if someone like former second-round pick Madison Bowey has a strong camp and is pushing for playing time at the NHL level.
A Look at the Prospects With the Best Shot
As always, when it comes to roster decisions there are a lot of what-ifs, such as unforeseen injuries and things that the coaches see and are looking for off the ice and in the dressing room that the rest of us aren't always aware of. With that in mind, here is a look at the prospects playing this weekend who enter training camp with at least a shot at making the NHL roster:
Stanislav Galiev
By all accounts winger Stanislav Galiev is the forward prospect that the organization feels is closest to being ready to play regularly at the NHL level. In fact, had the Caps not dealt for T.J. Oshie and Justin Williams in the offseason, Galiev might be entering training camp penciled into a regular spot in the lineup. The fact that Washington committed to giving him a one-way contract for the second year of his recently signed deal is an indication that the organization thinks he's close. And there have been whispers that it still wouldn't be a shock if he were to stick with the NHL club this year.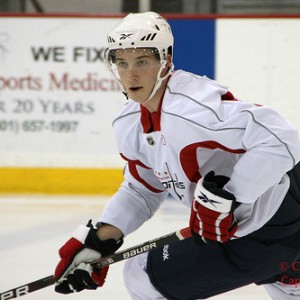 The Russian-born Galiev, 23, is an intriguing player with enough size (6 foot 1, 187 lbs.) and skill to make anyone want to give him a serious look. He has at least second- or third-line NHL talent, so it would be a wasted year for him in terms of development to play for the Caps as a fourth-liner. Unless he displaces a proven veteran on the third line, Galiev seems ticketed for Hershey this year. But if there were to be an injury to one of the Caps' top-nine forwards, especially among the top six, he would be a good bet to get the call.
Galiev, a former third-round draft pick who will not be playing in the rookie tournament, had a breakthrough year for AHL Hershey last year, recording 25 goals and 20 assists in 68 games. In two contests at the NHL level his skill and playmaking ability were evident, and he recorded his first career goal in the last game of the regular season against the Rangers. Thus far the knock on Galiev has been consistency of effort in all three zones, but by all reports that improved last year and if he continues to progress in that area he could push for a roster spot in D.C. this season.
Riley Barber
Riley Barber, a right wing who gave up his last year of NCAA eligibility at Miami of Ohio by signing an entry-level deal with the Caps, seems to be Barry Trotz' kind of player. A natural leader who previously won a gold medal with the U.S. World Junior team before captaining the same team the following year, Barber won't dazzle you with speed or skill, but he has been a proficient scorer at all levels and is a strong two-way player. Some have called him an overachiever. Again, he's Trotz' type of player.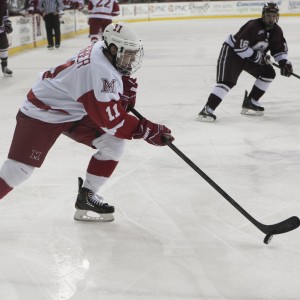 In his junior season for Miami Barber, 21, posted 20-20-40 in 38 games, scoring at least a point in 30 of those 38 contests. He led the National Collegiate Hockey Conference in shots with 180 and was third in goals and fourth in points despite suffering an injury late in the season. Barber is versatile player who likely could contribute playing in almost any role, but he's more of a checking-line fit than Galiev. So while it seems likely that Barber will start the year at Hershey, an injury to a third-or fourth-line player in Washington could help him get a chance at the NHL level.
Liam O'Brien
As mentioned above O'Brien is the consummate fourth-line tough guy. Whether he plays in Hersey or D.C. that is going to be his role, and he's good at it. That gives him a shot at both making the NHL club out of training camp or being an emergency call-up. And since O'Brien is a true fourth-liner, there is no real fear of hindering his development by using him in that role or having him as an extra forward in Washington. Because of that and his ability to take some of the burden as an enforcer off of Wilson, O'Brien may be the best bet among the prospects to end up on the Caps' roster coming out of camp. How much playing time he would get is another question, however.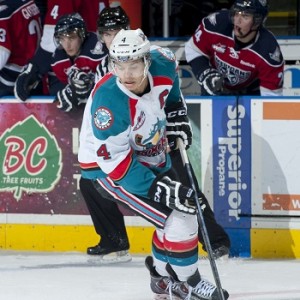 Madison Bowey
Defenseman Madison Bowey, a former second-round pick, seems to be a can't-miss prospect. Already possessing NHL size at 6 foot 2 and 210 pounds, Bowey moves the puck well, provides offense from the point and isn't afraid to play with a physical edge. He's a smooth and fast skater who sees the ice and distributes the puck well.
As good as Bowey is defensively, though, he truly excels on the offensive end of the ice. Last season he notched 17-43-60 in leading Kelowna of the WHL to the Memorial Cup, ranking third in the league among defensemen in goals and fifth in both assists and points. In addition he won a gold medal as a member of Canada's World Junior team, ranking second among all defensemen with seven points in seven games and seventh overall with a plus-8 rating. Bowey also was named a Memorial Cup all-star after leading the tournament in assists with five and ranking second in points with six.
Bowey seems to be the future replacement for the departed Mike Green, but perhaps without the defensive deficiencies. How quickly might that happen? The smart money says that Bowey would benefit from a year in Hershey and is almost a lock to start the year there no matter what. But a stellar training camp, paired with Orlov or Schmidt struggling, could change that scenario. At the very least if one or both of those players gets off to a slow start, Bowey could be given a shot at the NHL level very early in the season.
Others to Watch in Florida
There are a few other interesting prospects on the Caps' roster for the Florida rookie tournament. These players may be a few years away from truly competing for NHL minutes, but they are worth paying attention to nonetheless.
Centerman Caleb Herbert was a 2010 fifth-round pick who helped lead the South Carolina Stingrays to the ECHL Kelly Cup finals a year ago with 19-9-28 in 42 regular-season games and 3-11-14 during the run to the finals. He will wear number 22 at the tournament.
Defenseman Jonas Siegenthaler was the Caps' second-round pick in the latest draft and certainly has NHL size at 6-2, 220. He moves the puck well and doesn't mind physical play, having performed well in the Swiss pro league and competing for Switzerland at both the Under-18 and World Junior championships. In need of improving his overall skating and lateral mobility, he is probably a few years away from seriously competing for an NHL job. Siegenthaler will wear number 34 in Florida.
Right wing Jakub Vrana was a first-round selection in 2014 who is a very skilled player from the Czech Republic and who played in the World Junior Championship last year. After notching 12-12-24 in the Swedish Hockey League he played three regular-season games and 10 playoff games for Hershey, making quite a splash. Vrana dished out five assists in the regular season and contributed 2-4-6 in 10 postseason contests. With a full year ahead to adjust to the North American style of play and bulk up Vrana may be ready to compete for a top-six forward slot in the NHL. Vrana will wear number 13 in the rookie tournament.
Swedish defenseman Christian Djoos is a smallish 21-year-old who played three years with Byrnas of the Swedish Hockey League before coming over to appear in one contest with Hershey last season. He is the typical smooth-skating, unflappable Swedish blue liner who likely needs a few years to develop his skillset and bulk up (he's listed at under 160 lbs.). Djoos will wear number 29 this weekend.
Left wing Nathan Walker is a player to watch simply because he's the first Australian-born player ever drafted by an NHL team. A former third-round pick, Walker has played in North America for two seasons, recording 6-9-15 in 71 AHL games and 2-2-4 in six ECHL appearances. He is a high-energy player who will wear number 79 in the rookie tournament.
Additional Notes for the Rookie Tournament
Barber, Bowey and O'Brien will wear numbers 24, 22 and 87, respectively, for the Caps this weekend.
All of the Caps' games will be broadcast live and available on the Monumental Network as well as on the team's new 24-hour radio channel Caps Radio 24/7.
Click here for the full Florida rookie tournament schedule. The Caps open play Saturday, Sept. 12, at 3 p.m. against Florida. There will be games Sunday and Tuesday as well.
A journalism major from the University of Maryland and a published author, Scott graduated summa cum laude from the Maryland College of Journalism in 1991 before pursuing a career in sports that has spanned almost 30 years and includes 15 years working at the NCAA Division I level in sports information and as an Assistant Athletic Director and nearly 10 years working for baseball Hall of Famer Cal Ripken Jr. Scott also served as
a college beat writer for the Baltimore/Washington sports publication Pressbox and Pressbox Online and currently is the Director of Digital Media for MYHockeyRankings.com. His son Devin was drafted by two U.S. Tier 2 junior hockey teams and currently plays NCAA Division III hockey for Suffolk University in Boston. His daughter Sydney plays college lacrosse for Franklin & Marshall in Pennsylvania.