The Washington Capitals have re-signed center Jay Beagle to a three-year contract extension. The deal comes with an AAV of $1.75 million, according Mike Vogel of Washingtoncaps.com.
#Caps re-signed C Jay Beagle to 3-year extension. AAV: $1.75 mil. Salaries: $1.45 mil in '15-16, $1.75 in 16-17, 17-18. $300K bonus, 15-16.

— Mike Vogel (@VogsCaps) June 29, 2015
The team announced the deal on Monday in a release that said: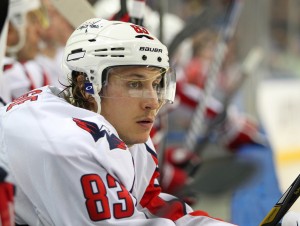 "We are pleased to re-sign Jay to a new three-year contract," [Capitals GM Brian] MacLellan said. "Jay is a hard-working player who plays multiple positions and is an excellent face-off man and penalty killer. Jay has improved steadily since joining our organization and has always brought his game to a different level in the playoffs."
It's a nice payday for Beagle, who is coming off a three-year deal with an AAV of $900,000. Beagle set career-high marks in goals (10, on a career-high 11.9% Sh%), assists (10), and P/60 (1.5). He posted a -1.2% score-adjusted CF%Rel, which is the best relative possession numbers he's posted in his career.
Beagle will turn 30 in October.
Handy, this Beagle chap. Compares favourably to a lot of people with his ice-time. pic.twitter.com/d7yLXUsxbb

— Micah Blake McCurdy (@IneffectiveMath) June 29, 2015
RELATED: Capitals Restock Defense Pipeline at Draft
[catlist categorypage="yes" numberposts=3 excludeposts=this]