While the Washington Capitals are going to just be under the NHL's $81.5 million salary cap for the start of the 2020-21 season, just $1.6 million of that — about two percent — will be used on the two players who play the most important position in the game: goaltender.
The bulk of the Capitals roster are veterans, as the team has one of the NHL's oldest lineups, but anointed No. 1 starter Ilya Samsonov is just 23 years old, and in his third year in North America — and with 26 games total of NHL experience. His backup, Vitek Vanecek, while two years older and two more years in Washington's system, has yet to appear in an NHL game. 
The risk for a team that hopes to claim its second Stanley Cup title in four seasons is sizeable, as neither goalie has appeared in a Stanley Cup playoff contest either. However, it isn't the first time in recent memory Washington has had to turn to a tandem of goaltenders with limited NHL experience.
Back when a young Braden Holtby took over the starting role in Washington during the team's 2012 playoff run, he was 22 years old with just 21 NHL games under his belt.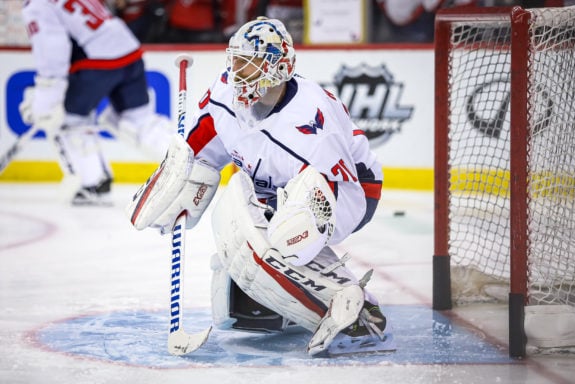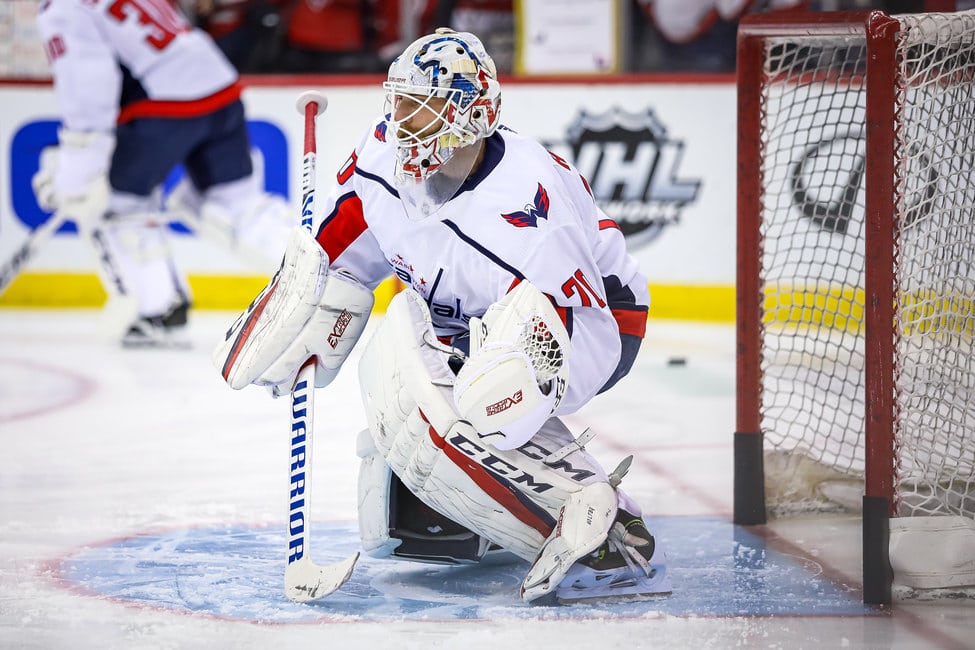 But the reason for Holtby getting put in the starting role was 35-year-old Tomas Vokoun and 23-year-old Michal Neuvirth being injured. And their fourth-string goaltender who was pressed into backup duty in that playoff, Dany Sabourin, had 57 games of regular season experience, along with two games in the playoffs.
This tandem wasn't entirely planned over the offseason, with Henrik Lundqvist expected to earn one of the two spots, but the Swede's heart condition will force him to miss the season. Hiwever, the Capitals opted to use the money saved from Lundqvist's contract to ink defenseman Zdeno Chara than bring in a goaltender expected to make the opening night roster, and instead invited veteran Craig Anderson to a professional tryout.
While the Capitals have assembled a contending roster of skaters for the new campaign, their biggest gamble will be the players between the pipes.
"They'll Get a Chance to Show What They Can Do"
Despite the lack of NHL experience, new Capitals coach Peter Laviolette said he's confident the two netminders can be successful despite the expectations for the team.
"Right now this is the decision we made with these two kids," Laviolette told reporters, according to the Washington Post. (from 'Capitals set goaltending duo, trim roster ahead of season opener,' Washington Post, 01/11/2020) "They've worked hard to get to this position to gain an opportunity, and now they'll get a chance to show what they can do."
In what certainly will be an unusual season, it's still an unusual risk to go with a pair of goalies lacking NHL experience, particularly for a team with Stanley Cup aspirations.
The New York Rangers, who have a young tandem of Alexandar Georgiev and Igor Shesterkin, still have 90 games of NHL regular season and playoff experience in net. The New Jersey Devils have Mackenzie Blackwood and Scott Wedgewood, a tandem with 94 games total experience — well more than Washington. 
While the Capitals won't totally be without a parachute, as Anderson will likely be part of the taxi squad to fill in if needed, it still puts a lot of pressure on the young netminders, as well as the defense to limit chances against.
"At some point, you've got to take a look at your young players and I know that goaltending and the position is an important position, so we're going to try to do a good job and play well defensively in front of them," Laviolette said per NBC Washington.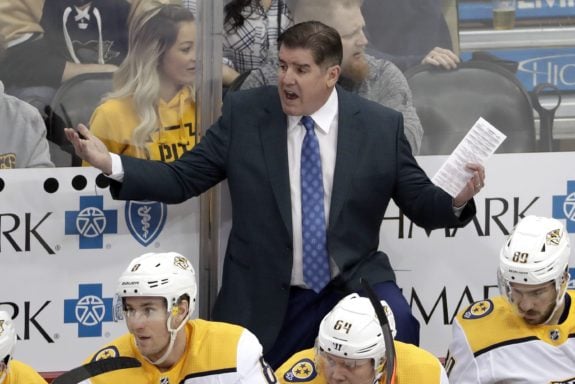 "These are two young goalies that need an opportunity. We've got to see where they're at and put them in game situations and let them fight for the crease, let them fight to be the guy that gets the start."
One of the reasons the Capitals feel they can take the risk is the savings created from Holtby's departure was used primarily on the defensive corps, as Washington added Justin Schultz, Trevor van Riemsdyk and Chara.
"It's a deep, experienced group," Laviolette said of the defense per NBC Washington. "I feel like they can help a young goaltender by how we play the game defensively."
Samsonov Gets Starting Role
Samsonov certainly seemed on his way to claiming the team's starting role last season heading into the pause, as he posted a .913 save percentage (SV%) and a 2.55 goals against average for the season, along with his first NHL shutout on Jan. 13 against the Carolina Hurricanes.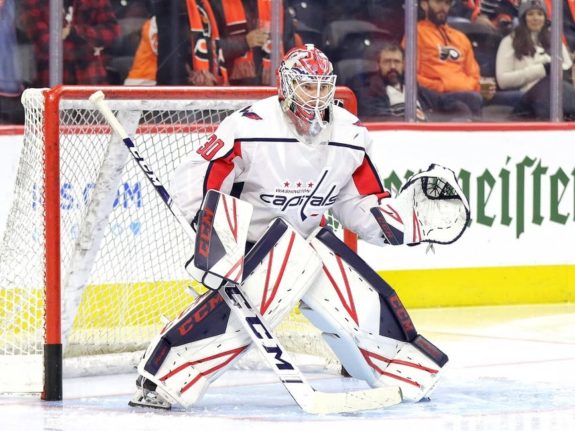 But while Samsonov was a 18-2-1 at the end of January, his game dropped noticeably after that, as he posted a 0-4-1 mark to end the regular season, along with a .869 SV%. His last appearance of the season was also memorable for the wrong reasons, allowing five goals to Mika Zibanejad in an overtime loss to the Rangers.
He was very solid the first four months of the campaign, but with the team floundering in the second half of the season, so, too, did the Russian's play. He allowed four goals or more in three of his final five starts, and seemed to show some wear against all but one team who was a divisional opponent.
An upper-body injury sustained at home in Russia during the pause meant Samsonov missed his chance to earn the starting job during the bubble, but the heir apparent will get his chance as Washington's starter as the team opens its season at the Buffalo Sabres on Thursday.
Vanecek's Strong AHL Play Earns Him Backup Role
Vitek Vanecek earned his way into a roster spot thanks to a strong season with the Hershey Bears, playing in 31 games and posting a .917 SV% before the league suspended play in March.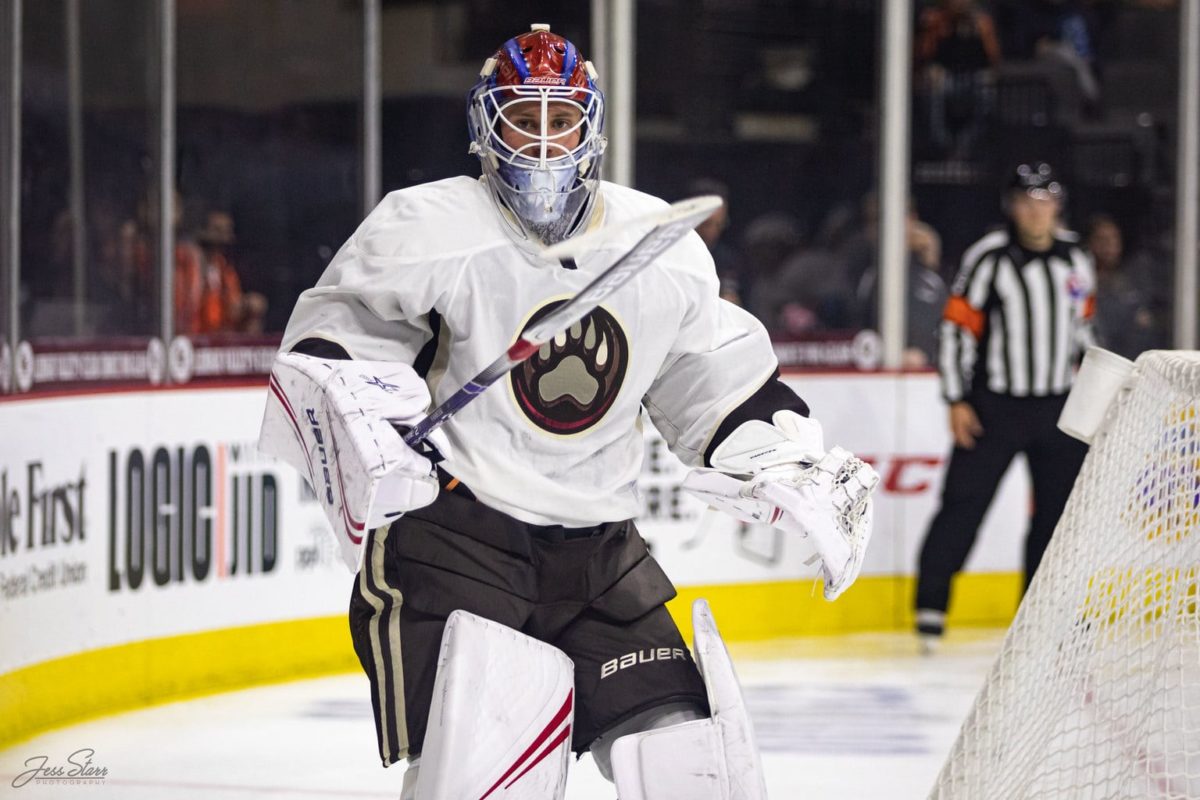 Even before his breakout season in the AHL, Vanecek was no stranger to the Bears, having spent at least part of the last five seasons in Chocolatetown, the last two with him posting goals against averages under 2.65 and save percentages above .905. The Czech goaltender also has earned spots in the last two AHL All-Star Classics in Springfield, Mass. and Ontario, Calif.
With Samsonov injured, he earned the backup role behind Holtby in the bubble over Pheonix Copley. During the team's training camp, he held onto the backup role, as Copley was sent down to the AHL, and Anderson will likely be kept for the team's third goaltender, a requirement for rosters this season.
Certainly, Vanecek has proven to be a top netminder at the AHL level in Hershey, but there will undoubtedly be an adjustment to the faster pace and more precise shooters in the NHL, especially in arguably the league's deepest division that saw six of its eight teams qualify for the tournament last summer.
Can a Young Goalie Win a Stanley Cup?
In addition to the lack of NHL experience, neither Samsonov or Vanecek have played a full game since March, although Vanecek did appear for 20 minutes in the Capitals' exhibition win over the Carolina Hurricanes in July, stopping 13 of 14 shots.
Young goaltenders on Stanley Cup contenders aren't entirely new, although having a young tandem is rare.
The St. Louis Blues won the 2019 title with Jordan Binnington, who had 32 games of NHL experience before that playoff run. Matt Murray, who helped the Pittsburgh Penguins win the 2016 Cup with 13 games of regular season experience, but he took over due to Marc-Andre Fleury's concussion late that season.
However, both those teams had experienced goaltenders to complement the rookies, and while the Caps will have Anderson close by, the team would have to look for alternatives should both goalies falter in a short season. Certainly, a 56-game schedule reduces the margin for error, particularly when all games are against divisional opponents, and 40 of those are against teams who made the 24-team tournament last summer.
Adding another goaltender to the roster beyond Anderson would also be tricky, as being tight against the salary cap, Washington would have to shed salary or put a player on long-term injured reserve to fit a new signing or trade.
So, for now, the Capitals will set out on their Stanley Cup quest with a veteran lineup featuring a pair of very young netminders. 
---
---