A poor start by a team can cause some hand-wringing in some NHL cities. In Montreal? It's a cause for alarm with calls for firings and rebuilds. It's no secret that Carey Price got off to a bad start this season and he did not look like his usual calm, technically sound self.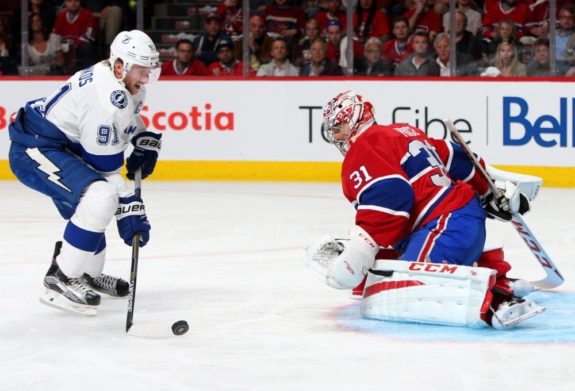 Since signing his massive contract extension, there have been questions of whether he is worth the money and if he should have been traded, especially after the way rookie goalie Charlie Lindgren played in Price's absence. However, trading the team's best player doesn't guarantee anything.
The Contract
A few years ago, it seemed unfathomable for a goalie to receive an eight-year, $84 million extension ($10.5 million cap hit). However, not every goalie is Carey Price. No goalie is as crucial to his team's fortunes as Price is to the Habs. There is no need to rehash 2015-16 – everyone knows how that season turned out when Price went down.
No doubt Price has had rough moments in his career but he always finds his way back to playing to the level he is capable of. Some will say his being dominant prevented Montreal from properly rebuilding. As their best player, he has more than done his job by winning games they had no business being in. It's not his fault the team in front of him can't score goals consistently.  
Suggestions that Price be traded for a bunch of young assets is simple in theory but complicated in reality. The Patrick Roy trade in the nineties set the franchise back because they did not receive assets that helped the team moving forward. It's not often there are massive trades surrounding goalies. As good as Price is, it's hard to envision an even trade or Montreal getting what they want. 
One Player Doesn't Equal a Stanley Cup
It's very well possible that the contract becomes an albatross but that's the risk every team takes when signing a player. Yes, there is a little more risk when signing a 30-year-old goalie who has had some injury issues to a contract like that. However, that criticism was once aimed towards the Pittsburgh Penguins signing Sidney Crosby to a massive 12-year extension in 2012 after his two concussion-plagued seasons. Granted Crosby was just 25 when he signed the deal but it worked out because the Penguins won back to back Stanley Cups with Crosby being playoff MVP on both occasions. 
Related – Overtime With BSC: Carey Price Returns Amid Trade Rumors
Critics will point to the fact Montreal hasn't had a lot of playoff success with Price. The argument? He isn't the reason they lose in the playoffs, it's because he doesn't have teammates who consistently show up in the playoffs. Crosby doesn't get his three Stanley Cups without Evgeni Malkin. Ditto for Jonathan Toews, who doesn't win his Cups without Patrick Kane and Duncan Keith. A better comparison might be LA's Jonathan Quick, who was dominant for the Kings in their two championships, but doesn't get his rings without Anze Kopitar and Drew Doughty playing in front of him.
Most shutouts in #Habs history:

George Hainsworth – 75
Jacques Plante – 58
Ken Dryden – 46
Carey Price – 40 pic.twitter.com/JEmr8OjS3S

— Sportsnet Stats (@SNstats) November 26, 2017
Hockey is a team game and superstars don't win championships by themselves. How many playoff games have there been where they lose because Price played badly? Not too many. Now how many have there been because Montreal has a horrible time trying to score goals? A lot. In 2014, Montreal doesn't get past Boston in the second round without Price dominating. When he went down in the conference finals, that feeling Montreal could go all the way disappeared. 
Related – Punchless Canadiens Need to Focus on Positives
A Wake-Up Call
If Price rebounds and plays to his standard, he gives the Habs a much better chance of winning every night. However, he can't be expected to pitch a shutout every game while his teammates in front of him struggle to muster one goal. It's reasonable to expect Price to be excellent but it's time for the rest of the team to set those high standards for themselves and deliver.
Trading Price doesn't guarantee a proper rebuild. The Habs could very well trade him and get a major piece for a championship such as a number one centre or a top defenceman. Or they could trade their best chance at winning and have it blow up in their faces.