Sometimes a change of scenery can revive the career of a professional athlete. It could be new coaching styles and personalities, a different fan vibe, a spouse's approval or any number of other reasons why a new venue rejuvenates some players' careers. In the case of the Carolina Hurricanes, there are three players whose recent departure from the team truly led them to greener pastures. None of the three were slackers who suddenly found their game but were each established players whose careers had flatlined in with the Hurricanes.
Eric Staal
For years, Eric Staal was the captain of the Hurricanes. He was the face of the franchise, having burst onto the scene in the team's 2006 Stanley Cup Final run. He and goaltender Cam Ward started a tenure with the 'Canes during those 2006 playoffs that lasted for over a decade. Ward is still with the team, albeit in a reduced role, but Staal left the team in 2016 for a brief playoff stint with the New York Rangers and then more permanently with the Minnesota Wild.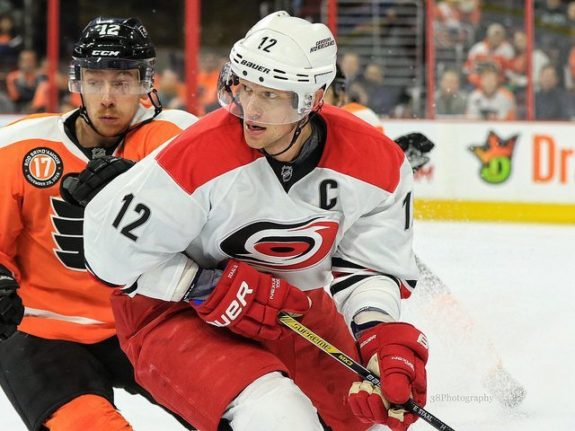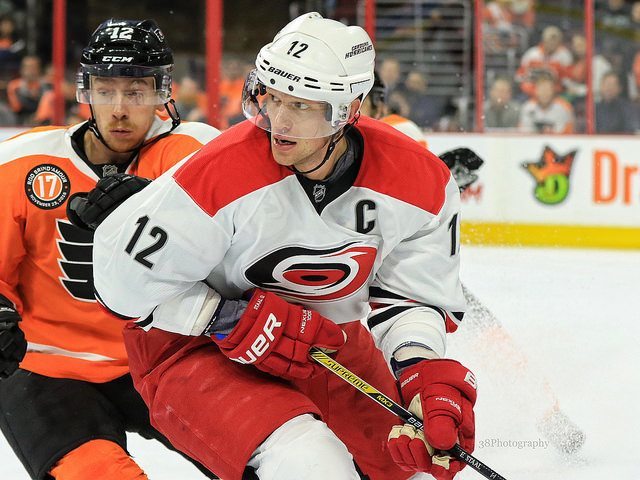 The change of scenery has been very good for Staal. With the Hurricanes, he had become stale, at times visibly frustrated, and the recipient of growing fan discontent. Comments from fans like, "I'm tired of seeing him dragging his butt off the ice" were becoming more frequent.
@pambcloud @TGfireandice Eric Staal had been dragging down the Canes for years; radically overrated; slow, self-absorbed; bad hands.

— Doug Abrams (@dabrams2021) March 11, 2016
Yet there was still a large contingent of Hurricanes fans who appreciated and loved Staal. It had simply become obvious that he was not going to realize his hopes of getting back to the playoffs in Carolina. Something had to change, and when the opportunity presented itself to join the Rangers and their playoff adventure, off he went, no-trade clause and all simply set aside.
History will show that Staal added nothing to the Rangers' playoff performance, and they were summarily bounced 4-1 in the first round by the Pittsburgh Penguins. Luke Fox at Sportsnet wrote this past April,
When the playoff-bound New York Rangers rescued Staal from floundering Carolina in the spring of 2016, Staal didn't so much as register a playoff point.
Staal got to play alongside his brother, Marc, but it did not spark anymore from him than playing with his brother Jordan on the Hurricanes had over the past several years. Staal needed a change of scenery and Minnesota has been just what the doctor ordered. Staal recorded 42 goals and 34 assists last season, leaving Hurricanes fans to wonder where that type of offense had been hiding.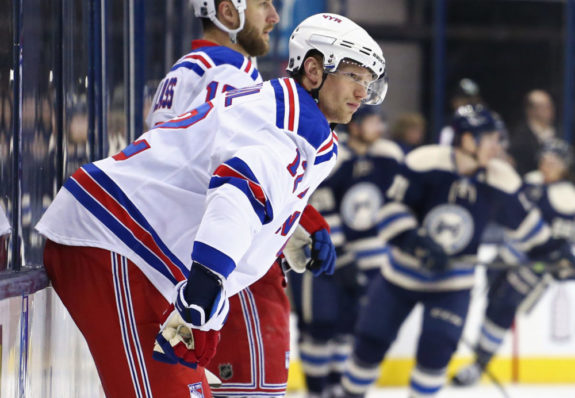 Staal led the Wild back to the playoffs, something he had not been able to do with the Hurricanes since 2009. Dan Rice of THW wrote in February of this year, "He definitely looks like he's having fun playing hockey again, something that was evident wasn't happening in New York and his last few seasons in Carolina." Whether it was the pressure of fan expectations or the continual coaching carousel in Carolina, Rice said it best, Staal does look like he is having fun again.
Anton Khudobin
In one of the worst moves the Hurricanes have made in the recent past, Anton Khudobin was traded to the Anaheim Ducks in 2015. In return, they received defenseman James Wisniewski. Khudobin had gone from seriously battling Ward for the starting goalie position, to being the scapegoat for the team's failure to make the playoffs.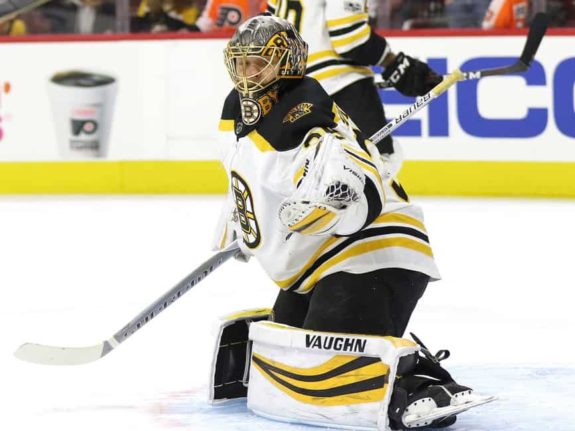 As I have written several times in the past, the Hurricanes' problems were not with Khudobin, but rather with the lack of offensive production they had when he was in-goal. He kept them in games, giving up one or two goals when he got a start, but more often than not the offensive side of the ice was absent, therefore giving him a won/loss record that on paper was horrible. He was traded to the Kings and played one season for them as a backup.
Having previously been with the Boston Bruins for two seasons, Khudobin re-signed with them in July 2016 and looks to have found a home. Serving as a backup to starter Tuukka Rask, Khudobin has done more than simply provide Rask with a breather or two. He has become a valuable part of the Bruins franchise. The Bruins are loving the blunder made by the Hurricanes in getting rid of Khudobin.
The 'Canes got Eddie Lack from the Vancouver Canucks in 2016, which did not turn out well. Then in 2017, they acquired Scott Darling to be the new starting goaltender, with Ward moving to the role of backup. That has not turned out well, either. The Bruins have a goaltender in Khudobin that can help bring out the best in Rask. As Cameron Kerry wrote last week at WEEI,
In order to optimize the better goaltender, the backup needs to be able to spell him and allow him to stay fresh. For Tuukka Rask to return to his elite form from prior years, the Bruins need to re-sign Anton Khudobin.
Rather than optimizing a goaltender, the Hurricanes are now looking for one. According to Scott Powers of The Athletic, the Chicago Blackhawks may want Darling back, along with Hurricanes defenseman Justin Faulk. Getting rid of Darling would be fantastic for the Hurricanes, whereas getting rid of Faulk may not be. Either way, they have a huge need at goaltender that they would not be burdened with if they had more accurately judged Khudobin's play in 2015.
This glove save by Doby – and his reaction – deserves another look. #NHLBruins pic.twitter.com/zJSpE3moaA

— Boston Bruins (@NHLBruins) January 19, 2018
Ron Hainsey
If you look up the word "journeyman" in the dictionary, chances are that you will find a picture of Ron Hainsey. The 37-year old defenseman has played for seven different NHL franchises. He was drafted 13th overall by the Montreal Canadiens in the 2000 NHL Entry Draft. "Grinder" would also be an apt description of Hainsey.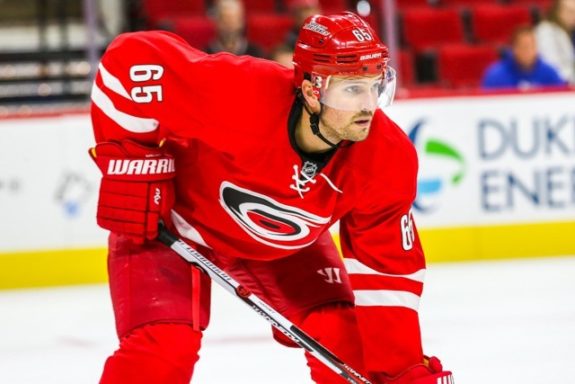 His tenure with the Hurricanes lasted from 2013 to 2017. He was a solid veteran presence on a team that was building a strong defensive corps that really took off under the then-head coach Bill Peters. Near the end of the 2017 season, Hainsey was traded as a rental to the Pittsburgh Penguins and finally got to live his dream of not only playing in the Stanley Cup Playoffs but hoisting the Cup, as well.
Hainsey was traded to the Toronto Maple Leafs in 2017, and once again was the veteran on the defense that helped anchor the team. The Maple Leafs returned to the Stanley Cup Playoffs this past season, in no small part due to Hainsey's help on defense. Brett Slawson of THW wrote this past April that Hainsey's play would be critical to the Leaf's in their playoff matchup against the Bruins:
"Although contributions from the likes of Morgan Rielly, Jake Gardiner, and Nikita Zaitsev will also prove critical, it is the play and presence of Hainsey which could help lead the Leafs on a long postseason run. Boasting vast NHL experience, recent postseason success, and a broad understanding of the game, Hainsey, and his veteran leadership could very well be the key to Toronto's playoff push."
Unfortunately, Hainsey and the Leafs' blue line were not up to fending off the Bruins, and Leafs lost the series 4-3.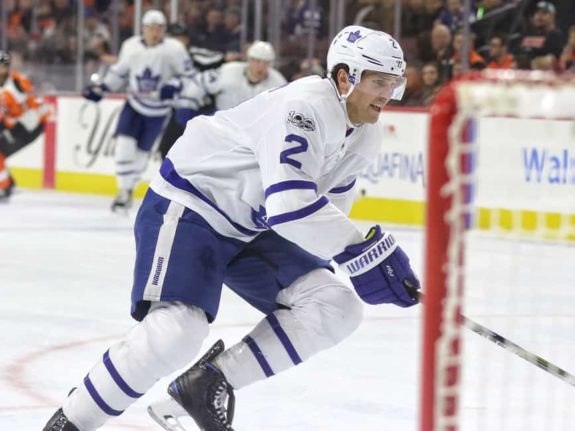 Nevertheless, Hainsey left the Hurricanes and promptly got his name etched onto Lord Stanley's Cup. He then was fortunate to play in the playoffs for a second consecutive year, after spending his career never having made it to the playoffs previously, While his time with the Hurricanes was a lot like Hainsey's personality – quiet, hard-working and out of the spotlight, his change of scenery has been a real blessing to him at what may be the end of his career.
James Tanner wrote a week ago at Fansided's "Editor in Leaf" that Hainsey may find himself on "Robidas Island,"  a fictional place where the team sends their unwanted players to wait out the expiration of their contracts. Tanner was not complimentary of Hainsey, writing, "The Leafs need an upgrade, and Hainsey has one more year left on his deal and a 15-team no-trade clause. He's the third-best RHD on a team whose biggest need may just be right-handed defensemen.  He allows too many shots on a team whose biggest problem is how many shots they allow. Assuming that he will decline even more into next season, it may prove untenable to keep playing him, and he may find himself on Robidas Island."
Tanner is never one to mince words, and while that is not a very good picture of Hainsey, the fact remains that leaving the Hurricanes turned out to be a wonderful thing for his career. Had he stayed with the Hurricanes, his name would not be on the Stanley Cup. Hainsey paid his dues around the league and winning the Cup and going back to the playoffs with the Leafs was well-deserved.
Staal, Khudobin, and Hainsey each spent time in the red and white sweater, contributing to a team that still has not found its way back to the playoffs. Each one of these three have strengths and weaknesses but can be characterized as being solid and dedicated to their craft. Leaving the Hurricanes was a step that freed them to enjoy a measure of success that they might never have seen with them. The change of scenery has helped Staal, Khudobin, and Hainsey each to flourish.