Alex Nedeljkovic is currently the goaltender for the Charlotte Checkers. His play this season and in particular in the Calder Cup playoffs has moved him into a place of conversation about playing at the next level. The Carolina Hurricanes need to fix their challenges in goal and Nedeljkovic could be the answer, or at least part of the answer going forward.
Who is "Ned?"
Nedeljkovic is a lot to try to keep track of, so most people just call him, "Ned." Whatever name he goes by, it's likely it is one that Hurricanes fans will be saying and hearing quite a bit in the near, or, at least, not too distant future. Born in Parma, Ohio, Nedeljkovic was drafted in the second round of the 2014 NHL Entry Draft.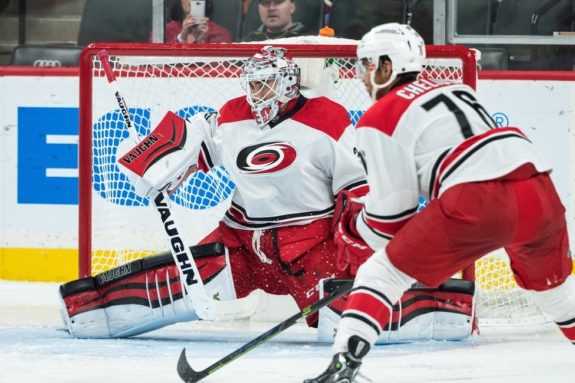 Nedeljkovic was profiled in the 2014 edition of The Hockey Writers prospect profile, "The Next Ones." Anatoliy Metter wrote of Nedeljkovic, "Many probably didn't expect Alex Nedeljkovic to burst onto the OHL scene when he was selected by the Plymouth Whalers with the 123rd overall pick in the 2012 OHL Priority Selection. However, Nedeljkovic has not only played his way into the starting goaltending role in Plymouth, he has provided his team and organization with stability in the Whalers' crease as well as a mentality and demeanor of a goalie well beyond eighteen years of age."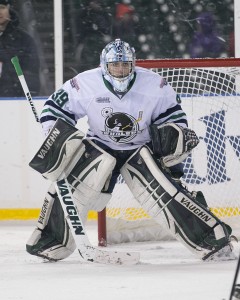 His play with the Plymouth Whalers caught the attention of NHL scouts. But, Nedeljkovic has been impressing scouts and coaches throughout his blossoming career. Might the next step be the bright lights of NHL ice?
Nedeljkovic played in one NHL game in the 2016-17 season and saved all 17 shots he faced. Ordinarily, he would not be in conversations about playing full-time for the Hurricanes at this point. He could definitely use more experience with the Checkers. But, his play in the Calder Cup playoffs has given folks pause to think, "Hmm, maybe Nedeljkovic might be ready."
Calder Cup Play
Nedeljkovic played extremely well for the Checkers in their failed pursuit of the Calder Cup. In eight games, he was 4-4 with a 2.11 goals against average and a .919 save percentage. Included in these stats was a game that set a new record for the longest game in American Hockey League history, a five-overtime loss to the Lehigh Valley Phantoms. Nedeljkovic stopped 51 of 53 shots on goal in the 2-1 Checkers' loss.
It is this outing that has started the whispering about Nedeljkovic possibly needing a look for the next level. He had a good season and played well in the postseason. Eyebrows are raised, and, with the current Hurricanes goaltender situation, Nedeljkovic has become a legit topic of conversation.
Nedeljkovic In the Conversation
Chip Alexander of the Raleigh News & Observer wrote recently that Nedeljkovic might be in the mix as a possible Hurricanes goaltender. He posed this thought on the possibility of a new name in the goaltender mix:
The Canes could again go with the tandem of Cam Ward and Scott Darling — if Ward is re-signed, and if Darling can return in better physical condition, find a better comfort zone in net and be a lot more effective. Or there could be a new mix, with Nedeljkovic trying to stick with the big team.
There were two big "ifs" in that statement, Ward being re-signed, which is likely, and Darling being more effective. The jury is still out on that possibility. After Nedeljkovic's recent play in the AHL postseason for the Checkers, Alexander's speculation might be worth serious consideration. He wrote also the glowing words of Nedeljkovic's coach Mike Vellucci:
He has made such huge strides this year. Everybody wrote him off last year like he wasn't a good goalie as a rookie, but he's proven everyone wrong this year. He's a heck of a goaltender and heck of a prospect.
The key word is "prospect," because even with Nedeljkovic's stalwart play, he still might not be ready. He struggled his first season as a professional, but his second has him on the right track. He dropped his regular season GAA from 3.40 in 2016-17 to 2.55, and his SV% from .881 to .903. No one is saying he is Patrick Roy, but he is a part of the Hurricanes organization that deserves to be kept front of mind.
An unrestricted free agent, Ward has said he wants to come back, but he is clearly on the back side of his career. Darling was barely NHL-ready as a starter last season and has a lot to prove ahead of him. If head coach Rod Brind'Amour wants to extend his honeymoon with the fans, he will address the goaltending situation without delay.
Maybe the Hurricanes will best be served by looking at who is available around the league and trying to acquire a proven veteran. Absent that, Nedeljkovic might be good to have in the stable going forward. It's worth a thought.