The Toronto Maple Leafs knew exactly what they were adding when they selected Timothy Liljegren with the 17th overall selection in the 2017 NHL Draft.
As a wildly skilled offensive defenceman and one capable of securing his own zone, Liljegren stood as the obvious choice to bolster a young and steadily improving Leafs blue line. Overlooked by many organizations during his draft year owing to a variety of injuries sustained and health scares, Liljegren's seemingly endless talent and potential to become a first-pairing defender at the NHL-level ultimately stood as qualities too powerful for Toronto to forgo.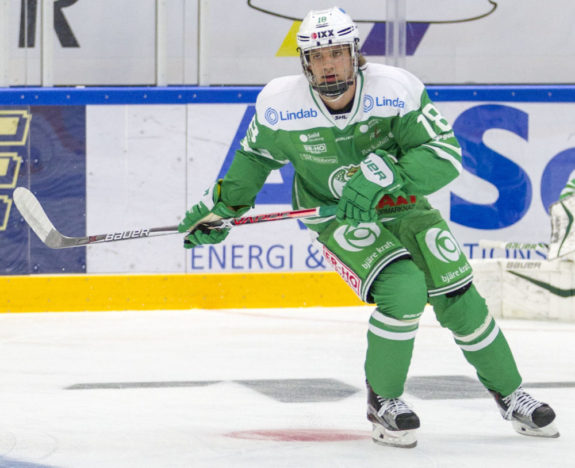 To date, Liljegren has yet to disappoint.
In his first season of play in North America, Liljegren has tackled the American Hockey League head-on — battling hard to improve on a nightly basis while fine-tuning particular aspects of his game along the way. Although his development has not always been smooth and steady, Liljegren's determination to improve has come to define him both on and off of the ice.
Liljegren Leaping Forward
In his first year of full-time competition in North America, Liljegren progressed steadily and substantially.
Although he entered the AHL in 2017-18 as one of the league's youngest players, Liljegren was not overcome by much older and physically mature competition — battling tirelessly to establish himself as an everyday player. In fact, despite seeing meagre ice time to begin his rookie campaign, Liljegren earned the trust of Head Coach Sheldon Keefe as the season progressed, who then subsequently rewarded Liljegren with a variety of opportunities in order to bolster all aspects of his game.
He's been a constant on our power play and really helps us there. He moves the puck really well and efficiently. – Keefe, Leafs Lunch
It should come as no surprise to learn that Liljegren was a standout on the Marlies' power play this season. As an agile skater who boasts great vision, Liljegren's ability to move the puck or pound his deceptive shot on net generated a wealth of scoring opportunities for his teammates, who often capitalized upon rebounds owing to his quick release.
#MapleLeafs first-rounder Timothy Liljegren has his first North American pro goal for the @TorontoMarlies today 👇 pic.twitter.com/EKs4keK39V

— American Hockey League (@TheAHL) October 8, 2017
In all, eight of Liljegren's 17 points during the regular season came on the power play, while his lone goal of the campaign also came on the man advantage. However, as Liljegren continues to develop and gain greater experience, it goes without saying that his offensive totals will very likely follow suit. Known for his creativity and puck-handling prowess, Liljegren's immense skill will fully translate to the North American professional-level and morph the youngster into a lethal threat from the blue line.
Where Must Liljegren Improve?
Despite a wildly successful campaign with the Marlies in 2017-18, Liljegren must improve particular aspects of his game before he can successfully ascend to the National Hockey League level as a consistent and dependable force for the Leafs.
In particular, there are two areas which Liljegren must continue to strengthen if he wishes to enjoy a long and prosperous NHL career.
Developing a Defensive Dynamo
Well-known for his offensive flair, Liljegren must continue to work on his defensive game if he wishes to become a quality NHL defenceman, and one capable of producing at both ends of the ice.
Although his point totals have long masked his defensive deficiencies, these issues have and will continue to be exposed as Liljegren garners greater ice time against tougher competition. Particularly, Liljegren must improve his ability to smother and dis-possess opposing forwards in possession of the puck. To do such, Liljegren will have to use his lower body to pin his attackers before utilizing his stick to accurately dislodge the puck.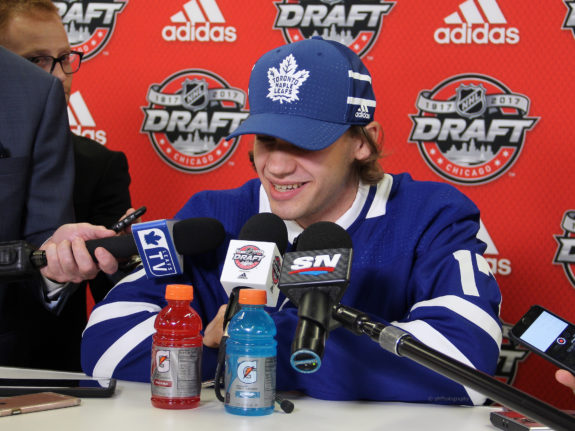 Although the ability to do so will coincide with his physical maturity, Liljegren must become a competent defender and one capable of securing possession quickly and efficiently before consistently firing quick breakout passes to his fellow teammates. Once capable of defending his own zone with relative ease, Liljegren's vision and quick-thinking will allow the youngster to facilitate excellent transitional play.
Strengthening a Young 'Swede
As mentioned earlier, Liljegren was just 18-years-of-age when he made his AHL debut for the Marlies.
At the time, Liljegren stood 6-feet tall and weighed 190-pounds — a formidable stature yet not an overwhelming one by any means. As a result, Liljegren was physically dominated by his opposition on a regular basis to begin the 2017-18 season, as the youngster was bumped off of the puck in addition to overpowered in puck battles within his own zone.
Yet, despite this perceived deficiency, Liljegren did not and has not relented. Despite being overmatched physically, Liljegren has fought hard to establish himself as a capable defender and one who does not shy away from physical play. It was this determination on the part of Liljegren which caught the eye of Keefe as the Marlies' season progressed.
Perhaps the thing I'm most impressed with is how physical he's been and how he's handled the physical play. At times, he maybe loses battles, but he gets up and gets right into it. He's not shy; he's not afraid. – Keefe, Leafs Lunch
Over time, Liljegren will undoubtedly continue to strengthen his frame and become an immovable force on the blue line.
Last Word on Liljegren
Perhaps the most notable information which can be derived from Keefe's comments is the fact that Liljegren is not afraid and will not back down from his opponents regardless of their size and strength. This mindset is exactly what the Leafs desperately require on their blue line, as a tough and competitive personality blended with physicality and high-end skill is a combination which Toronto desperately desires.
And, although Liljegren has a wealth of work ahead of himself before he can ascend to the NHL-level, the young 'Swede's overall foundation and work-ethic both stand incredibly strong. If Liljegren can continue to address areas of weakness within his game while continuing to showcase his elite skill-set, the Leafs may very well have found the top-pairing defender which they have long lacked.
In other words, let this serve as a reminder of Liljegren's seemingly endless potential and overwhelming skill — as he is a prospect seemingly overlooked within a deep and immensely talented Leafs organization.