The Carolina Hurricanes were pounded in their season opener.  18,000+ "Caniacs" turned out to see their beloved team crack open a new year.  New management, a new coach, and some young new players gave rise to hope that this was going to be a magical night.  The action in the first 10 minutes fueled that hope. Even though they played a bit sloppy, the 'Canes did have a couple of legitimate chances at scoring on the power play.  Eric Staal looked healthy and aggressive. Tim Gleason made a very impressive butt-check behind the Hurricanes goal.  (I'm not exactly sure if that is an official hockey term, but it worked well, keeping the Islanders from getting the puck behind Cam Ward.)  The fans were into it and applauded loudly Gleason's play.
Enter Johnny Boychuk.
With the Hurricanes having come up empty in the first part of the 1st period, the Islanders quickly turned the hope in the arena into dismay.  Brad Malone got a holding penalty and Jay Harrison promptly was penalized for high-sticking.  Newly signed Islander Johnny Boychuk scored on the five-on-three advantage, with a rocket launched right past Cam Ward.  The air started to come out of the arena when seconds later, a total lapse by the 'Canes defense left Brock Nelson wide open to slide one into the net.  2-0 Islanders.   Johnny Boychuk was credited with the second assistant, giving him two points already.  I continue to scratch my head wondering why the Hurricanes do not go after someone like Boychuk who can come in and make an immediate impact.
https://www.youtube.com/watch?v=vT4yyWz6oqA
The 'Canes were further pounded in their season opener in the 2nd period.  Guess who – Johnny Boychuk sent a power play shot that bounced off of Brock Nelson to make it 3-0, Islanders.  Season total at this point:  Boychuk 3 points, Hurricanes 0.  'Canes fans saw their team struggling, getting dictated to by an Islanders team that many thought was not supposed to look this strong.  Right before this goal, a friend texted me saying it looks like Ward is up to his usual self allowing soft goals. I disagreed with him about the 1st one with the 2-man disadvantage, but goals number 2 and number 3 one would think he could have stopped – especially number 3.
Towards the end of the second, the Hurricanes seemed to pick up their level of effort, especially on defense. Captain Eric Staal played hard both ways, mixing it up, taking hits and fighting for the puck.  Tim Gleason delivered a whopping hip-check to Cory Conacher as the second period ended. This vintage Gleason caused Islanders to flare, John Tavares was called for roughing Tim Gleason, giving Carolina a man advantage to star the 3rd period.  Gleason has not missed a beat, still playing with toughness and grit, qualities this team needs in greater measure.
The 'Canes showed some life in the 3rd period.
Up a man to open the 3rd, Nathan Gerbe took the puck from Justin Faulk and Andrej Sekera and put it into the net to make it 3-1.
This life was quickly snuffed back at 14:49, with the teams at even strength, Ward let another in – this time from Mikhail Grabovsky. Yes Grabovsky was in the perfect spot, but Ward was just not quick enough to block a goal that many felt was reasonable to expect him to stop.
Another puck found the net for the Islanders at 12:19 in the third period, this one bouncing off of Cam Ward's leg slipping into the net on a shot that was not fired incredibly hard by Travis Hamonic.  The score went to 5-2 when Hurricanes' Chris Terry lasered one in at 14:20 on a great pass from Andrej Sekera.  And then finally to 5-3 when the Eric Staal scored on a power-play goal with an assist from Elias Lindholm and Jiri Tlusty. However, by this time it was too little too late to keep the 'Canes from getting pounded in their season opener.
Random observations from the 'Canes getting pounded in their season opener.
Andrej Sekera was uncharacteristically making mistakes, losing the puck a couple of times in the first period. During the first penalty kill, he had an opportunity to take an open shorthanded shot and inexplicably lost the puck.  He did figure in 2 assists later in the game, but his initial play was spotty.  He is someone the Hurricanes need to know they can depend on to take care of the puck.
Victor Rask looked right at home in the Hurricanes sweater.  He played very well and – even though it's only one game – looks like he belongs at this level.  Patrick Brown, the other Hurricane playing their inaugural NHL game, didn't look bad, either.  Whether he can nail down a spot is still anybody's guess, but these two young guys did themselves well.
In the meantime, Islanders goalie, Jaroslav Halak quietly stood on his head throughout the game, especially the first 2 periods. Multiple breakaway shot attempts by the Hurricanes were swatted away like mosquitoes, mere annoyances.  He was the better goalie in Raleigh.  Ironically I wrote yesterday about Cam Ward, comparing him to San Jose Sharks goalie Antti Niemi.  His play in the opener may have made that comparison premature.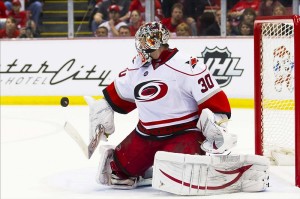 Speaking of which, I asked Carolina coach Bill Peters after the game if he had any comment on goal tending.
He replied, "I always look at the team in front of the goaltender before I look at the goaltender.  I thought he (Ward) was fine…I thought we broke down too many times unnecessarily and any time that happens good players are going to make you pay."
Loosely translated, Peters was not happy with the play of the defense.  It was clearly not up to standards. Before he throws "Wardo" under the bus, he is going to work on finding the right defensive combinations to play in front of him.
All in all it was a game that the Hurricanes need to put behind them.  Yes, they got pounded in their season opener.  But they play the same Islanders in the 2nd leg of a home and home tonight, and will have a chance to correct some of the defensive misgivings.  Anton Khudobin will be in-goal, and Brett Bellemore and others will get their chance tonight.  If they can get a win on Long Island, then getting pounded in their season opener will quickly be forgotten.