"Tale of 2 goalies" could easily describe a comparison of Antti Niemi and Cam Ward.  Antti Niemi, currently in-goal for the San Jose Sharks, has aready made quite the name for himself.  He has won the Stanley Cup with the Chicago Blackhawks, (2010) and has been an integral part of the Sharks' playoff appearances over the recent past.  Cam Ward has also hoisted Lord Stanley's Cup, (2006) and some would say has been an integral part of the Carolina Hurricanes' absence from the playoffs in the recent past.  Neither has gotten the public accolades that have come to the likes of Jonathan Quick or Henrik Lundqvist, but both have played hard in a position that is surely one of the most challenging in all of sports.
I was captivated in 2010 by Antti Niemi's play in-between the pipes.
I assumed that he would be a key to the Chicago Blackhawks' continued success.  Virtually out of nowhere he had arrived on the scene to play with extreme skill and apparent ease, a combination that is rare indeed.  Then suddenly, to my chagrin and surprise, Niemi was unable to reach arbitration with the Blackhawks in September, 3 months after he had helped his team hoist the Cup.  I was at a loss to understand the reasoning behind the move, but hoped that he would land in a good situation and continue to do well.  He has. As for the Blackhawks, they apparently knew what they were doing, as Corey Crawford has been outstanding, helping the team to win another Stanley Cup in the shortened 2012-2013 season.
In the 3 seasons since Chicago traded Niemi, he has been on the roster of the San Jose Sharks.  He has exhibited a pattern of playing well and then not playing well.  In fact, this season, he is being platooned with Alex Stalock in a fight for the position of starting goalie.  Sound familiar 'Canes fans?  Cam Ward is in a similar fight with Anton Khudobin for the starting job in Carolina. My colleague with The Hockey Writers, Andrew Bensch, makes a strong case for Niemi getting another start, after his fantastic 4-0 shutout of the LA Kings this week in the Sharks' season opener.  You can read it here.
Niemi and Wingels put on dazzling displays while Marleau and Nieto also score. Check out the best from last night at http://t.co/EkBHJVXGDe

— San Jose Sharks (@SanJoseSharks) October 9, 2014
The pressure is also on Cam in this tale of 2 goalies
In like manner, Cam Ward is starting in the Hurricanes' season opener versus the New York Islanders, with the pressure on to do well to keep the starting job.  Hurricanes coach Bill Peters wants to name a starter – a "stud" as he says.  When the puck drops in Raleigh Friday night, all eyes will be on Cam Ward to see if in fact he will be that stud.
Coach Peters said Cam Ward will get the start in tomorrow's home opener.

— Carolina Hurricanes (@Canes) October 9, 2014
After winning the Conn Smythe trophy in 2006, Ward has seen his career somewhat mirror that of Niemi's in the "play well, play not so well" pattern.  And in the past couple of years, he has suffered a series of injuries that have undoubtedly affected him both physically and mentally.  He has not looked the same, and last season it was obvious that "Wardo" was just not right. Ward, once again sidelined with injury, was replaced by Anton Khudobin who – after his own injury kept him off the ice for a while – wound up the year in stellar fashion.  To all outward appearances, Khubobin was the future of the Hurricanes in-goal.  Ward would likely be traded and that would be that.  As it has turned out, it wasn't that cut and dry.
In the just-completed 2014 preseason, Cam Ward has looked very good.  He has been sharp and to all outward appearances is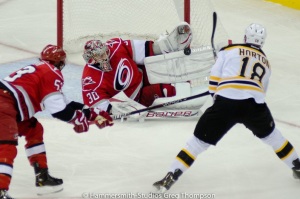 healthy and ready to compete.  Khudobin by contrast, has not looked nearly as good.  Chalk it up to "who got to play with who" in the preseason relative to NHL caliber guys vs guys trying to make the team; or to Ward just being more ready.  Whatever the reason, "Wardo" has the nod versus the Islanders and a strong outgoing will go a long way for him staying in-between the pipes. (We may see Khudobin again the following night versus the Islanders in the 2nd stanza of a home and home between these 2 teams.)
Similarities in This Tale of 2 Goalies
There are some interesting similarities in this tale of 2 goalies.  Both guys are in their early 30's – Antti is 31, and Cam is 30.  Both Niemi and Ward have nicknames – "Nemo" and "Wardo" respectively. Both have won Lord Stanley's Cup.  Both have had careers characterized by greatness and question marks.  Both Niemi and Ward are fighting to keep their jobs as starting goalies for their respective teams.  And both goalies have very healthy contracts.
Niemi is in the final year of a 4-year, $15,200,000 deal with the Sharks that is paying him $4 million this season.  According to capgeek.com, this is a $3.8 million hit against the team's salary cap.  By comparison, Ward is in the next to last year of a 6-year, $37,800,000 contract with the Hurricanes.  He is set to make $6.7 million this season and $6.8 million next season.  Currently the $6.7 is a $6.3 million hit against Carolina's cap.  Part of the reality that new  Hurricanes GM Ron Francis had to face was that trading Ward was not a viable option during the off-season.  There were no teams itching to grab hold of that big cap hit, especially with the uncertainty surrounding his play.  However, if Ward is playing like the Cam of old, it will be intriguing to see if suitors materialize over the course of the season.
Antti Niemi and Cam Ward are 2 goalies in the NHL that have had similar success and similar challenges.  Niemi has been a part of a team that has enjoyed making the playoffs, and will likely again this season.  Ward's playoff experiences are fading into distant memories, with all but a handful of pundits writing the Hurricanes' season off before it starts.  Both are well-paid and still have upside potential – although if frozen in time today, Niemi seems to have a bit more.  Both have spent their careers virtually under the radar, not getting the acclaim of a Lundqvist or Quick.  One thing seems certain, the 2014-15 season will be crucial for both of these greats.  Let's hope it's good for each of them, and that they will continue to be a part of the NHL landscape for years to come.