So, the Minnesota Wild finally began their season on Thursday, in their home opener against the Colorado Avalanche. To put it nicely, it was a blow out, was not even close, the Wild destroyed the defending Central Division champs. Although it was just the first game of a long, gruelling 82 game season, and perhaps it's early to take anything away from the game, but let's make five observations from what was an unreal 60 minutes of hockey as a Minnesota Wild fan. The Wild got out to a 1-0 lead after the first, then exploded to take a 5-0 lead after the second and chase 2013-14 Vezina finalist, Semyon Varlamov, after just 40 minutes. Minnesota's first line looked like possibly one of the best in the league this year. Their chemistry, speed, and playmaking went unmatched by every combination the Avalanche to put them up to.
5: The Minnesota Wild Can Score
The Minnesota Wild added Thomas Vanek for depth this offseason, plus their younger players are developing nicely. The results of depth were very clear last night. Depth doesn't mean having three lines that will score every night. It's about have three lines with the ability to score each night. Although the first line was clearly the best line on Thursday, putting up four of the five goals, the Wild are forcing teams to defend their second and third lines, which ultimately opens up more opportunities for the first line to face some weaker competition. In their opener, the Minnesota Wild set a franchise record for shots on goal, with an astounding 48. Five of those found the back of the net. Offence was the Wild's weakness last year, as they were 23rd in goals for and 29th in shots for. After game one, it sure looks like they have found a solution. The goals came from Jason Pominville, Jared Spurgeon, Zach Parise, Nino Niederreiter, and Ryan Suter, in that order.
4: Cooke – Koivu – Vanek Line Needs Some Work
The new Minnesota Wild second line, featuring free agent signing, Thomas Vanek, was fairly lacklustre in their first game. Although they definitely created lots of opportunities, it is no doubt that coach Mike Yeo would like to see a little more as the season progresses. It's been no secret he wants to keep Niederreiter – Haula – Coyle as his third line to expand his depth through the lineup. As such, it has forced Matt Cooke into the second line role. Vanek looked great on the power play, and is a lock to be all year long. Either this line needs to develop some chemistry quickly, or Yeo may have to switch some players around. The Minnesota Wild simply cannot rely on their first line like that all year long. The second line needs to produce, and maybe they will. After all, it's only been one game.
3: Darcy Kuemper Looks Like a Starter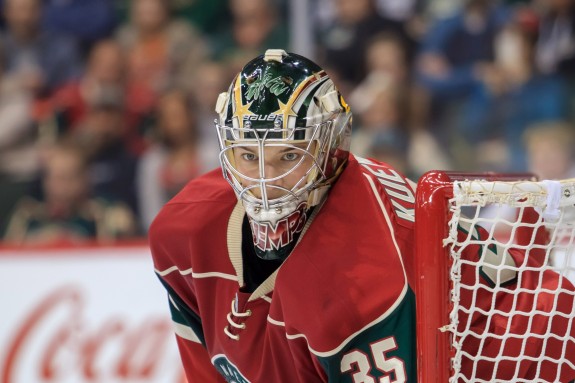 In Darcy Kuemper's first season as an NHL starter, he definitely did not look out of place. He recorded his third career NHL shutout, stopping all 16 shots he faced. Although he wasn't tested often, he had to make some key saves to keep the margin, which is increasingly tough when you aren't getting much action. He looked confident in the crease, holding sound positioning with his 6'5 frame, which forced the Avalanche to miss the net on many of their opportunities. Coach Mike Yeo has already confirmed that Kuemper will get the nod on Saturday as well, when the Minnesota Wild will travel to Colorado's home opener, in the last game of a home and home.
2: Zach Parise Could Have His Best Season Yet
After returning from injury on January 23rd of 2014, Zach Parise went on to score 29 points in the year's final 30 games. Then, in the playoffs, Parise's success took yet another level. In 13 games, he put up 14 points and led the NHL in playoff scoring through the first two rounds. He looked like he had finally rediscovered his scoring touch, that had seemed to disappear after tearing his meniscus in 2010. Now, he starts off 2014-15 with one goal and two assists in the season opener. He, along with Granlund and Pominville, were an unstoppable force on Thursday. Parise racked up 9 shots on goal, more than half of what the entire Colorado team could manage. He was also a +4. If Zach Parise and his line can keep up this type of play, they could be the best line in the NHL this season, and the Minnesota Wild could go on a deep playoff run.
1: Mikael Granlund Will Breakout in 2014-15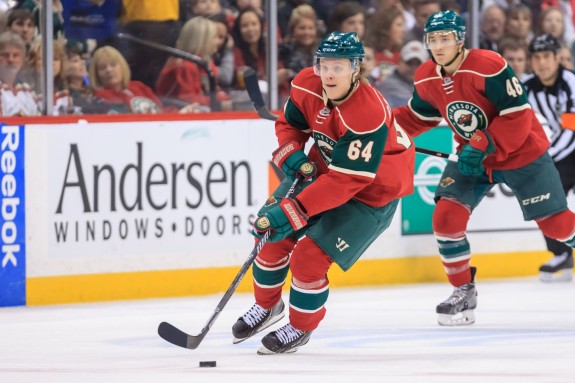 Mikael Granlund has looked like he found his game ever since the Olympics of 2014. He has played with much more confidence which has allowed him to  expand on his playmaking style and become much more effective between Parise and Pominville. Last year, he put up 41 points in 63 games, but was riddled with concussion issues most of the season, and was understandably playing a little safe. Now, with those worries behind him, he is setting up his teammates with scoring chances each time he touches the ice. From what we saw in the first game of the season, he may be on the verge of something great in 2014-15. It would not be too bold to predict something like a 60 point plus season for Granlund this year, in fact, it may be somewhat expected of him from how he's been playing.
Contributor for the Toronto Maple Leafs and Prospects. Scout with the Oakville Blades of the OJHL. For questions, concerns, or comments, contact me at devinslawson123@hotmail.com or on twitter @SlawsonTHW.