Hard to believe there's only four days until puck drop of the 2014-15 season. But, we know we couldn't be any happier that the wait has nearly come to an end. On Thursday, October 9th, at 8:00p.m. EST, the Minnesota Wild will host the Colorado Avalanche at Xcel Energy Centre, in both team's first taste of regular season action. Two days later, 48 hours to be exact, the Wild will travel to the Pepsi Center for the Avalanche home opener. What a great way to start the season for both fans of the Wild, and of the Avalanche. Both teams feature highly dynamic forwards capable of producing highlight reel plays each time they take to the ice. And let's not forget how the Colorado Avalanche 2013-14 miracle season came to an end… something like a Game 7 overtime goal sounds right. There's no doubt these two teams may be on the verge on creating possibly the most exciting rivalry in the NHL today. So, let's get pumped for what to expect.
Elite and Exciting Hockey
This game will feature more speed than the Indy 500. Each team's respective Top 6 forward group are downright ridiculous.
For the Minnesota Wild we'll see:
Parise-Granlund-Pominville
Vanek-Koivu-Niederreiter
For the Colorado Avalanche we'll see:
Landeskog-MacKinnon-Iginla
Tanguay-Duchene-O'Reilly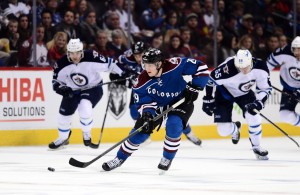 Yeah. That's fairly impressive. Not to mention MacKinnon and Granlund are both improving exponentially to their potential, even as their respective team's number one centre already. On their sides, we see a future Hall of Famer in Jarome Iginla. Two of the best wingers in the game right now in Parise and Vanek. Also, somehow still improving 'vets', Landeskog, Duchene, and O'Reilly. For speed's sake, any three of Duchene, MacKinnon, and Parise could easily win the Fastest Skater competition this year at the 2015 All Star game in Columbus. Making an over/under for goals per game at ten would definitely be a fair suggestion between these teams. All in all, if you like a sound defensive game, close your eyes or turn off the television. If you like exciting, fast-paced, goal scoring hockey, come feast your eyes on this beautiful showcase of raw talent. In fact, if you want to see it up close and personal, you can go straight to Xcel Energy Centre and/or Pepsi Center with tickets provided by Ticket Monster. Head on over to their site by clicking here.
Possible Rivalry for the Ages
You don't need very many words to explain why this could turn into the best rivalry in hockey. Just take a look at some magical moments from their 1st round series last year.
Game 1: Paul Statsny OT Goal -> Avs Win 5-4
https://www.youtube.com/watch?v=ydYShnc8G0A
 Game 3: Mikael Granlund OT Goal -> Wild Win 1-0
https://www.youtube.com/watch?v=VI2r_m7LamU
 Game 5: Nathan MacKinnon OT Goal -> Avs Win 4-3
https://www.youtube.com/watch?v=_64-CPr6Gec
 Game 7: Nino Niederreiter OT Goal -> 5-4
https://www.youtube.com/watch?v=7Gcnuzzf-Gg
After an absolutely epic series that featured four games decided in extra time, including an incredible Game 7, in which 'El Nino' scored the game tying goal late in the 3rd and the winner in OT. There's no doubt, the speed on each team and incredible offensive ability mixed with sometimes unreliable defence will result in many high scoring affairs to come. And with that, fans will gather around waiting and anticipating the next highlight goal. So, a home and home to start off 2014-15 will give everyone a taste of what these teams can offer up all year. The significant downside with that is that the teams will not meet again until February, so enjoy it while it lasts.
Who Has the Advantage?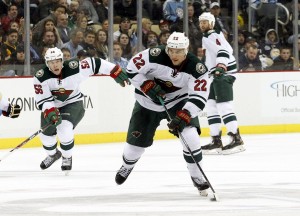 Although the Colorado Avalanche finished 2013-14 with the third best record in the league, perhaps the Wild brought them back to Earth in the first round of the Playoffs. The regular season is much different than the postseason. A loose cannon type of offence will not win you a Stanley Cup. Solid defence and production from your depth will. Between the two, Minnesota showed they are a step ahead of the young Avs. Contrary to what the Playoffs showed, Colorado actually won the season series 4 games to 1. But, as Minnesota's depth improves and Colorado gains some veteran presence, it is clear that, for this year at least, the Wild have the advantage. We must remember, it was only two years ago that Colorado was 29th in the league. They are an unpredictable team, but certainly safer to bet against, for now. It's looks as if the Wild may be moving in a more positive direction than the Avalanche, as showcased here and here. As for the home and home, expect a split, just as their series showed last year, where the road team only won one game, that game happened to be Game 7. Sit back in awe and enjoy the shear abilities on these two teams.
Contributor for the Toronto Maple Leafs and Prospects. Scout with the Oakville Blades of the OJHL. For questions, concerns, or comments, contact me at devinslawson123@hotmail.com or on twitter @SlawsonTHW.