.
Some early skating at RCiI: Gleason. Westgarth, Blanchard and Cam Ward.

— Chip Alexander (@ice_chip) August 13, 2013
With more than a month to go before the opening of the Carolina Hurricanes' training camp, players have already begun flocking to RCI in preparation of the new season.  Over the next few weeks, that list will grow as everyone tries to get an early start on the year.
There will be plenty of scrutiny on the Hurricanes in general after a disappointing 2013 which saw injuries derail a once-promising season.  But perhaps no one will be feeling the pressure to succeed more than Zac Dalpe.
Dalpe is entering his fourth professional season yet has made no more than a handful of appearances in Raleigh since being selected in the second round in 2008's NHL Entry Draft.  Despite being a prominent scorer for the Charlotte Checkers in each of the last three years, he hasn't shown an ability to stick in the NHL thus far.
And the road just keeps getting tougher.
The once offensively-challenged Hurricanes have become suddenly potent.  Alex Semin and Jordan Staal were acquired last year, knocking Dalpe down the depth chart.  He ended up making the team out of camp, playing on a line with Staal and Jeff Skinner, but lasted just six games before being sent back to Charlotte.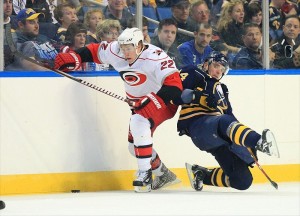 A new season brings new competition, this time in the form of 5th overall pick Elias Lindholm, who appears that he'll be given every chance to make the team.  Lindholm already has a wealth of professional experience playing in the SEL for the last two seasons.
Other additions like Nathan Gerbe and Aaron Palushaj further the log-jam.  Even Drayson Bowman and Jeremy Welsh–both on one-way deals–could make more fiscal sense than Dalpe, everything else being equal.  Dalpe's two-way deal was probably necessary to land the contract in the first place, but it could be the tie-breaker that sends him to the wrong end of the state.
Time is running short for Dalpe.  He will be 24 in November, and while that's not ancient, it is getting into concerning territory.  Should he fail to make the team out of camp, he'll be forced through waivers and it's unlikely he'll make it through unscathed.
While a good idea in theory, a fresh start in a new location isn't always the cure.  2008's first round pick, Zach Boychuk, was waived three separate times last year and remains unsigned.
Still, general manager Jim Rutherford has faith in Dalpe, electing to hold onto him at the 2013 Trade Deadline despite being asked about his availability.  Dalpe may yet end up being moved before October, but Rutherford wasn't willing to deal him just for the sake of it in a lost season.  That has to count for something.
To his credit, Dalpe has kept his spirits up through the up-and-down beginning to his career.  He has not complained or deflected criticism through excuses.  "I'm not taking anything for granted," the forward said. "I want to be here all 82 (games). I guess the season is 190 days, so I've got a 190 days of work ahead of me."
Given the competition, 2013-2014 may be Dalpe's toughest road to the NHL.  But if he makes it–and lasts the season–he'll have earned it, rewarding the Rutherford's patience.  For a team on the cusp of something great, Dalpe's impact could be paramount.