Over the past two or three years, the Calgary Flames have drastically improved the talent level and depth of their prospect base. While this is generally good news, it also means that for those who follow the Flames, there are quite a bit more players to keep track of in the junior and college ranks.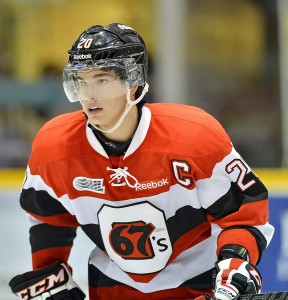 While talented players like Sven Baertschi, Laurent Brossoit and Mark Jankowski have gotten a lot of ink over the past year due to their draft prominence and on-ice exploits, some have gotten a bit less attention than they may have deserved. Thus, in the interest of shining a light on young players that are primed to make noise over the next season, here's a quick look at five standout Flames prospects that are positioned for success this year, and one that's a bit of a dark horse. This list is reserved for players that aren't guaranteed to turn pro this season.
—
LW Kenny Agostino
A fifth round selection of the Pittsburgh Penguins in the 2010 NHL Draft, Agostino was acquired by the Flames in the deal that sent Jarome Iginla out of town. The 21-year-old Yale senior has a tremendous resume, amassing 100 points in 101 NCAA games and helping lead the Bulldogs to a national championship this past spring.
LW Johnny Gaudreau
Calgary's fourth round pick in the 2011 NHL Draft, the man they call "Johnny Hockey" has emerged as one of the top college hockey players in the United States. One of three finalists for the Hobey Baker Award, he was Hockey East's MVP, a national All-American and helped lead Team USA to a gold medal at the IIHF World Junior Championship in Ufa, Russia. The only thing Gaudreau didn't win in 2012-13 was a national championship, something that will definitely drive him to improve and help push the Boston College Eagles to the next level this season.
G Jon Gillies
Gillies was a bit of an unknown when the Flames grabbed him in the third round of the 2012 Draft, but he's making Calgary's scouts look really smart. A big-bodied goalie who plays a smart, position-based game – not relying on his size at all – Gillies made a great impression during his freshman year with Providence College. He back-stopped the Friars to a surprisingly strong performance in the very competitive Hockey East conference, but also won a gold medal as back-up to John Gibson at the World Juniors, was named the national Rookie of the Year and an All-American. Gillies impressed at USA Hockey's summer junior evaluation camp is is widely considered the presumptive starter for Team USA at the 2014 World Juniors in Sweden.
C Sean Monahan
Due to their worst on-ice performance in over a decade, the Flames were rewarded with the sixth overall pick in the 2013 Draft. They didn't choose lightly, grabbing Ottawa 67's standout Sean Monahan with the pick. A strong three-zone player with a good scoring touch, Monahan is one of several players the Flames hope can finally solidify their center-ice position. Already a more than point-per-game player in the OHL at 18, Monahan's signed an entry-level NHL contract and there's a decent chance he'll spend at least part of the season in Calgary. That said, he could also quite easily go back to the OHL and dominate. He's a very strong contender for a spot on Team Canada for the 2014 World Juniors in Sweden.
D Patrick Sieloff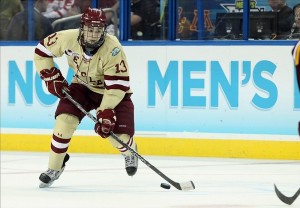 When the Calgary Flames traded down in the first round of the 2012 Draft – dropping from 14th to 21st overall and gaining a second round pick – much of the discussion revolved around how much they valued Mark Jankowski, who they grabbed at 21st overall. However, perhaps more attention should have been paid to Patrick Sieloff, who Calgary took with the second round choice they received from the Buffalo Sabres in that pick swap. A mobile, physical defender, Sieloff jumped from the USHL to the OHL last year and was a bright spot on a disappointing Windsor Spitfires club. He also earned a spot on the United States World Junior team as an injury replacement, eventually working his way into the regular defense rotation during the medal round. He'll likely return to the American junior squad for the 2014 World Juniors, but what's unknown is where he'll play throughout the regular season; as someone drafted out of the USHL, he can stay in the OHL with Windsor or, thanks to signing a pro contract, he could play for Calgary or their AHL farm team in Abbotsford.
A Dark Horse: D Brett Kulak
The easiest way to tell how good a player can be is to take away as much of their help as possible. That's what happened to Brett Kulak and the Vancouver Giants this season, as the Giants went into full rebuild mode and sold off just about everything that wasn't bolted down. The upside was that Kulak – Calgary's fourth round pick in 2012 – got a lot of ice-time in every situation and emerged as a very useful player (and a leader) on his club. With the Giants accumulating assets, such as first overall bantam pick Tyler Benson and Montreal Canadiens pick Dalton Thrower, Kulak may be primed for a huge leap forward in 2013-14.
Ryan Pike has covered the Calgary Flames and the NHL Draft extensively since 2010 as a Senior Writer for The Hockey Writers and Senior Contributing Editor of FlamesNation.ca. A member of the Professional Hockey Writers Association, he lives in Calgary.