It is hard to believe that we already find ourselves in the middle of August. The summer months have gone by so quickly, but that brings us closer and closer to the start of a new hockey season.
Training camp is just around the corner with the same promises brought every year. The promise of a fresh start, a new coaching staff, renewed hope for the team and a chance to take a look at the prospects within a team's system. This year, there will be a couple of players to keep your eyes on during Avalanche training camp.
Nathan MacKinnon
Obviously everybody is going to be interested in taking a look at the top-overall draft pick. Fans are expecting MacKinnon to be a part of the Avalanche roster from day one, so they are going to want to see him in action right away. This was the case with both Gabriel Landeskog and Matt Duchene when they were drafted near the top of their respective drafts.
MacKinnon is already getting off to a great start with the Avalanche, joining Matt Duchene for offseason workouts. Seeing how the workout regiment benefitted Duchene this past season, it is exciting to know that MacKinnon is already looking to start taking steps forward before his professional career has officially begun. Keep your eyes on number 29.
Duncan Siemens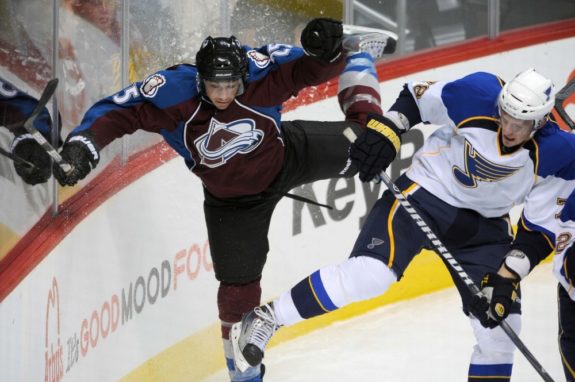 Duncan Siemens has an unfortunate burden as a member of the Avalanche. He is the last part of the biggest trade that the Avalanche have made in recent history. Siemens was drafted with the conditional pick received from the St. Louis Blues in the deal that brought Erik Johnson to the Avalanche. A trade which many fans have already labeled a bust, but one that still cannot be fully judged since Siemens has not yet played in the NHL.
The Avalanche have taken a longer-term approach with Siemens, allowing him to grow physically and mentally in major junior before bringing him into the NHL. Siemens took a big step in showing what a valuable asset he can be at this year's Memorial Cup. No, his Saskatoon Blades didn't make it to the final, but he and his team were the only ones able to stifle the potent offense of the eventual champion Halifax Mooseheads.
Siemens very well could come in and make the Avalanche squad this year, especially since the defensive roster remains Colorado's biggest question mark. Will Siemens be able to break into the league a bit earlier than expected? Camp will go a long way towards giving us that answer.
Chris Bigras
Chris Bigras was taken by the Colorado Avalanche in the second round of this year's draft. Bigras was considered to be a potential first round selection that fell right into Colorado's lap with the 32nd overall pick. This pick is overlooked with MacKinnon at the top of the Avalanche board, but this could end up paying off in spades for the Avalanche down the road.
Bigras will not make the team this year, count on that, but he has an incredibly high ceiling for the future. Bigras is touted as a brilliant skater and incredibly smart player with unbelievable hockey sense that plays in all situations for his junior team in Owen Sound. I cannot wait to see how he looks in person.
Joey Hishon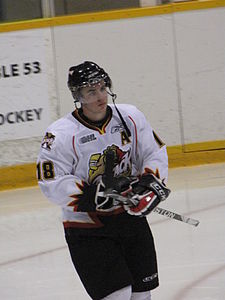 Joey Hishon will finally be at a training camp for the Colorado Avalanche. His time as a professional has been marred with nothing but concussions thus far in his career, and it finally seems like he will finally be healthy enough take a shot at making the team.
Hishon would have to do something completely unbelievable to make this team. He would really have to make either Paul Stastny or Nathan MacKinnon look bad in order to have a shot of making a team that is very deep at center.
If nothing else, fans are just going to be excited to get Hishon on the ice. Much like Peter Mueller, fans really have a soft spot for this guy as he has done nothing but battle to get healthy again. Now that he seems to be on that road again, it's really easy to pull for the guy and get excited for his return. People are really going to be cheering hard for Hishon.
Michael Sgarbossa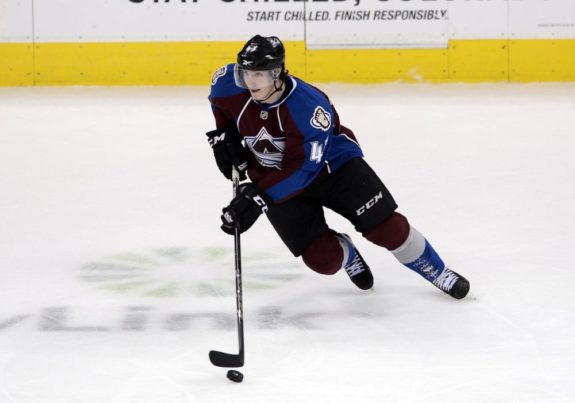 Michael Sgarbossa is a kid that has a ton of potential ahead of him. He had a very successful junior career, ending it by leading the OHL in scoring, and showed a great amount of promise during his first year as a professional.
Sgarbossa did spend some time with the Avalanche during the lockout-shortened season, but struggled despite showing promise. That promise definitely showed through during his time with the Lake Erie Monsters, where he tallied 44 points in 57 games. He's got a lot of skill but is also likely to miss out on making the team. It may be better for him to continue to develop his game where he has already found a certain amount of success, rather than jumping the gun when you really don't need him on the roster quite yet.  Fans will definitely be interested in seeing his progression.
Colin Smith
Avalanche fans are likely to not even remember that this name is a part of the system since he was taken 192nd ovearll during the 2012 NHL Entry Draft, but he has a ton of potential. Smith is just coming off of a 100 point season in the WHL and was rewarded by signing an entry level contract with the Avalanche.
Again, another player not likely to be on the roster for a bit, but one who will make a splash within the system. Colin Smith might be that late round diamond in the rough that so many teams are always hoping to find but almost never do. Cannot wait to see him in camp.
I'm a Denver native who has been a fan of the Avalanche since they came to town and a fan of the game before that. I started writing my own blog a couple years ago before moving to Bleacher Report and becoming a Featured Columnist there. You can also find me the Burgundy Brigade Podcast