With the fantasy hockey season approaching, returning managers are undoubtedly starting to prepare for drafts in their respective leagues. Whether one is playing in a Yahoo!, CBS, ESPN, or daily league setting, there will always be a number of sleeper picks available in any draft.
While a lockout shortened 2012-2013 NHL season might have given hockey fans a relatively small sample size to judge players on for the upcoming fantasy hockey season, there were still a number of players that flew well under the radar in '12-'13 that could be considered for the later portions of this year's live drafts. Relying too much on sleeper picks might not be the best strategy for a manager going into the fantasy hockey season, but there sure are a bunch of reliable players that one could snag during the deeper portions of a draft – players that might even wind up producing comparable stats to those selected in earlier rounds.
The Forwards
David Perron (LW – Edmonton Oilers)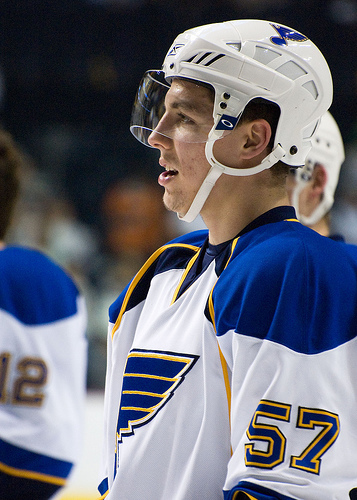 A change of scenery might just be what the doctor prescribed for David Perron. During the abbreviated '12-'13 NHL schedule, Perron registered 25 points (10 Goals, 15 Assists) in 48 games played.
Perron was always gifted with offensive talent, so a move to Edmonton might just rejuvenate the winger's production. There is no doubt that the Oilers possessed a high octane offense before acquiring Perron, but if the forward is allowed to branch out offensively, then fantasy managers who select Perron in their respective drafts will stand to benefit the most.
Mika Zibanejad (Ottawa Senators)
Mika Zibanejad will likely be one of those players that fantasy managers could snag during the late portions of a fantasy draft. Despite the fact that Zibanejad only had 20 points (7 Goals, 13 Assists) in 42 games played for the Senators, the center's style of play fits in very well under Paul MacLean's system in Ottawa.
To some, Zibanejad might be considered a depth pick-up, but there is certainly enough upside to the Swedish forward for prospective managers to consider. Fantasy managers could expect Zibanejad's ice time and point totals to increase over the course of a full NHL season, but managers should also remember that the forward can contribute handsomely in categories such as +/-, face-offs won, and shots on goal.
Steve Downie (RW – Colorado Avalanche)
Steve Downie only participated in two games during the 2012-2013 NHL season, but that doesn't mean that fantasy managers should forget about the rugged right winger. If Downie stays healthy over the course of a full season, then he should be a candidate to put up 40-45 points, 100 or more penalty minutes, and about 100 hits.
Not only is Downie well rounded in terms of offensive and physical play, he is a fairly responsible player in his own right as he has only had two seasons where he has recorded a negative +/- rating. Seeing as how Downie will likely receive top-six minutes for the Colorado Avalanche, fantasy managers should absolutely put the forward into their queue if he is available during the later rounds of fantasy drafts.
Jakob Silfverberg (RW – Anaheim Ducks)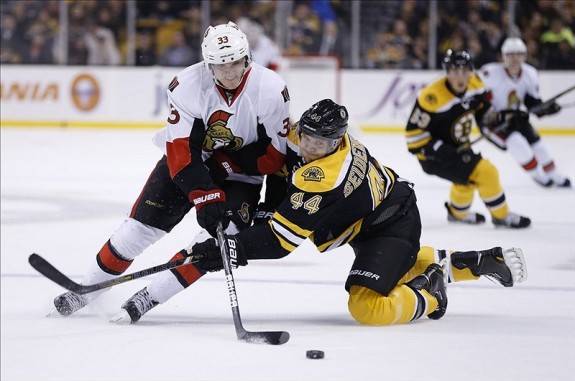 Last season, many analysts believed that Jakob Silfverberg could have contended for the Calder Memorial Trophy as a rookie for the Ottawa Senators, and they certainly weren't wrong. Even though Silfverberg did not win the Rookie of the Year honors, he had a solid campaign with the Senators as he registered 19 points (10 Goals, 9 Assists), a +9 rating, and 134 shots on goal.
While Silfverberg did everything that was asked of him in a Senators' uniform, the forward was traded to the Anaheim Ducks in a deal that sent Bobby Ryan to Ottawa. There is no telling where Silfverberg will slot into on the Ducks' depth chart, but there is a good chance that the right winger might be playing alongside Ryan Getzlaf and Corey Perry when the 2013-2014 NHL season begins. With Silfverberg likely primed for a bigger offensive role with the Ducks and flying under the radar on draft day, fantasy managers should certainly keep an eye on the winger as their drafts roll along as he could prove to be a very worthwhile pick in the mid-to-late draft rounds.
Cal Clutterbuck (RW – New York Islanders)
While the New Jersey Devils made some noise when they acquired Cory Schneider on draft day 2013, the New York Islanders made quite an important pick-up themselves. Cal Clutterbuck probably won't be an offensive superstar for the Isles, but he is definitely familiar with John Tavares from their days as linemates in the OHL.
Despite the fact that Clutterbuck hasn't recorded more than 34 points in a single NHL season, the right winger will undoubtedly be playing alongside more talented play-makers in New York than he was in Minnesota – even if he isn't reunited on a line with John Tavares. Not only could Clutterbuck potentially increase his offensive production with the Islanders, he could provide the same type of gritty and physical play that Matt Martin brings to the New York lineup. If healthy, fantasy managers should expect Clutterbuck to record over 200 hits at the very minimum, but those that are relatively unfamiliar to the forward's style of play shouldn't be surprised if they see an uptick in points from the physical winger as he changes teams for the first time in his NHL career.
Sven Baertschi (LW – Calgary Flames)
Many managers probably won't be looking to stash Baertschi in their queue on draft day as he has only played in 25 NHL games, but there is certainly enough reason to reverse that trend this year. During his first appearance with the Flames, Baertschi scored three goals in five games and followed up his 2011-2012 performance by scoring ten points (3 Goals, 7 Assists) in twenty games played in 2012-2013.
With the Flames undergoing a rebuild, Baertschi will be one of the key players that the team tries to build around. Baertschi be given ample ice time and opportunity in Calgary, and fantasy managers should definitely take note as the thirteenth overall pick from the 2011 NHL Entry Draft will undoubtedly be making himself a household name during this upcoming hockey season.
The Defensemen
Justin Faulk (D – Carolina Hurricanes)
Justin Faulk is still a very young defenseman as he is only 21 years old, but there is certainly a tremendous amount of upside for this defender. Not only was Faulk one of Carolina's best defenders during the lockout-shortened 2012-2013 NHL season, he was also able to record fifteen points (5 Goals, 10 Assists) while playing a good chunk of minutes for the Hurricanes on a nightly basis.
Faulk likely won't be highly coveted by fantasy managers, so he could very well slip to the mid-to-late draft rounds depending on how deep or shallow one's league is. Those that put stock into Faulk for the upcoming fantasy season could very well be rewarded as the responsible two-way defender will probably receive a huge amount of ice time on Carolina's top defensive pairing.
Brendan Smith (D – Detroit Red Wings)
Some might look at Brendan Smith's point totals from last season (8 Assists) and wonder why he was included in this list. Well, with Detroit's blueline relatively thin, Smith will only see more ice-time as he continues to grow with the Red Wings.
While Smith will probably see time on Detroit's second defensive pairing, fantasy managers should keep in mind that the defenseman will provide balanced statistics to fantasy managers. Not only should Smith's point totals increase as he is given more responsibility and ice time, the defender should be able to move up Detroit's defensive depth chart if he continues to maintain a responsible two-way game for the Wings' defensive units.
John Carlson (D – Washington Capitals)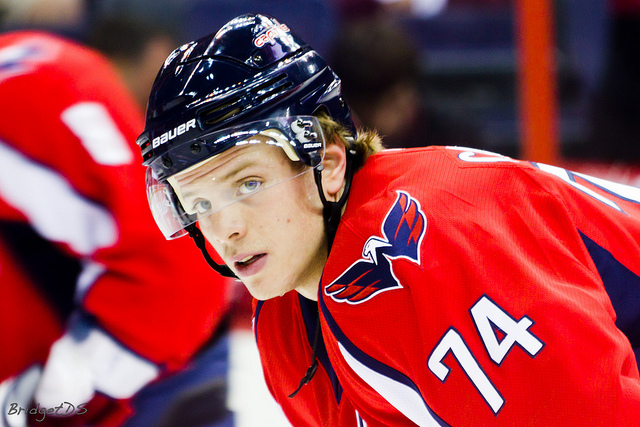 Much has been said about Mike Green's reemergence with the Washington Capitals, but John Carlson has certainly made an impact in the nation's capital over the last three seasons. During the '12-'13 NHL season, Carlson managed to register 22 points (6 Goals, 16 Assists) in 48 games played, but more importantly, the defenseman has not missed a single game over the last three years.
While Carlson has been an iron man for the Capitals, he has also came out relatively well in the +/- category as he has only had one season where he recorded a negative +/- rating. Carlson might not be the most physical defender, but he sure will sacrifice the body to block shots and put forth his best efforts in the offensive zone. Even though some fantasy managers might not be sleeping on Carlson, selecting the defenseman in the middle rounds of a fantasy draft could prove to be more fruitful than choosing a big ticket defender during the initial stages of a draft.
Raphael Diaz (D – Montreal Canadiens)
If Raphael Diaz wasn't limited to 23 games during the '12-'13 NHL season, then there is no telling what the young Montreal defenseman could have achieved. Not only did Diaz come close to eclipsing his 2011-2012 point totals in 36 less games in '12-'13, the defenseman also showed that he could block shots as well as set up his teammates on even-strength and the man-advantage.
With P.K Subban and Andrei Markov firmly entrenched on Montreal's top defensive unit, Diaz will likely see most of his ice time on the Canadiens' second defensive pairing. Those who put their faith into Diaz last season were surely rewarded, and fantasy managers shouldn't hesitate to take a chance on Diaz for the upcoming hockey season – especially if the defender is available during the later portions of a fantasy draft.
The Goalies
Ray Emery (G – Philadelphia Flyers)
Ray Emery's first tour of duty with the Philadelphia Flyers was not bad, but the goalie will undoubtedly look to improve his fortunes during his second stint in the city of brotherly love. Despite the fact that Emery was relegated to a backup role with the Blackhawks over the last two NHL seasons, the goalie certainly made the most of his time in Chicago as he posted a 32-10-4 record over 55 games played.
While the Flyers acquired Steve Mason last season and used an amnesty buy-out on Ilya Bryzgalov, the Flyers' goaltending situation is not firmly set. Steve Mason could very well take over netminding duties in Philadelphia at some point, but fantasy managers shouldn't overlook Emery in the meantime as the goalie could very well receive a good amount of playing time if Steve Mason does not provide consistency and stability between the pipes for the Flyers.
Devan Dubnyk (G – Edmonton Oilers)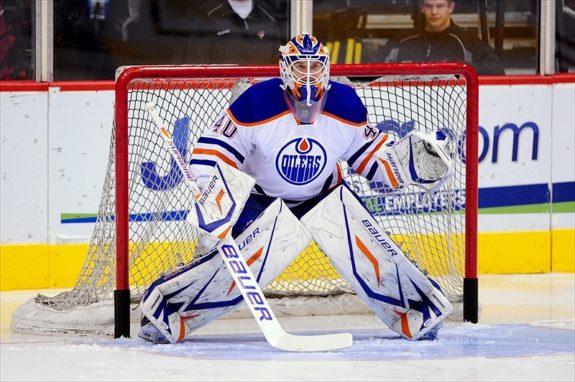 Devan Dubnyk followed up a good 2011-2012 NHL season with quite some impressive performances in 2012-2013. While Dubnyk's record (14-16-6) might not have been all too spectacular, the goalie's peripheral statistics (.920 Save Percentage, 2.57 GAA) were definitely good enough for fantasy managers that did not play in leagues that valued categories such as Wins and Losses.
Not only does Dubnyk have very little competition behind him, he has quietly improved his game with every passing NHL season. The Edmonton Oilers might not be the most defensively sound team in the NHL, but Dubnyk has certainly kept his team in games when his number has been called upon. Fantasy managers shouldn't be surprised to see Dubnyk eclipse his single season win total (20) this season as Nikolai Khabibulin will not be holding the youngster back from seeing more playing time. Taking a chance on Dubnyk might not seem like the most appealing option to fantasy managers, but there is definitely enough reason to believe that Edmonton's goalie will keep improving on his game as he grows older with the Oilers' young nucleus.
Robin Lehner (G – Ottawa Senators)
Robin Lehner gave hockey fans a glimpse of what he can do between the pipes when Craig Anderson went down for a prolonged period of time last season. In twelve games played for the Senators, Lehner recorded a 5-3-4 record while playing to the tune of a 2.20 GAA and .936 Save Percentage.
Of course, Lehner's small sample size with Ottawa is probably not indicative of any long term numbers that the goalie could put up in the NHL, but it is a telling sign that the Senators chose wisely when selecting the Swedish netminder in the 2009 NHL Entry Draft. Despite the fact that Craig Anderson will receive the bulk of playing time for the Senators, fantasy managers in deeper leagues should certainly scoop up Lehner while those in shallower leagues should keep a close eye on Anderson's play and health to determine if Lehner is worth adding to their respective roster.
Jakob Markstrom (G – Florida Panthers)
After providing some solid play in six 2011-2012 NHL games with the Florida Panthers, Jakob Markstrom faltered during the '12-'13 NHL season. In 23 games played, Markstrom registered a 3.22 GAA, .901 Save Percentage, and a 8-14-1 record – numbers that most fantasy managers probably wouldn't want to come close to.
Although Markstrom's numbers were far from spectacular, one must also factor in the fact that the Panthers were hit particularly hit by the injury bug last season, something that probably affected the way that the team played in front of Markstrom. While a plethora of excuses can be made for poor play, Markstrom is still a goalie that fantasy managers shouldn't sleep on. With Scott Clemmensen being Markstrom's only competition in the Florida crease, the latter goalie should receive a considerable amount of starts behind a healthy Panthers team.
*** If you feel that any players/sleepers were omitted from this list, then please feel free to comment below!