On Thursday, it was announced that Buffalo Sabres play-by-play announcer Rick Jeanneret had agreed to a three-year extension with the team. It will be his final contract, seeing him retire once the deal has expired following the 2015/16 season.
With a reduced schedule ahead of him, Jeanneret will be replaced by Dan Dunleavy during games RJ won't be available, signaling the future once Jeanneret steps down for good.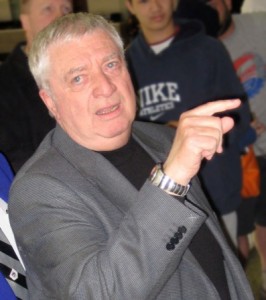 RJ started with the team way back during the 1971/72 season as the team's radio play-by-play guy, making him the longest-tenured announcer in NHL history. He spent nearly 25 years as the radio man before adding television to his duties, doubling up as both during 1997/98.
For myself, and just about every fan the Sabres have ever had, there is no other voice of the Sabres (with all due respect to Ted Darling) and arguably no one more synonymous with the franchise than Jeanneret. This is a man that has spawned so many famous (to Sabres fans, anyway) calls over the years, created so many phrases and nicknames, that I can't begin to fathom "the voice of the Buffalo Sabres" as anyone else.
What else can you say about a guy who has his own "best of" tournament bracket?
His voice has become so ingrained in me as a Sabres fan that I can even see box scores and picture his goal calls. I'll never forget "May Day"…
La-la-la-la-la-la-Lafontaine!
The Shot Heard Round the World…
Or "Back to Where Jimmy Hoffa is"…
And just like that, I've lost 45 minutes looking at Jeanneret calls. He has that affect.
Rick Jeanneret will always be the voice of the Sabres to me and his trademark calls will always live on for me and Sabres fans everywhere. I know he still has three more seasons but I miss RJ already.
I can't begin to imagine life starting 2016/17.
Follow me on Twitter: @RWTFC
A long-time (and long-suffering) Buffalo sports fan. Sometimes optimistic, always weary. I write other stuff for a lot of other people.