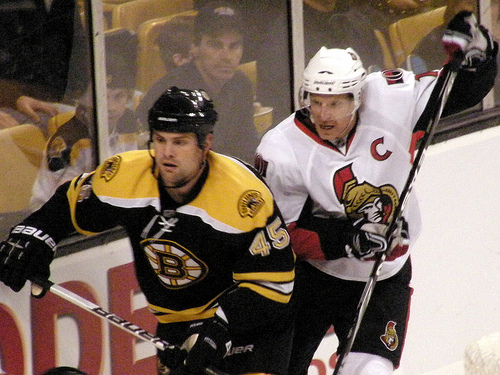 By Terrance Gavan – Senators Beat
Paul MacLean is the ninth Ottawa Senators head coach since the modern-day franchise debuted in 1992-93.
Nine coaches in 19 years.
Do the math.
An average Ottawa Sens coach lasts 173.1 regular season games. Give or take.
So what's the over-under on the over or under 173.1 game parlay for the shiny new Sens Coach Paul MacLean?
The good news for hard core Pro Line aficionados is… no push.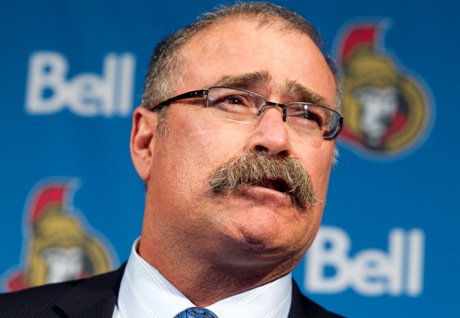 The bad news for Paul MacLean and a whole passel of Senators' fans that yearn for a smatter of coaching continuity is… Sens GM Bryan Murray is a man of few words with an itchy trigger finger.
Not that Corey Clouston's firing wasn't a welcome respite from the rope a dope mediocrity of his soul-sucking system.  Or lack thereof. Alex Kovalev – in a rant reported in The Hockey Writers – said, after arriving back in Russia where he'll play for at least two years, that in two years he never understood a word Clouston said.
Now, that's a bit of pot-kettle-black, but pundits are reporting that it's a sentiment shared by a few prominent Ottawa players.
We like this hire. MacLean arrives in Ottawa from Detroit. The Red Wings are a successful franchise with a prepossessing penchant for developing players. And for their defensive styling. To quote an old OttawaValley euphemism: "They git 'er done! Eh?" On both ends of the ice. They're also incredibly consistent.
Detroit plays exciting hockey. Offensive hockey. Quickstep, head man, give and go hockey. From the blueline back? Solid. They play to win and they expect to win.
Not forDetroit the staid, boring, dump and chase. Motown is go town; and has been for some time. Indeed, Ottawa owns one of the contributing building blocks to that enduring Motor City legacy in Stevie Yzerman. Okay. Nepean. It's Nepean. I know. I grew up there and we have big insecurity issues when it comes to our Stevie Y.
Will Paul MacLean bring the laissez faire freestyle of the juke and jive Red Wing offense to Sens City? Whoa up there Secretariat. Slow down. Not this year baby. Ain't got – to extend the equine metaphor – the horses, or the horsepower. Besides, Detroit's is a unique paradigm.
No one could copy the Motown sound back in the sixties. Oh, they tried. From New York  to L.A.They tried. But no one had the Funk Brothers; or Aretha; or Little Stevie Wonder. Hit City's soul came from the players.
The magic's in the soul, the system and… the maestros. Switch back to Joe Louis. Detroit has the players. And the funk in the trunk.
MacLean says he can't promise Marvin Gaye or Gladys Knight. But in some trenchant comments to the Canadian Press and TSN back in June – just after his hire – Paul MacLean promised to bring a new boss beat.
"I don't know if we're going to play the Red Wing way, but we're going to play a game that's going to be played with some pace and tempo," MacLean told CP. "You've got to play 200 feet (of ice), you've got to be able to skate and if you have the puck, you can dictate what's going on."
MacLean took over from Clouston, who was fired April 9 after the Senators missed the playoffs for the second time in three seasons. He'll be the fourth head coach and fifth person to occupy the role since Ottawa reached the Stanley Cup final in 2007 with current GM Murray at the helm.
Murray replaced John Muckler as GM following that season and promoted assistant John Paddock. Now there's a hard luck journeyman. Paddock lasted less than a season, with Murray stepping behind the bench to finish the 2007-08 campaign."
Coach Craig Hartsburg started 2008-09 season and was fired in February. Clouston led the Senators to a post-season appearance in his first full season in 2009-10. Last year? Well you can draw your own conclusions. Many already have. Clouston had to go.
Call the Ottawa coaching situation schizophrenic with a slice of paranoia on the side.
So MacLean steps in and some NHL writers – see a nice post by Eric Duhatschek – are telling us that MacLean has earned this shot as head knock.
Said Duhatschek: "He is a smart, well-schooled coach, a big reason why the Detroit Red Wings have been consistently successful in the six years he was there as Mike Babcock's primary assistant."
Bottom line. The Sens are young. They're building right now. Have to. Management knew the season was over long before closing time in 2010-11. So they dumped players; and contracts.
The Sens are celebrating their second decade and their first All-Star Game in 2011-12.
And management is banking that people will be so caught up in the hoopla that they'll ignore the growing pains of yet another rebuilding year.
"After a poor season, the need for change was obvious," Murray told CP at the time. "I felt Paul fit the profile (of what the team needed in a coach). He'd been a player, been a head coach, been an assistant coach in the National Hockey League. He's been a winner everywhere he's been. … I think he brings energy, experience, expertise and people skills, most importantly.
"When you make a change, you want it to be a positive one."
Clouston was criticized as a taskmaster who rode his players relentlessly; others opined that he was too regimented in his systems, and that prompted the inevitable rumours that he wasn't well liked by the team's old guard.
MacLean, who scored 324 goals and 673 points in 719 regular-season games in 11 seasons with the St. Louis Blue, Winnipeg Jets and Red Wings brings the defiant dynamic of the role player to the job. But he also played internationally for Canada at the Lake Placid Olympics.
He's blue collar. A worker and was a key cog in that Motown motor.
"I think it's important in the NHL today that the coach and the players communicate," he said at the time of his hire. "Communication with the players is important in empowering them and having them invest in what you're trying to do and what you're trying to accomplish. It's not me against them, it's us — the Ottawa Senators — against the rest of the league and we have to work together in order to accomplish that goal."
MacLean was born in Grostenquin, France, but grew up and still resides in the off-season in Antigonish, N.S. He seems to have won over a large contingent of puck pundits.
He also has – at least for now – the support of the guy he'll need to lead this team from its self-imposed exile.
"I think his experience with what he's been through and especially with the players he's been coaching the last while in Detroit is definitely going to be something that adds a lot to our team," Senators captain Daniel Alfredsson said. "If you look at the way Detroit plays, it's a good team that has a lot of skill, but, at the same time, it's a really good defensive team. They play with the puck as much as they can and I think I can see us doing the same thing."
"Paul represents a big part of the change we needed to bring to our hockey club," added Senators owner Eugene Melnyk. "The fact is we are a very different looking hockey team compared to a year ago. Bryan and I agreed it was important for him to bring in someone who is a solid communicator, can easily build a strong rapport with our players and has a proven track record of winningNHL games and Stanley Cups. Paul represents all of this, and I'm pleased to welcome him to Ottawa and the Senators organization."
Everything is shiny and new.
But that all changes when the puck drops in October.
For the record? Your agent's over-under on the 173.1 game parlay is… over.
Just like this screed.
The bottom line on Paul MacLean:
Ottawa's new coach was an assistant with Phoenix and Anaheim and a scout for the Blues.
MacLean, 53, spent the past six seasons as an assistant in Detroit under Mike Babcock, helping the organization win a Stanley Cup in 2008. Prior to becoming an assistant in the NHL, MacLean spent six seasons in the International Hockey League as head coach of the Peoria Rivermen and Kansas City Blades. He also led the United Hockey League's Quad City Mallards to a championship in 2000-01.