The Central Division's second place Dallas Stars and the third place St. Louis Blues have a number of differences in their respective styles of play. Dallas' focus is on speed and skill with the majority of their strength found at the forward position, while the Blues are a physical team that tends to rely more on their defense to win games.
Both teams have, despite their differences, employed an almost evenly split allocation of games between their two netminders and the goaltending tandem is paying off.
Kari Lehtonen and Antti Niemi
Since being acquired at the end of the 2009-2010 season Kari Lehtonen has played in more than 60 games twice and was just one shy in the 2011-2012 season. To say the least Lehtonen has been the go-to guy in net for the Stars, which is exactly why they traded for him six years ago.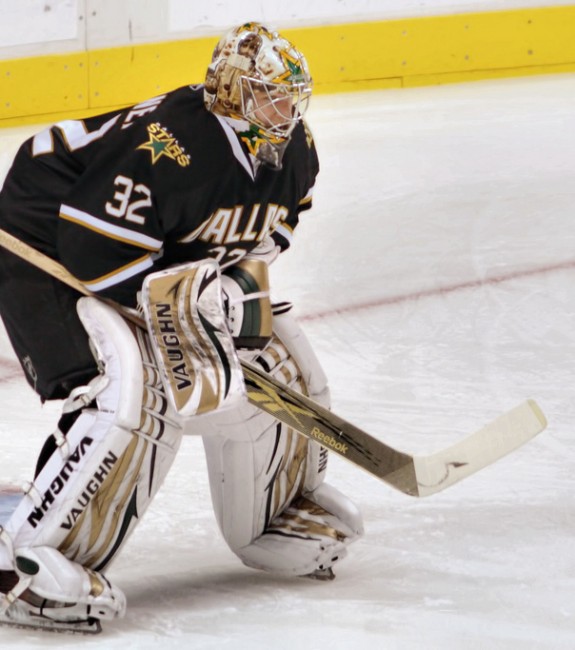 This season Lehtonen has posted a 2.76 goals against average with a .91 save percentage in 27 games going (25-16-5) overall.
Antti Niemi is one of the newer members of the Dallas Stars this season having had his rights acquired from the San Jose Sharks in a trade at the NHL Entry Draft last summer. Stars general manager Jim Nill signed Niemi to a three-year, $13.5 million deal just two days later.
In his first season with the Stars Niemi has played nine games more than his goaltending counterpart and has a (33-21-10) record with a 2.5 goals against average and a .909 save percentage.
While Niemi has been dubbed the "starter" for the Stars because he's started more games, it seems as if head coach Lindy Ruff is evening things out with Lehtonen having started four of Dallas' last five games.
Regardless of the official titles the two Finnish net minders have managed to catapult the Stars from a second-to-last finish in the division to legitimately battling for the Central Division lead.
Brian Elliott and Jake Allen
Brian Elliott has been in St. Louis since 2011 and was accustomed to being the starter for the Blues. That is until they gave Jake Allen a more legitimate shot at playing in the NHL this season. Together they've played well enough to put the Blues third in the Central Division with 75 points and a (33-17-9) record overall.
Elliott has played in 31 games thus far going (27-15-7) with a 2.03 goals against average and a .933 save percentage. Allen has played in 33 games posting an (18-10-0) record and a 2.17 goals against average with a .924 save percentage.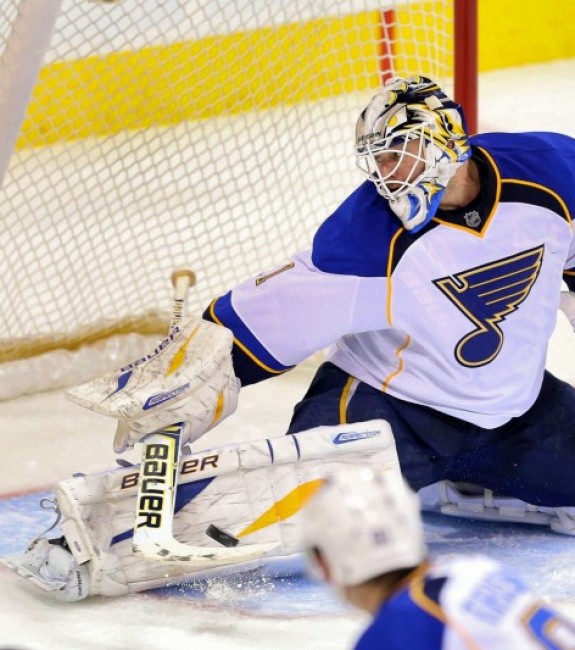 Together they have provided the Blues with quality goaltending that has supported their relative lack of scoring in the division, having scored only six more goals than their opponents this season.
That's rather low compared to Chicago's goal differential of 33 and Dallas' 32. Despite their lack of high-scoring games, the goaltending duo of Elliott and Allen has taken the tandem approach and proven it rather successful.
Elliott and Allen have made it possible, although maybe not likely, that the Blues could repeat their Central Division win this season.
Final Thoughts
The Stars and the Blues are two of the best teams in the league and currently sit in the top three of the highly competitive Central Division.
While the goaltending tandem method won't be a sure thing for every team, it seems to have had a positive influence on both of these team's respective seasons this year and thus might catch on.
What do you think of two goalies splitting playing time more evenly compared to the traditional starter and back-up role? Leave your thoughts in the comments below.