The hustle and bustle of the trade deadline has come and gone.  Plenty of trades have been made, big names have been moved, and your head is likely spinning.  We here at The Hockey Writers want to give back and help you settle down a bit.  Well do you like free giveaways?
Of course you do.
Do you need a vacation to put your mind at ease? How about a Hockey Trip? A VIP Hockey Trip?
OF COURSE YOU DO!
All you need to do is visit realtor.com/faceoff in order to have a chance to win (2) VIP tickets to a San Jose Sharks game vs. the Washington Capitals on March 22nd, 2014 at the Shark Tank.  What's better yet, you don't have to worry about paying for hotel or airfare. [Only open to residents of the lower 48 States – sorry Canada]
Can you get a better deal than tickets, hotel, and airfare to San Jose?
How about getting a personal tour of the Sharks' practice facility and SAP Center in San Jose?  Tack on a chance to meet some the Sharks players.
A relaxing hockey getaway for the weekend is just what the doctor ordered this time of year.  California is a perfect getaway spot. If you're an East Coaster, like myself, getting away from the freezing cold and snow could not come at a better time.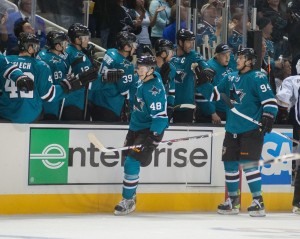 There is nothing quite like experiencing a live NHL hockey game, much less when two of the most offensive teams are duking out.  Alexander Ovechkin, Joe Thornton, Nicklas Backstrom, Patrick Marleau, Mike Green and Joe Pavelski are the marquee names in in a game featuring two of the top 10 teams in scoring.  You're bound to be on the edge of your seat.
On March 14th, a name will be drawn at random, and hopefully the winner happens to be you.  But don't worry if you don't win the grand prize.  There are signed jerseys and signed pucks that will be given to ten secondary winners.
But you better get a move on by visiting realtor.com/faceoff and checking out the contest. The contest only lasts until March 13th at 11:59 pm so hurry up, click the link, and get your entries in to enter a chance to win!