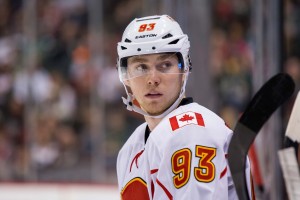 Eyebrows raised around Calgary when Sam Bennett was scratched before Thursday night's game against the Nashville Predators. But, it's a step in the right direction. Before his press box demotion, Bennett was pointless in 10 games with a minus-5 rating and had taken 22 minor penalties so far this season, putting him in the top 10 across the NHL for lack of discipline.
His recent play represents that of many of his teammates including Sean Monahan, Johnny Gaudreau, Troy Brouwer and really anyone not named Mikael Backlund, Michael Frolik or Matthew Tkachuk, who have demonstrated inconsistency by not showing up for each and every game. A message needed to be sent to the entire team that status quo efforts are not acceptable and will not win hockey games. However, with 48 games already in the books and the easier part of their schedule already behind them, the Flames have put themselves in a difficult spot to make the playoffs.
Hitting the Snooze Button

Even more disappointing in the game against the Predators was that the wake-up call message didn't appear to sink in — at least not immediately. The Flames fell behind 4-0 to the Predators before strangely coming to life with five minutes left in the third period to score three goals. It was just enough effort to keep them from collecting any points.
"It's hard to explain," head coach Glen Gulutzan said, addressing the recent lack of consistency from his club to the Calgary Herald. "You would think we weren't in a playoff race. That's how we're playing. We have to realize where we're at."
The Flames are a young team but so far in January they have played seven matches against teams who are behind them in the NHL standings and they have lost four of those games. Those eight points would have them sitting in second place in the Pacific Division ahead of the San Jose Sharks and Edmonton Oilers and comfortably in a playoff spot if they had been able to earn them.
They didn't win, though, and on many nights they looked awful which calls into question the commitment of the players and the Flames management on what they are willing to do to succeed this season. The Flames have a lot of pieces in place but most can see their compete level is low and they are not performing well as a team. In my opinion, the problems don't require a massive rebuild. However, changes should be made to their bottom-two defense pairings and a scoring winger should be added to replace Alex Chiasson, who has proven he doesn't belong as a top-six forward.
What Needs to Be Done?
The Flames don't need to sell a bunch of high prospects or top players but they do need to make at least a couple of small transactions or make some new call-ups. Buying players before the hype of the NHL trade deadline can be an expensive proposition, so I think Brad Treliving should be very careful in his work. His goal should be to take some chances on affordable players with short-term contracts that are hungry to prove they belong in the NHL. Maybe it's a player or prospect on a non-playoff team like the Avalanche, Coyotes, Sabres or Islanders who wants a chance in the playoffs or who is fighting for a job? It could even just be a player who becomes available on the waiver wire.
It's not about sacrificing the future but more about finding the right couple of players who can shake-up the roster, raise the compete level and keep the team from sliding further in the standings.
What's the Hold-Up?
http://gty.im/615963892
The Flames have known since November what they have in their current mix of forwards. Lance Bouma, Alex Chiasson, Garnet Hathaway, Micheal Ferland, Matt Stajan and Freddie Hamilton all can do some gritty things on the ice but they aren't racking up points. In January, that group of players has combined for five points over nine games and three of them belong to Chiasson, who has played mostly on a line with Gaudreau and Monahan.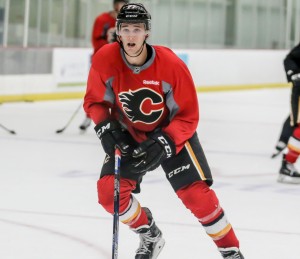 This is where an addition from the waiver wire or a call-up from Stockton could possibly make a difference. Sure, it might not work but bringing up a youngster from Stockton like Morgan Klimchuk, Mark Jankowski or Andrew Mangiapane can't produce any less points than the current forwards and the experience of fighting for a playoff spot at the NHL level could provide some solid player development. Also, choosing not to improve the team this season might leave some Flames players feeling less motivated because management isn't doing anything to add any kind of scoring to the line-up. You'd never hear a player say that to the media but at least Monahan is recently recognizing his part of the problem.
"We need to be a better 60-minute team," said Monahan to the Calgary Herald after extending his recent scoring streak to four games. "Start to finish. We need to come out moving our feet early and continue that throughout games."
On defense it's less surprising the Flames haven't made any internal moves because they don't have any blue-line prospects who could make the jump to the NHL this season. But, given the team's prospect depth at the goalie position and on the blue line, it's surprising to me that Brad Treliving hasn't made at least a minor deal to bring in some defensive help. Making this kind of move for a stay-at-home defensemen or two would improve the blue line and shake up the atmosphere in the dressing room.
Sure, it's only January. You could say there is a lot of time left. However, the games won't get easier as the playoff races get tighter. If the Flames aren't winning now there's no reason to believe they will suddenly start when the games get even more intense.
Jon is a Calgary resident and life-long Flames fan who is a new contributor on TheHockeyWriters.com. You can follow Jon on Twitter @sportfanyyc where you'll probably learn a bit more about sledge hockey as well.