The timing of the NHL's decision to make changes to the Entry Draft and the way teams get their picks couldn't be worse for the Calgary Flames.
Changes to Draft Lottery
Beginning next spring, the league will change its lottery process for the 14 non-playoff teams. The odds of getting the number one choice if the Flames finish dead last will decrease from 25% to 20%. The second worse team will have only a 13.5% chance of moving to the top spot, down from 18.8%. Thre third worst team goes to 11.5% from 14.2%.
The change makes it less likely that Connor McDavid or Jack Eichel will wear the flaming red. That's assuming the Flames end up at or near the bottom of the standings in 2015.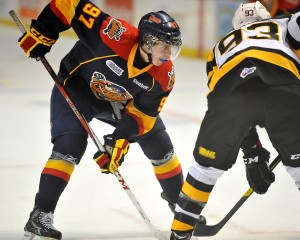 The news gets worse in 2016 when further changes will decrease chances even more. The worst team could fall as far as fourth overall.
The league feels the changes reflect today's competitive balance and eliminates rewarding some teams' inability to benefit from drafting low like, ahem, the Edmonton Oilers. Yet, few teams purposely lose, or "tank," for the sake of drafting higher. Athletes have pride and want to win.
Drafting High
Like every team, the Flames go through tough times with key players getting old or retiring. Chicago and Los Angeles weren't very good in the mid-2000's but drafted well and made key trades to win a couple of championships each. Without high draft picks like Jonathan Toews and Patrick Kane, Chicago would not have won in 2010 and 2013. Same in L.A. where Anze Kopitar, Drew Doughty and Jonathan Quick earned the city two championships in 2012 and 2014.
For the Flames, the change in the draft could have a huge impact. Being in the middle of a major rebuild, Calgary needs top elite talent to compete for the Stanley Cup. A McDavid or Eichel could spell the difference between an average or a contending team. The Flames have done a solid job of drafting well the past few years, adding good depths at all positions,  and will continue to add young blood to the lineup.
Flames on Right Track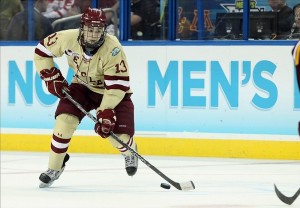 Waiting for elite players to arrive has become harder under the new changes. The Flames may soon have Johnny Gaudreau, Sam Bennett, Markus Granlund and Emile Poirier up front, Tyler Wotherspoon and Patrick Sieloff on defense and Joni Ortio and  Jon Gillies in net. Calgary will be competitive in two or three years but still lacks a game breaker like Toews and Kane in Chicago and Kopitar and Doughty in L.A.
Top elite talents get drafted high so whoever wins the NHL lottery benefits greatly in the long run. For a rebuilding team like the Flames, "losing" the new draft lottery could impact future chances of being a contender.