If you do not change direction, you may end up where you're heading — Lao Tzu
If multiple reports are correct, longtime Los Angeles Kings captain Dustin Brown will not be wearing the "C" starting next season. And for both Brown and the Kings, that may end up being the best possible outcome.
TSN's Frank Servalli Broke the Story
On Friday, TSN's Frank Servalli tweeted the news that the Kings had already told Brown it would be giving the "C" to another player:
Hearing Dustin Brown has been told he will no longer be captain of the #LAKings. They want to go in a different direction with the 'C.' #TSN

— Frank Seravalli (@frank_seravalli) May 27, 2016
There is no mention of who will replace Brown, but speculation is rampant that Anze Kopitar will take the reigns for the 2016-17 season and beyond.
The Downward Spiral
Brown, the longest-serving captain in Los Angeles Kings history, was a consistent (if at times vexing) points producer for six seasons, amassing 147 goals and 160 assists in 450 games. Perhaps more importantly, he was a fierce hitter, consistently ranking among the league leaders in total hits. Who can forget his bone-jarring check on Henrik Sedin in the 2012 playoffs?
Although by no means a vocal player who occasionally — and unjustifiably — landed on lists of the NHL's worst captains, Brown nevertheless played a large role in ushering in the most successful era in Los Angeles Kings history. During his first four seasons the Kings missed the playoffs; over the next six campaigns they made the postseason five times, winning the Stanley Cup twice.
Even during his most productive years, some fans were uncertain about Brown's worthiness to keep the captaincy. There were those that felt he wasn't vocal enough and wouldn't "stand up" to defend an aggrieved teammate more often. However, most objective observers saw him as a steady, consistent leader who played a solid two-way game. For years, he was a fixture in the Kings' top-six mix, often playing alongside franchise center Anze Kopitar.
An example of the chemistry often seen between the two players can be seen in the following clip from 2010:
Unfortunately for both Brown and the Kings, his offense hit a brick wall in 2013-14. Playing in 79 games, Brown managed just 27 points, about half his normal total. His disappointing regular season was overshadowed by a gritty postseason tour de force in which the Kings overcame multiple elimination games — including four in one series alone — to win the Stanley Cup.
The spiral continued in 2014-15, as Brown managed just 11 goals and 16 assists in 82 games and the Kings missed the playoffs for the first time in six years. This past year, he reportedly came to camp in great shape, looking to shake the doldrums he'd been in over the past two years. Unfortunately, the results were more of the same: 11 goals and 17 assists.
Meanwhile, the eight-year contract extension Brown signed in 2013 has six years remaining, with a cap hit of $5.875 million. Third-line production doesn't justify anything close to what he's being paid.
How Brown and the Kings Can Benefit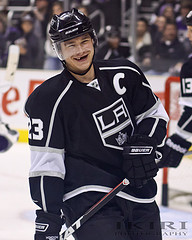 The pressure of the limelight is intense, especially for a player who is struggling to justify their contract. Now a grizzled 31-year old veteran, Brown has been subject to intense scrutiny and criticism for the past three years. Frankly, he needs a break.
Removing the "C" from his sweater could serve to lower the temperature a few notches. Offensive struggles notwithstanding, Brown still hits, plays defense and chips in points. Brown should look to Joe Thornton as a model for how to bounce back from a leadership change: after losing the captaincy in 2014, Thornton recovered, putting up numbers this year that rival some of the better seasons in his 17-year career.
As for the Kings, a change of this magnitude can motivate a club as well. Arguably, the Kings are in need of a spark: after winning the Cup in 2014, Los Angeles has won just one playoff game. Although the championship window appears to still be open, the Kings are no longer a young, hungry team like they were when they emerged as one of the league's elite franchises. They have challenges with respect to the salary cap, team speed, defensive depth and the farm system, not all of which can be addressed easily.
Changing the captaincy not only generates a spark, but serves as a course-correction maneuver that, if done properly, may well generate renewed upside. Thornton's San Jose Sharks are the model to follow here.
Hats off to Dustin Brown
Assuming the reports are true, the move will test the resolve of both Dustin Brown and the Kings. Regardless of the eventual outcome, he's been a solid team captain with a strong resume of success, both on and off the ice.
Kudos to Brown for leading the Los Angeles Kings to their first two Stanley Cup championships. That's an accomplishment that cannot be repeated, and unlike the captaincy, will never be taken away from him. Here's hoping he pulls a Joe Thornton next season, and the Kings take a bite of their own out of the Sharks' playbook.
Walter McLaughlin is a Los Angeles Kings correspondent for The Hockey Writers. He is an avid sports fan, having followed the Kings since living in L.A. in the mid-1970's, as well as suffering through Seattle sports teams' general futility. He has a Bachelor's degree in Finance and has worked in community banking for over 25 years, specializing in SBA loans. He is married and has two daughters.