The final rosters for the 2016 World Cup of Hockey were announced yesterday. Last summer the Los Angeles Kings GM Dean Lombardi was named general manager for Team USA, and he made his final seven selections for the full 23-player roster yesterday, which included Kings goalie Jonathan Quick.
Lombardi has been on the United Stated Hockey Advisory Board since 2009, and helped with the roster selection for the 2014 Sochi Olympics United States Hockey Team. The United States failed to qualify for a medal that year, and has not won a gold medal since 1980.
Quick and Lombardi are not the only Kings that are representing their countries in the tournament this September though. With the final rosters announced the Kings will have a total of six players in the tournament in addition to Lombardi being responsible for constructing the Team USA roster, and Kings Assistant GM Rob Blake serving as one of Team Canada's three assistant general managers.
Kings Representing Team USA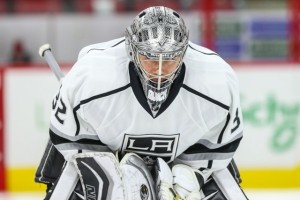 As mentioned, Lombardi chose Quick with his initial 16-player roster submitted in March. Quick played for the United States team in the 2014 Winter Olympics, and was nominated as a Vezina Trophy finalist this year for his level of play during the 2015-16 regular season. Former two-time Olympian, and Kings former captain, Dustin Brown was not named on the final roster.
It is not a surprise that Brown has been left off the roster given his regressing productivity as an NHL star power forward. Lombardi has described his desire to assemble a physically and mentally tough team that will put the team first, reminiscent of the 1996 USA World Cup team. A style of play that has helped Brown captain the LA Kings since 2008, and lead them to two Stanley Cups in 2012 and 2014. However, Brown has been limited to just 55 points in the last two seasons, and has not peeked at 20 goals since the 2011-12 season.
Kings Representing Team Canada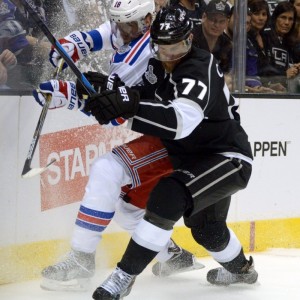 In the initial 16-player Team Canada roster that GM Doug Armstrong put together, along with the help of assistant general manager Blake and others, Kings defenseman Drew Doughty and forward Jeff Carter were named to the team. Doughty is a two-time Olympian and two-time gold medalist who has been nominated for the Norris Trophy as the league's best defenseman for his play this season.
Alongside Doughty, Carter played in the 2014 Winter Olympics and won a gold medal with Team Canada. Carter solidified his role as the Kings second line center by finishing second on the team in scoring, behind Anze Kopitar, with 24 goals and 62 points this season.
Following the announcement of the final 23-player roster, the Kings will have a third player on Team Canada, as defenseman Jake Muzzin was named to the team. Muzzin finished the 2015-16 regular season with 40 points and a Corsi For of 65.85%, finishing third among defenseman that played more than 70 games during the regular season, according to war-on-ice.
Kings Representing Team Europe
There are four European countries that will have a team in the 2016 World Cup of Hockey Tournament: Sweden, Finland, Russia and the Czech Republic. Players from other European countries outside of those four have a chance to play in the tournament for Team Europe, and two Kings players made the cut.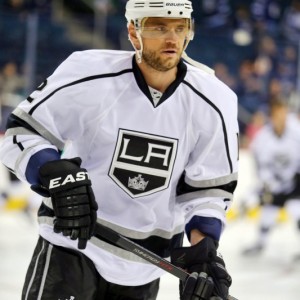 Kings leading point-scorer for the last nine seasons, Anze Kopitar, was named on the initial 16-player roster, and has previously represented Slovenia in the 2014 Winter Olympics. Kopitar finished the season with 74 points and has been nominated for both the Lady Byng and Selke Trophies this season.
Marian Gaborik was one of the final seven players named to play for Team Europe on Friday. Gaborik was limited to 54 games this season, due to injury, and scored just 12 goals and 22 points. Gaborik is a two-time Olympian having represented Team Slovakia twice in his career.
The World Cup of Hockey tournament will take place in Toronto, Canada from Sept. 17-Oct. 1.