On April 27, the general managers of the NHL named Los Angeles Kings goalie Jonathan Quick one of the three finalists for the 2016 Vezina Trophy and the following day, the NHL announced that Kings forward Anze Kopitar has been named a finalist for the Selke Award.
Quick Up for Vezina After Reaching Career Milestones
The three Vezina Trophy finalists are those deemed to be the best at the position according to all NHL GMs. It was announced on Wednesday that Quick was nominated alongside Braden Holtby of the Washington Capitals and Tampa Bay Lightning goalie Ben Bishop.
Vezina Nominees (as voted by GMs): Bishop, Holtby, Quick

— Elliotte Friedman (@FriedgeHNIC) April 27, 2016
Quick ranked first in the league with games played with 68 appearances and ranked first in the the league with 4,034 minutes. He finished the regular season with a 0.918 save percentage, a goals against average of 2.22 and five shutouts.
For the first time in his career, Quick won 40 games and recorded his 41st shutout, the most by any American-born NHL goalie. Quick was nominated for the Vezina once before in 2012 and finished second in voting that season.
Kopitar a Selke Finalist for Third Consecutive Season
The Kings center was nominated for the Selke Trophy for the third time in his career and the third consecutive season. Voted by the Professional Hockey Writer's Association, the Selke Trophy is awarded to the best defensive forward. In addition to Kopitar, Boston Bruins center and three-time Selke winner Patrice Bergeron and 2011 Selke winner Ryan Kesler of the Anaheim Ducks.
Kopitar, Bergeron and Kesler are the Selke finalists.

— Jon Rosen (@lakingsinsider) April 28, 2016
Kopitar ranked second in the league with a plus-34 rating (behind teammate Tyler Toffoli), third in time-on-ice per game among forwards and finished the season with a scoring chance differential of plus-212 in all situations. Kopitar finished the season averaging 2.15 minutes per game on the penalty kill and scored three shorthanded points according to war-on-ice.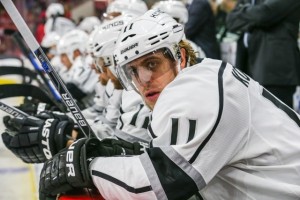 Kopitar had an individual Corsi-for percentage of 57.52 at 5v5 even strength on the lead leaguing Corsi-for team (the Kings finished first in Corsi-for percentage and Corsi-for total) and had a ZSO% (fraction of offensive vs. defensive zone starts) of 52.28 while leading the Kings in total points for the ninth straight season.
The NHL is announcing finalists in succession and will be revealing the three finalists for the 2016 Norris Trophy awarded to the league's best defenseman, an award Kings' general manager Dean Lombardi thinks defenseman Drew Doughty should win. The winners of the NHL Awards will be announced on June 22 in Las Vegas, Nevada.
Cole R. Querry resides in Southern California. Having played hockey through college and a background in science and math, he promises to bring an objective analysis to the team and sport he loves.