"Boston's Thornton chasing down Pittsburgh's Orpik, a noted instigator who wouldn't fight this time, and after Orpik had fallen to the ice, pummelling him with two solid punches. Just revolting. Orpik was immobilized and taken off the ice on a stretcher." – SI's Peter King in MMQB
After Brooks Orpik, now playing in his 11th year with the Pittsburgh Penguins, left the TD Garden ice on a stretcher as a result of an uncalled for attack-from-behind from "noted" fighter Shawn Thornton, the debate barely waited until the first intermission to start.  Was it Orpik's fault? "If he had fought Thornton, it wouldn't have happened" clamored the NESN crew during the first intermission.  "Orpik's dirty style of play caused this," rang out across twitter.
The problem with most of these generalizations is that few know Brooks Orpik beyond the occasional earth-shattering hit that he'll lay on opponents.  They know the highlight-reel Orpik and very little more.
The reality is that Brooks Orpik is not a fighter.  He is not by any means a "noted instigator" or "known agitator."  There's a reason Orpik was included in the 2010 roster of the US Olympic team and it has nothing to do with him agitating or instigating anything.  He's a defensive defenseman who checks opponents hard.  I fail to see where that has become a problem in today's game.
[See Also: Throw the Book at Shawn Thornton]
Orpik as a Fighter?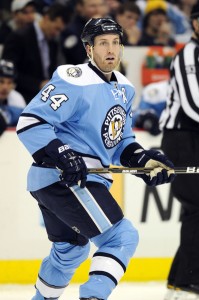 One of the largest misconceptions about what happened in the aftermath of the incident in Boston was that many wondered why Brooks Orpik, who is clearly a physical player wouldn't just fight Shawn Thornton, another physical player.
Well, let's start by looking at the obvious.  That would've been akin to a suicide mission for Orpik, with his 12 career fights in 662 career NHL games, against Shawn Thornton, who has 119 career fights in a total of 522 games in the NHL.
Let's look at it this way:
On average, Brooks Orpik tallies 1 fight every 55 games.
On average, Shawn Thornton tallies 1 fight every 4 games.
While critics may be attacking Orpik's own manhood, I doubt there are many who believe that would've been an intelligent move for anyone.  Just as many condoned Ray Emery, for attacking Braden Holtby in a recently Flyers-Caps tilt, it makes little sense to say that Orpik should've just "manned up" and fought Thornton.
If that doesn't say enough about Orpik's penchant, or lack thereof for fighting, maybe this will.  Here is a list of Bruins with more fights in the last five years than Brooks Orpik has in his entire career:
Jarome Iginla (17)
Milan Lucic (24)
Gregory Campbell (36)
Shawn Thornton (68)
Adam McQuaid (30)
And here's the list of Penguins who have more fights in the last five years than Brooks Orpik in his entire career:
Deryk Engelland (34)
Tanner Glass (32)
Craig Adams (18)
There are two things that are clear from those numbers; one team clearly has an advantage when it comes to experience throwing down and at no point should it be considered a downgrade to anyone's manhood, when they refuse to fight someone, especially if they are not known as a fighter.
Orpik as a Pest?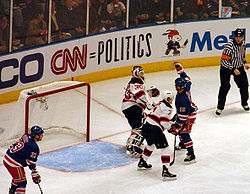 Matt Cooke, Patrick Kaleta, Steve Ott, and Brad Marchand are well-known as instigators and pests throughout the league.  Brooks Orpik is not.  The former pest-extraordinaire Sean Avery is the definition of what a pest is.
Let's start by looking at the definition of a pest from Wikipedia:
In ice hockey, a pest is a player who attempts to antagonize opponent players either by physical play or verbal incitation.  Pests employ legal, illegal, or borderline tactics to accomplish their goals. Some common tactics include trash talk or slashing and hooking while referees are not looking. They may employ the tactic of goading opponents into a fight but then backing off in order to draw a penalty against them.
Anyone who has seen Brooks Orpik play his entire career in Pittsburgh, knows that the above description of a pest, comes nowhere near the way that Orpik plays the game.  Brooks Orpik has one suspension in his entire NHL career.  One, for 3 games, for a vicious boarding of Hurricanes Erik Cole, in 2006, only 7 years ago.
So why the mischaracterization of Orpik as a cheap and dirty player by fans, the media, and critics?
Because it's now become commonplace in the NHL to define a hard hit as a cheap shot, which needs defended against by a fight.
This is Orpik, below, making 4 hard hits in 15 seconds, in the 2009 Stanley Cup Final game against the Red Wings.  None of the hits were dirty, cheap, or borderline.
At the same time, in Detroit, Niklas Kronwall is very well-known for dishing out devastating hits to opponents, usually considered borderline, but per Hockeyfights.com has a total of 0 career fights.  While people have called out Kronwall for not responding to some of his hits, it hasn't led to him being labeled a pest.
The truth is that Orpik is a world-class player, an Olympic silver-medalist, and a leader in the Penguins' locker-room.
I'll end with this nugget from Josh Yohe of the Pittsburgh Tribune-Review:
"Asked 15 Pens last year if fighting should be banned from hockey. Only one said yes: Brooks Orpik. Doesn't want to be a vegetable someday."