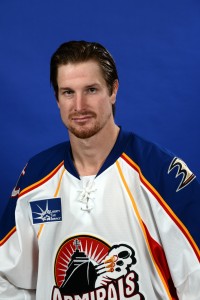 Last offseason the Anaheim Ducks swapped over-age prospects with the Pittsburgh Penguins resulting in Anaheim shipping 26-year-old Harry Zolnierczyk to Pittsburgh and receiving 25-year-old Alex Grant.
Prior to the exchange, Alex Grant spent four seasons patrolling the blue line with the Wheeling Nailers and the Wilkes-Barre/Scranton Penguins both clubs are minor league affiliates of the Pittsburgh Penguins.
In September as Anaheim's main camp was winding down, Anaheim's brass sent the Antigonish,Nova Scotia native to Norfolk, the home of their American League affiliate the Admirals.
Anaheim's blue line has been rattled with injuries early this season so when the pickings were slim the Ducks dove into the defensive core in Norfolk and selected Alex Grant to fill the void in the roster on November 29th. Prior to Grant's departure, he was third in scoring amongst AHL D-men potting 12 points in 19 games.
Grant's offensive presence on the blue line was felt instantly as he netted his first NHL goal against the San Jose Sharks on December 1st. As of December 9th, Grant remains on NHL recall.
The day before his first NHL call-up TheHockeyWriters chatted with Grant covering a wide variety of subjects in a Q & A format.
TheHockeyWriters: Talk about the hockey following in Nova Scotia.
Grant: It's pretty popular anywhere you go in Canada. It's pretty similar. There a lot of people play hockey especially with Crosby being from there. Crosby has helped a lot of people get into the game. It's probably bigger than ever.
TheHockeyWriters: During your time in the QMJHL you were the winner of the Children's Wish Foundation Award how did you win the award?
Grant: I did a lot of things in the community. I was there for a few years so I got to know people pretty well. I just spent a lot of time doing things for schools, minor hockey, and hospitals.
TheHockeyWriters: Draft day 2007, what was going through your head?
Grant: I was just hoping to go. I really didn't know what to expect. I didn't go to the draft. I was at home, but I was anxiously waiting.
TheHockeyWriters: Pittsburgh was on the doorstep of a breakout season, how did it feel to get drafted by Pittsburgh?
Grant: I was pretty excited when I heard my name called. Crosby was there. It was an organization that was on the rise and it was a great place to start.
TheHockeyWriters: What can you tell readers about getting a chance to share ice with Crosby and Malkin during training camps?
Grant: Two unbelievable players. It was nice being on the same ice with them at times. They can make you look a little silly at times, but it was a lot of fun and it was a great experience to have.
TheHockeyWriters: You're classified as an offensive defenseman, do you see the ice differently?
Grant: I'm not sure how others see it. I just try to have my head up at all times and make sure I know what I'm doing with the puck before I get it. If I have to make the last second read hopefully it's a smart decision.
TheHockeyWriters: With Norfolk being such a young team, how are you mentoring the younger defensemen?
Grant: Just try and be consistent, show them that's the main thing in pro hockey. You have to be consistent every night. You have to carry yourself because you don't have your parents or your billets looking after you. You have to do the right things on and off the ice.
TheHockeyWriters: How are you going to prepare for your first call-up?
Grant: Just hoping that it will happen at some point here and just prepare the same way I prepare for my AHL games, just be quick and make quick decisions during certain plays.
(The question above was asked at the end of the interview and the day before his call-up.)
Norfolk Admirals Assistant Coach Jarrod Skalde gave his two cents on Grant,
"I think Alex is experienced in this league. He's a highly skilled guy. He's got an NHL caliber shot. He's been terrific on our power play and defending all around. I can't say enough what Alex brings to this hockey team and especially in the locker room."
Follow Ted On Twitter: @Bauerhockeydude
Ted grew up in Virginia. Warren has a passion for the AHL and dishes out articles about the Norfolk Admirals and the AHL. Follow him on Twitter @bauerhockeydude