Frustration and fandom go hand in hand. It shouldn't, really. After all, in the big picture, the fans don't have much effect on whether or not a team is successful on any particular year. We can't score goals or keep them out. We can't build a roster that's worthy of a playoff spot, fantasy hockey aside. The most fans can hope for is to shout and complain loud enough to get the official to call a penalty that may not have existed.
Sure, we watch the games religiously, and we discuss the team on various social media outlets. Fans follow the team closely, often knowing more about the various stats and history of an organization than the players themselves do. But in the long run, any frustration from the fans can only take a backseat to the frustration the players themselves feel.
That couldn't have been more obvious in the recent game between the Buffalo Sabres and the Arizona Coyotes. With both teams at the bottom of their respective conference, and the likes of Connor McDavid and Jack Eichel up for grabs, the loser actually benefited more than the winner in this particular game. So when the Coyotes scored in overtime for a 4-3 victory, some home town Buffalo fans cheered the defeat. This didn't sit well with the Buffalo players, defenseman Mike Weber in particular.
Weber: "It's tough to get momentum when your fans are rooting against you. That's the unfortunate part. I've never seen that before."

— Mike Harrington (@BNHarrington) March 27, 2015
"I've always spoken extremely highly of our fans," Weber said. "I don't even know if disappointed is the word. The minute they score that first one our fans are cheering. Late penalty, they cheer. They cheer when they score to win the game. I don't even know what to say. This is extremely frustrating for us."
Cheering vs. Booing
Usually, fans express their frustration with the team or the result of a game by booing the players off the ice. It's one of the few weapons that fans have in their arsenal to affect the performance of a team then and there. Back in the 08-09 season, the Carolina Hurricanes were in a rare position in mid-February. They weren't in a playoff position, but they were close. So when Canes put up losses of 5-0, 5-1, and 5-1 in three straight home games, their fans let them have it. They booed. A lot.
"You can't play like this at home and expect to make the playoffs," said Ray Whitney, the team's leading scorer at the time. "We just haven't played very well at home and it's embarrassing, it's frustrating to have your fans boo you when you leave the ice — not that it's not warranted — but it's certainly frustrating and a little bit humiliating."
The players apparently took the message from the fans to heart, as the Canes won the next game, an away game against the Islanders, 6-2. They won the following home game 5-2. In fact, after that final 5-1 loss, the Hurricanes won 12 out of the remaining 13 home games.
Fans have to be careful, of course. As hard as it is to remember, the players are human and can allow their frustrations to get to them. It wasn't too long ago that Montreal fans were serenading Carey Price with the "Bronx Cheer", who responded with his best Patrick Roy imitation. Had he gone "full Roy" and had that situation turned sour, Montreal almost certainly wouldn't be where they are today.
Letting The Wallet Do the Talking
In the big picture, there's no better way for a fan to show their frustration for the state an organization is in than by simply not showing up for a game. The Toronto Maple Leafs are in a bad situation this year and there's a lot of anger and annoyance from their loyal fans. This past week, the Leafs failed to sell out a home game for the first time in 13 years. With a 6-23-5 record in 2015, that should come as no surprise.
Canes fans took a similar approach this year. After six straight years without a playoff appearance, an October where the Hurricanes failed to win a single game isn't what fans wanted to see. With the season essentially shot before it really began, attendance this year has plummeted to 29th in the league. This has also allowed many opposing fans to fill the arena. In a recent interview with the team's website, Hurricanes captain Eric Staal noted the change:
"It's our job as a team and an organization to win these people back."
"For us, we haven't won in I don't know how many years. Our fans are frustrated. I've been here when it's been loud, energetic and awesome. Right now it's not," said Staal. "But it's our job as a team and an organization to win these people back. They'll come back. We've got enough hockey fans in the area – I can't go anywhere without people talking to me about our team. People are there. We just have to win and get them back."
Jerseys Off Their Backs
So what's a fan to do if booing doesn't help and not showing up for a game doesn't make a noticeable difference? Improvise, of course. For a while, Edmonton Oilers fans expressed their frustration with the team by tossing their jerseys on the ice. It was a symbolic act that didn't sit well with the Oilers players or their coach.
"I understand the booing…it comes when you're not playing well and not seeing the results and the losing's been going on for some time," said head coach Dallas Eakins. "[But] that's about as bad as it gets for me and I have great sympathy. You see the credo up on our wall in our dressing room. The one thing that stands out in big huge letters is 'I Am Never Out of the Fight.' Whoever threw that jersey on the ice, is out. They've given up. They're a quitter. We don't want that here."
Toronto fans have also thrown their jerseys on the ice and received fines for it. One Maple Leaf fan said he threw the jersey because he was "fed up with how management's doing things, fed up with how some guys are playing or not playing — they're just not showing any heart and soul, man." If jersey tossing doesn't get the message across, fans can always go back to tossing waffles.
Entertainment vs. Livelihood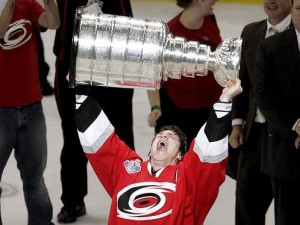 No matter how frustrated fans get, there's one thing that they need to remember. This is entertainment for the fans, but for the players, it's their job. They go out every other night and try to win every game, regardless of the situation that particular organization finds themselves in. If the losses are frustrating for the fans, they're more so to the players. After all, every mistake they make is amplified by the cheers or jeers of the fans.
Fans and players should have a symbiotic relationship. We provide support in the bad years, so they can provide the good years that we, as fans, thrive for. We should support them through thick and thin, no matter their place in the standings. Frustration and fandom may go hand in hand, but it is that frustration that makes winning hockey's ultimate prize all the sweeter.