With the 2017 NHL Trade Deadline approaching this week, Edmonton Oilers general manager Peter Chiarelli stated the team is unlikely to make a major acquisition. Despite that, Edmonton is in a position to buy for the first time in over a decade, mainly due to the shrewd moves Chiarelli has made over the last two years. Edmonton is a much more balanced hockey club, regardless of their current secondary scoring woes.
Fans want to see the Oilers add a backup goaltender, a top four defenseman and two forwards to provide some added depth to their third line (i.e. Radim Vrbata, Jarome Iginla or a Shane Doan). Then again you have to remember the type of manager Chiarelli has been in Edmonton.
Chiarelli's made low risk, high reward trades. Zack Kassian, Patrick Maroon, and Cam Talbot are all examples of that. From time to time he hasn't been afraid to rock the boat, the additions of Adam Larsson and Griffin Reinhart being the most controversial.
If we've seen anything from the weekend with the Brian Boyle, Martin Hanzal, Patrick Eaves, Kevin Shattenkirk and Ben Bishop trades, it's that the asking price is extremely high. It might not be in the Oilers' best interest to get involved in a bidding war and giving up multiple assets for a rental. Considering it took a smorgasbord of draft picks for the Minnesota Wild to acquire Hanzal, you can bet other teams are going to hold firm on their demands.
The Colorado Avalanche are asking for the moon and then some for premium players like Matt Duchene and Gabriel Landeskog. But what about Jarome Iginla who is open to a trade to a playoff contender? Would a third-round pick be fair compensation for a player who's scored eight goals this season? Doan on the other hand has yet to make a decision on if he wants out of Arizona.
Chiarelli has been making more good trades than bad ones since taking over in April 2015. If he's learned anything from the bad ones, it's that overpaying isn't the answer. If Edmonton doesn't make a significant addition this week, it's not the end of the world. It's likely because the price was too high and not because Chiarelli's incompetent.
With that said here are some of the better trades Chiarelli has made in Edmonton:
3. Adam Larsson
| | |
| --- | --- |
| TO EDMONTON OILERS | TO NEW JERSEY DEVILS |
| D Adam Larsson | F Taylor Hall |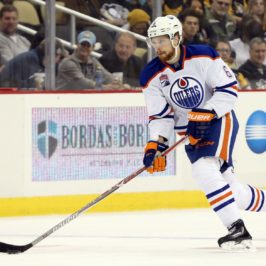 Date: June 29, 2016
---
Analysis: Arguably the most controversial trade in recent memory for Oiler fans, Chiarelli paid a premium for Larsson. Hall might've been the Oilers best player outside of Connor McDavid last year, but Larsson has formed a solid defense pairing with Oscar Klefbom.
The Oilers were desperate to improve their defense and Chiarelli paid handsomely in what he described as market value. Larsson has drawn mixed reviews depending on who you talk to. Love him or hate him, the former fourth overall pick in 2011 is averaging 20:11 minutes per night in Edmonton and has 15 points in 60 games.
He's not a sexy defenceman. He's not in the spotlight. He probably doesn't deserve to be in the spotlight. I can assure you, this last year, he has come into his own. He's becoming a very good defenceman in this league. He moves the puck, defends well, he can log a lot of minutes — 25, 27, 28 minutes — he can match up against all the top forwards. He's a player I watched very closely, and I can see his game trending up.

– Oilers GM, Peter Chiarelli (June 2016)
Larsson currently leads the Oilers blueline in goals-for-per-sixty (GF60) with 2.84. He's also got the best goals differential on the Oilers defense at +11. Larsson is also leading the Oilers with a 101.73 PDO. The addition of Larsson might've been costly considering what they gave up, but the 24-year-old blueliner is signed to a very cap friendly $4.17 million deal with four years remaining at the conclusion of 2016-17.
With both Larsson and Klefbom ($4.16 million) both signed to relatively cheap long-term deals, the Oilers have a lot of flexibility under their cap structure to strengthen their lineup over the next several years. Both are yet to enter the prime of their careers, but the two Swedes have arguably become the Oilers best defensive pairing. You can say the Oilers would be a better team offensively with Hall in the lineup, but the fact is with a balanced lineup and the addition of Larsson, Edmonton has already exceeded their point total from last season.
It'll take a little longer to win over the masses, and even then there will be some that'll always hate this trade. That said, Chiarelli realized Edmonton wasn't going to win without an improvement on the backend and was bold enough to make a move other Oiler GM's were afraid to make by shaking up the core.
---
2. Patrick Maroon
TO EDMONTON OILERS
TO ANAHEIM DUCKS
F Patrick Maroon

 

D Martin Gernat

2016 4th Round Pick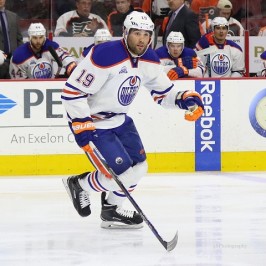 Date: February 26, 2016
---
Analysis: Without a doubt, this has turned out to be the best trade the Oilers have made in years. A struggling power forward in Anaheim, the Ducks had given Maroon a three-year extension at $2 million per season.
But he wasn't living up to expectations, and Maroon put up just 13 points in 58 games with the Ducks. This was a year after posting a career-high 34 points playing with Ryan Getzlaf and Corey Perry. The Ducks put Maroon on the block, and Edmonton paid a relatively small price for the pickup.
"I'm really excited. I had a good run in Anaheim, they gave me an opportunity to play in the NHL. I'm sad that I'm leaving a contending team, but I think going to team that is rebuilding and have so many young stars, I think it will be good for me."

– Patrick Maroon (February 2016)
He went on exceed his 2015-16 point totals with the Ducks, averaging nearly a point-per-game with the Oilers (14 points in 16 games). Maroon hit the lottery, and he's been playing with Connor McDavid more often than not and already has 20 goals and 31 points in 63 games. He's been a huge addition to the Oilers and an instant fan favorite.
This deal was a landslide win for the Oilers who acquired a top-six power forward who was underutilized in Anaheim. Gernat isn't even playing for the Ducks this season, and the fourth round pick became forward Jack Kopacka who's put up 40 points in 55 games with the OHL Sault Ste. Marie Greyhounds.
---
1. Cam Talbot
TO EDMONTON OILERS
TO NEW YORK RANGERS
G Cam Talbot

 

 

2015 2nd Round Pick

2015 3rd Round Pick

2015 7th Round Pick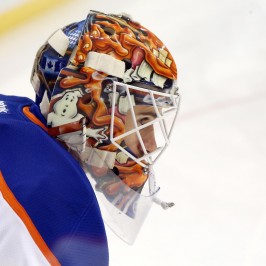 Date: June 27, 2015
---
Analysis: Outside of McDavid, Talbot might be the Oilers Team MVP this season. The 29-year-old has had a Vezina worthy season playing a league-leading 56 games and is tied for third in the NHL with 31 wins.
He's also been the busiest goaltender in the league by facing 1,646 shots (29.4 shots per game). Talbot is also chasing Oiler records and is just nine shy of Grant Fuhr's record of 40 wins (1987-88). With 19 games remaining in the Oilers season, Talbot has to play every game to tie Fuhr's record for most games played by an Oiler goaltender. That's unlikely, but it's probable that Talbot could break the record for most wins.
I think he's really come into his own. With a goalie like that, there's a smaller sample size with these guys, so you never know. It's such an inexact science as goalies. He played really well for the last two years and he really played well in crunch time for the Rangers.

– Oilers GM, Peter Chiarelli (June, 2015)
Talbot has been in net for 69 of the Oilers 74 points thus far, more than any other goaltender this season. For goaltenders that have played more than 30 games, Talbot is seventh in save percentage (0.919 SV%) and ninth in goals against average (2.40 GAA). It's been a stellar year, and it's hard to believe all the Oilers had to give up were the 57th, 79th and 184th picks in the 2015 NHL Draft.
The picks became defensemen Jonas Siegenthaler, Sergei Zborovskiy, and goaltender Adam Huska respectively. Siegenthaler is a mobile defenseman who played for Switzerland at the last three World Junior Championships (WJC). Zborovskiy represented Russia at the 2017 WJC and has 37 points in 52 games for the Regina Pats (WHL). Huska has twice represented Slovakia at the WJC and currently plays for the University of Connecticut (NCAA).
Chiarelli and the Oilers took a gamble on a guy who up until the day they acquired him had only played 57 NHL games. It's paid off and he's been a huge reason things have turned around in Edmonton and the team is in a playoff position for the first time in 11 years. This was by far Chiarelli's biggest acquisition as Oilers GM.