As the northland begins its annual thaw and the state fades into spring with an increased dose of sunshine, the Minnesota Wild are showing few signs of slowing down. An eight-game homestand in which they collected 11 of a possible 16 points has the Wild set up nicely for the stretch run. As March and April approach, they are chasing both the top seed in the Western Conference and the Presidents' Trophy.
It was yet another fantastic string of games for the majority of the roster, but three players had an exceptionally great month of hockey.
★★★ Third Star: Jared Spurgeon
Spurgeon's game is at a career peak right now. Those around the league are finally taking notice and Bruce Boudreau proclaimed him "the best defenseman no one knows about."
February was a coming out party for Spurgeon as he's been entrusted to play over 25 minutes a game on the top defensive unit with Ryan Suter. His eight points over the course of the month aren't eye-popping, but his defensive positioning and outlet passing are on another level right now.
★★ Second Star: Jason Pominville
I'm glad you're finding the score sheet again, Jason, but you're not making this potential buyout easy.
Pominville erupted in February with 12 points seemingly out of nowhere. Wherever the resurgence is coming from, he's done himself a service in terms of his future with the team. Unfortunately, the trade-off is that it puts the Wild in an even more difficult spot in terms of the expansion draft.
The plan sounds simple, Pominville waves his no-move clause which allows them to protect Jason Zucker in the expansion draft. The Wild will pop that question during the offseason, but you can't really be mad if he doesn't agree to it. It may draw some ire from the fans, but he's only enforcing the terms Chuck Fletcher offered him in the first place. On the other hand, if he does, that's as selfless an act as you'll see in professional sports.
★ First Star: Mikael Granlund
The breakout season surges on.
For the second straight month, Granlund was unquestionably the team's best player. As part of a trio with Zucker and Mikko Koivu, he's been the driving force on the team's most potent offensive line. February has featured eight goals and five assists, including his first career hat trick.
Make that 56 points this season along with 14 multi-point games. Sensational is the only word you can use to describe the type of season Granlund is having.
In case you've been living under a rock, Granlund is a restricted free agent following the year, and he's left the Wild no option but to pony up. At this point, it doesn't matter what it takes or where the money comes from, just pay the man.
Need More From
Eric Staal
Staal opened the season with 41 points before the all-star break and cemented himself as probably the best free-agent signing of the offseason. Since then, Staal has struggled keep pace and it's caused Boudreau to cycle his wingers in an effort to find a combination that can get him going again.
The Wild will need him to pick up the slack as the playoffs approach. When both Staal and Koivu are rolling, they are one of the NHL's premier one-two punches down the middle.
Erik Haula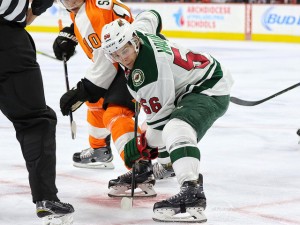 Haula has been just so-so this season. It seems like he has another gear that he's only shown on occasion.
Statistically speaking, his season isn't going to get much better now that the Wild have acquired Martin Hanzal. He'll likely assume the third-line center job, demoting Haula to the fourth.
My guess is Haula will thrive over time in his new role. Expect to see the Wild deploy two different styles of fourth-line. If they want to go heavy, you put Chris Stewart and newly acquired grinder Ryan White on his wings. If you want an influx of speed, Schroeder comes in to change the pace. Both combinations will create severe matchup problems for opponents.
Moment of the Month
Chris Stewart's dramatic glove drop on Watson was hilarious pic.twitter.com/X6m8yerHfD

— CJ Fogler (@cjzero) February 19, 2017
The Wild's heavy hitter with a lighter side continues to entertain at every turn.
Stewart has been such a valuable addition providing an intimidating presence on a small Wild squad. He does a great job keeping the locker room loose and continues to bring energy when called upon.
Just keep doing what you're doing, Stewie, it's fun to watch.
Previous blog experience on GonePuckWild and ISportsWeb.
Winter in Minnesota would be awful without hockey.