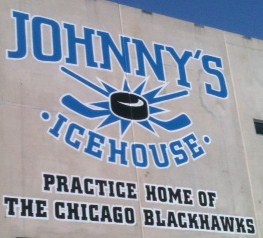 Last week, the Chicago Blackhawks held their prospects camp at Johnny's Ice House West.
Most of these players will go on of two places, college or the minor leagues. Blackhawks fans may not see them for awhile. Just remember that Andrew Shaw and Brandon Saad were once unheralded prospects that helped the team win a Stanley Cup last month. A lot the of players that attended the camp were American. The Blackhawks organization has made a strong commitment to USA Hockey. The silver medal finish in the 2010 Olympics is proof of that.
Here's my take on some of the players who attended the camp.
Jake Chelios 

Jake is the son of former Blackhawk and recent Hockey Hall of Fame inductee Chris Chelios. The younger Chelios didn't really do much to stick out during the camp. Just know that the jury is still out of him.
Viktor Svedberg
Not only stood out because of his height (6'9"), he stood out due his physical play during the one of the scrimmages. Maybe the Blackhawks have a Zdeno Chara in the making.
Antti Raanta
The Blackhawks signed Raanta during the playoffs. He didn't participate in the camp due to a lower body injury. Expect to see him in Rockford with the team's minor league affiliate. You might see him ever earlier if Nikolai Khabibulin's age catches up with him.
Brandon Whitney
Whitney was drafted by the Blackhawks last year. Although he showed that he belonged in camp during the scrimmage. He's another player who is a long way from being a factor with the big club.
Travis Brown
Brown scored goal during the Thursday's scrimmage. At one point, he showed a lot of hustle and skill at the blue line. However, like most prospects, he will go back to minors for seasoning. His game is still evolving.
Carl Dahlstrom
Dahlstrom seems to have the potential to add himself to long list of Swedish blue liners who continue to make an impact the National Hockey League. Dahlstrom played for Linkoping Linkopings HC last season.
Dillon Fournier
Fournier is on track to be a major prospect with the Blackhawks. He seems like the type of player that will help the team in the future. Possibly later than sooner.
Phillip Danault
Danault is a player you might see in Rockford this season. With the trades of Michael Frolik and Dave Bolland, current Ice Hogs Brandon Pirri and Jimmy Hayes will be given every shot to make the team. If that happens, Danualt will next up in Rockford.
Ryan Hartman
Hartman was the team's number one pick in this year's draft. He attended the camp but he did not participate because he is recovering from shoulder surgery.
Alex Broadhurst
Broadhurst is another one of the local draft picks who happens to be a Chicago area native.  He played last season in the OHL. Before that, he played in the USHL.
Anthony Louis
Even though Louis was one of the smaller players in camp, he was not above getting physical during Thursday's scrimmage. He also patterns his game after Patrick Kane. Louis is headed to Miami University in the fall.
John Hayden
I was impressed with Hayden's play during last Thursday's scrimmage. He is definitely a player we will hear about in the near future. For now he is headed to Yale University in the fall.
Mark McNeill
McNeill was a 2011 draft pick of the Blackhawks. After watching a former Rockford Ice Hog like Brandon Saad become a Calder Trophy finalist, I'm that McNeill is chomping at the bit to a shot with the Blackhawks. Expect for him to continue to get seasoning in Rockford.
Stephen Johns
I initially saw Johns play earlier this year with Notre Dame at the Hockey City Classic against Miami University. He told reporters at the prospects camp that he was going to head back to South Bend for his senior year.
Here's some footage of the scrimmages:
One day ,we will see if any of the guys pan out. Keep following these players to see if they end up helping the Blackhawks win another Stanley Cup.
Evan F. Moore is The Hockey Writers contributing Blackhawks Writer.His work has appeared in the Red Eye,The Checking Line,Gapers Block,ChicagoSide,Extra Bilingual Newspaper, Chicago Now, Time Out Chicago. He resides in Chicago.