Record for the Week (2-1-0)
Teams that win 2 of every 3 games typically do very well.  A season ago, there was only one team in the league that finished with a .660 winning percentage:  The Vancouver Canucks.  And although they didn't win it all, they came that close.  In 2009-10, it was only the Washington Capitals that were able to pull it off.  The Stanley Cup winning Chicago Blackhawks were only a .634 winning team.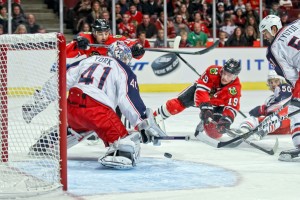 This past week, the Chicago managed 4 of a possible 6 points and although it wasn't pretty the Hawks pulled it out when it counted… Wait a minute, I take that back.  It was pretty.
Play of the Week: Check out this beautiful Spin-O-Rama play by the Blackahawks' Patrick Kane.  Kane takes a feed from Marian Hossa in his own end and skates untouched into the Ducks' zone.  In a fashion that only Kid Kane can pull off, he fakes like he is going to the middle of the ice and then 'on a dime' turns around veteran blue liner Toni Lydman.  'Eyes in the back of his head' is the only way to describe Kane's seeing-eye pass back to Hossa who seems like the only one on the ice who wasn't fooled by the play.  Just like that (A la Denis Savard), tie game.
Key Stories:
Hawks turn around early season shootout woes.  Patrick Kane 's backhand through the legs of Jonas Hiller to win the game marked the first time his Hawks had managed a win in the shootout this year.  Previous losses to Colorado and Boston, plus a shootout loss to Detroit in the pre-season was starting to Sting.  The extra point against a conference opponent is one you have to take and put away.  The Hawks were 6-5 in shootouts last season.
Patrick Kane offered this comment after the game:
"We studied the shootout, we studied the goalie today and it obviously paid off. (Toews') goal was beautiful. He waited (Hiller) out, put it upstairs. I tried to do something a little bit different. I knew (Hiller) was an opposite-hand goalie, so his stick kind of wouldn't be there when I came across, and it worked out I guess."  (Courtesy of Brian Hedger, NHL.com correspondent)
Push from Behind, costs Dan Carcillo.  Does it also cost the Blackhawks?  While Carcillo's recent suspension is being hotly debated in Chicago sports outlets, it's worth noting that the rough and tumble forward has faired well since being introduced as a Blackhawk.  He had done his job by frustrating opponents and in his 12:57 of ice-time per game has managed 2 assists and only 1 minor penalty in 7 games.  He has kept his cool, and more importantly he has kept his mitts on.  All of this while leading his club as a +5 player, which is exactly what you need from a 3rd or 4th line player.  With Carcillo in the lineup, Hawks are 4-1-2, I think it's safe to say that his dismissal matters.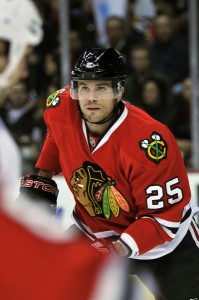 Secondary Scoring Emerges.  In the final game of the week against division rival Columbus Blue Jackets, the Blackhawks needed scoring from their 3rd and 4th lines as Kane, Toews, Sharp and Hossa were all kept off the scoreboard.   Hawks win 5-2 on two big goals by Viktor Stalberg, his first two goals on the campaign.  Frolik cemented the victory with a fancy hustle play at the end of the game into the empty net.
Line of the Week:  "Kane with a mattress pass for Sharp and he laid on it" Pat Foley of Comcast Sportsnet, following the 2-2 goal in Tuesday night's game vs. Anaheim Ducks.
Standings:  1st in Central Division, 3rd in Western Conference (6-2-2)
Season Team Leaders:
Goals – Dave Bolland (5), Assists – Patrick Kane, Duncan Keith (6), Points – Patrick Kane, Patrick Sharp (8), plus/minus – Daniel Carcillo (+5), PIM – Patrick Sharp (18), Shots –  Patrick Kane (37), GWG – 5 tied at 1 and finally TOI – Duncan Keith (26:11)
for all other statistical categories go to www.nhl.com or click here.
Up this week: vs. Nashville Predators (5-4-1), at Florida Panthers (6-4-0), at Tampa Bay Lightning (5-4-2) & vs. Vancouver Canucks (5-5-1)
Food For Thought:
Toni Lydman push on Michael Frolik with 7:25 left in 2nd period on Tuesday's nights game vs. Anaheim, not dissimilar to Dan Carcillo push on Joni Pitkanen.  No call from league.  Hmmm?